Clarified butter or ghee is a creamy, flavorful, and nutritious cooking fat that should be a staple in every kitchen. It is so easy to make and leaves your home smelling heavenly.
What is Clarified Butter/Ghee?
Did you know that clarified butter and ghee are the same thing? Ghee is a cooking fat that is made by cooking ordinary butter until the milk solids separate from the fat. Once you strain the milk solids out with a cheesecloth, you have clarified butter.
Ghee is a great alternative to butter for people with dairy allergies or for cooking in places with limited refrigeration. (We like to bring our ghee on camping trips because it can sit in a car at varying temperatures and it will not spoil.)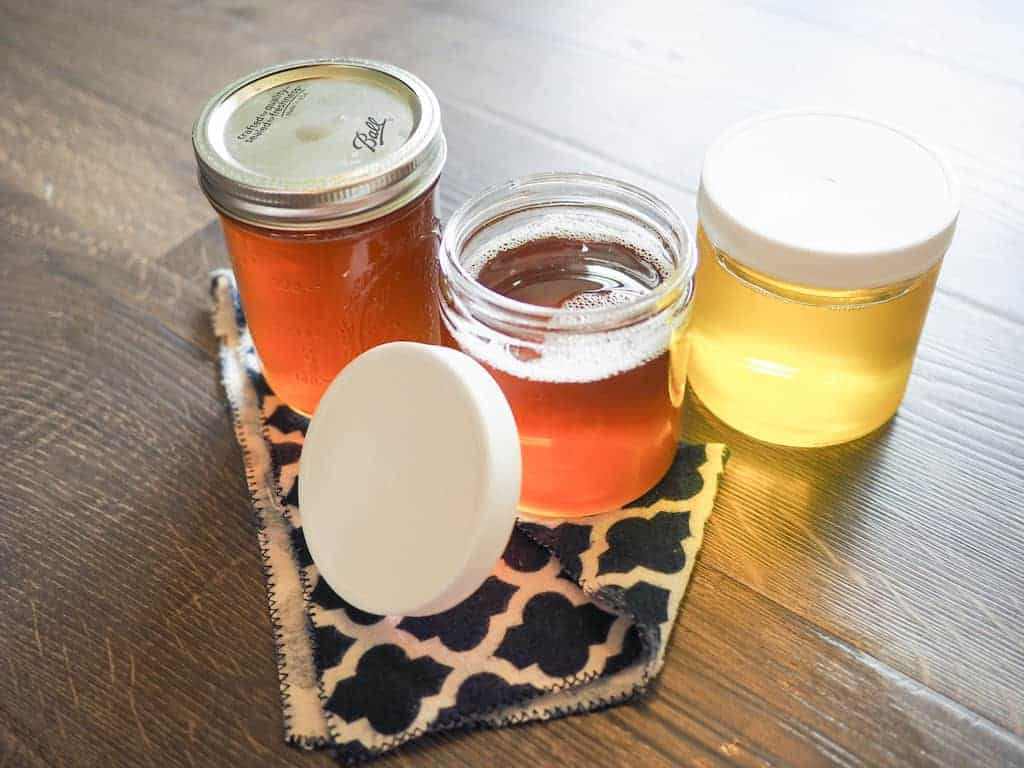 Why is Ghee SO Expensive?
Right!? A big deterrent for people when buying ghee is the price tag.
A jar of premium ghee can run you anywhere from $10 – $30. To me, that seems crazy when I can make it at home for almost nothing.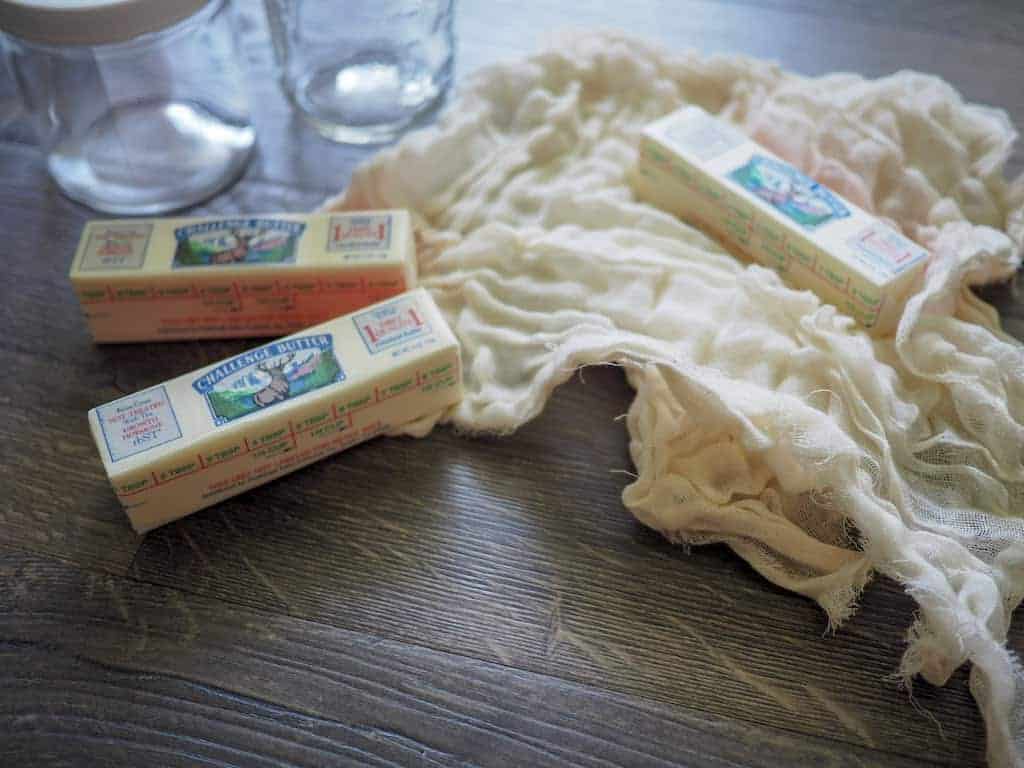 We are a big fan of cutting costs where we can so that we can splurge on trips or go out for fancy dinners from time to time. Groceries are one of those areas where I try my best to save. (Though I will admit, I use Instacart when life is crazy and there are just too many things going on. It saves so much time! I love being able to just make a list and get working around the house and have my groceries arrive, especially if I have the oven on or I'm trying to do housework.)
What Kind of Butter Should You Use?
Ideally, you want to use a higher-end butter to make your ghee as you are turning it to clarified cooking fat. (Try to avoid the store-brand cheap butter.) I usually use Challenge Butter because the box always has a coupon inside for fifty-five cents off that will double at our store. (You can also print coupons from their website!) If the butter is on sale for $2.97, it comes out to $1.87. Three boxes will make three jars of ghee. Sometimes we will use an app called Ibotta for cashback as well & recently there was a rebate for fifty cents back per box. (Ibotta also has a ton of rebates on other foods – we love it!) Buying butter at this price makes three jars for less than $5 ($4.11 to be exact.) That is so much better than $10 or more for just one jar.
🥣 How to Make It
Now, to make the ghee:
Find a large-diameter pan or pot in your kitchen that is fairly shallow – we have this random pot that Michael randomly pulled out of a box one day that is perfect for ghee. It is the diameter of a pasta pot but is only about three inches tall. It is perfect for ghee and for very cautiously cooking anything else.
What Temperature Should I Cook Ghee At?
Throw all of your butter into your pot and turn the heat up to a medium/low temperature (our stove goes "Low – 2 – 4 – Med – 6 – 8 – Hi " and I put it on 4, so slightly below medium.)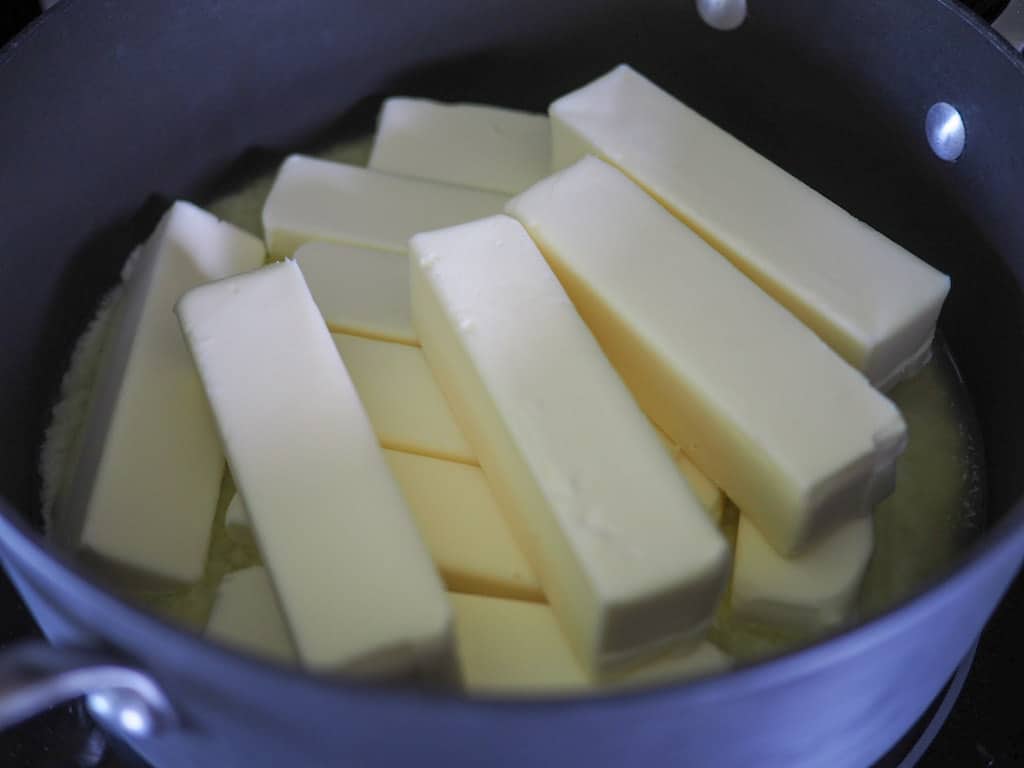 This is the part where you just leave it and wait. It will go through different stages of color change over the course of 10 to 20 minutes. Your butter will melt and then slowly start to bubble – magic will happen.
Your house will smell like you died and went to buttery heaven.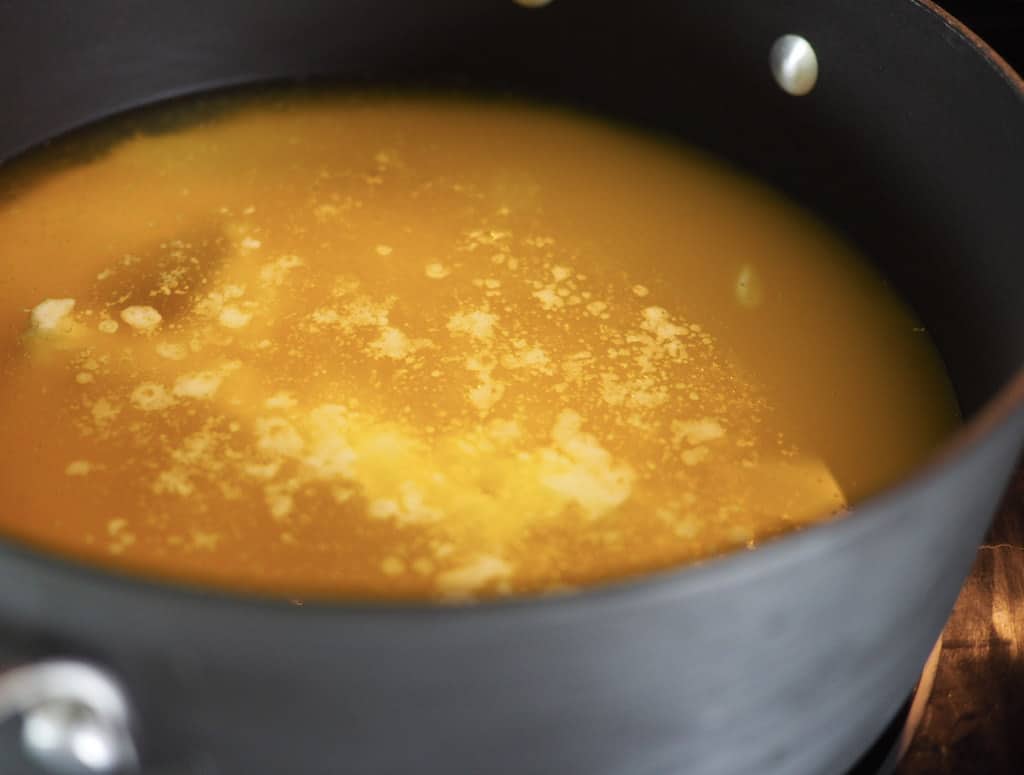 You will eventually see white chunks of milk solids floating and swirling around. Keep waiting. You can scrape the bottom of the pan every once in a while to make sure that nothing is burning to the bottom – some people do not do this and have success with their ghee. I don't want my ghee to burn, nor do I like waiting 😉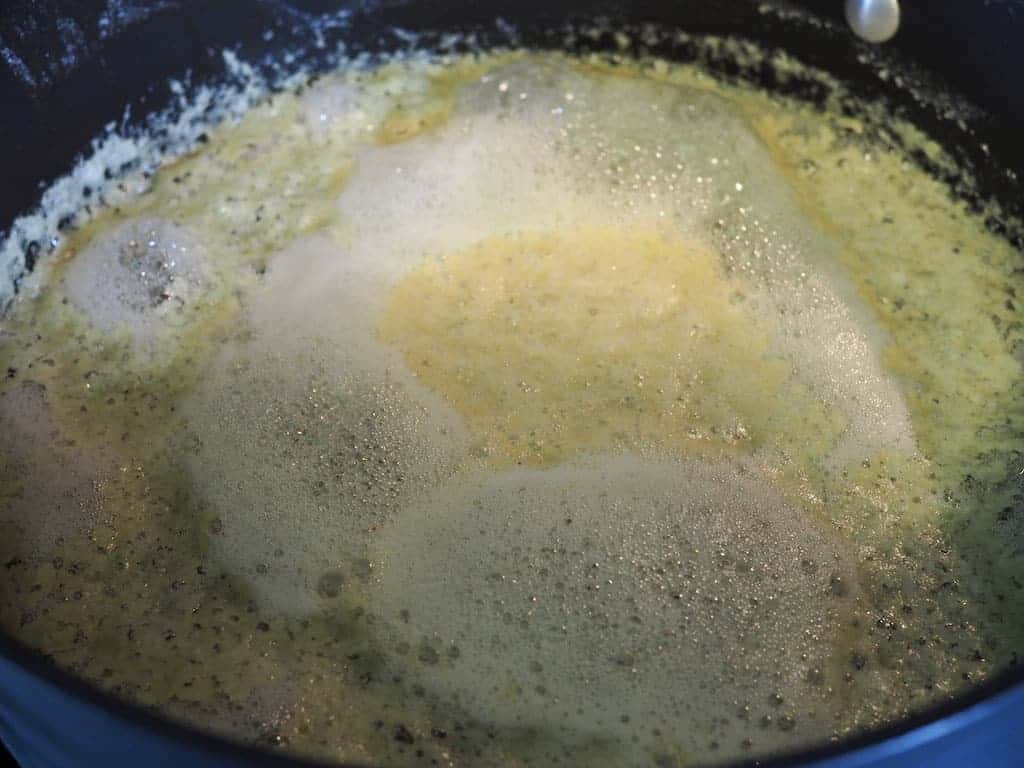 When Do I Strain My Ghee?
When the butter turns to more of a translucent yellow color than the thick milky yellow that it was when you began, you are ready to strain. It will be clear with white chunks floating around and some will begin sticking to the bottom.
**(If you want to make clarified brown butter (you do, I promise) only pour out half of the ghee.)**
How Do you Remove Milk Solids from Your Ghee?
To remove milk solids from your ghee, line a small, fine-mesh strainer with a few layers of cheesecloth and pour slowly into either a glass bowl or a very, very heat safe plastic bowl. The ghee will be VERY hot and can melt anything it touches (I tried to pour through a canning funnel once and it melted! Oops.) If you have dairy allergies, you can double strain for added security that you removed all the milk solids.
I have also strained ghee in my french press when making smaller batches. I found that long term, this is a BAD idea. Your french press filter will get clogged up and eventually stop sealing – your coffee grounds will slip through and eventually, the milk solids will as well. (I stopped using it the day the seal totally gave out and the filter flipped all the milk solids back into the ghee.)
Milk solids will look gross. That's totally normal.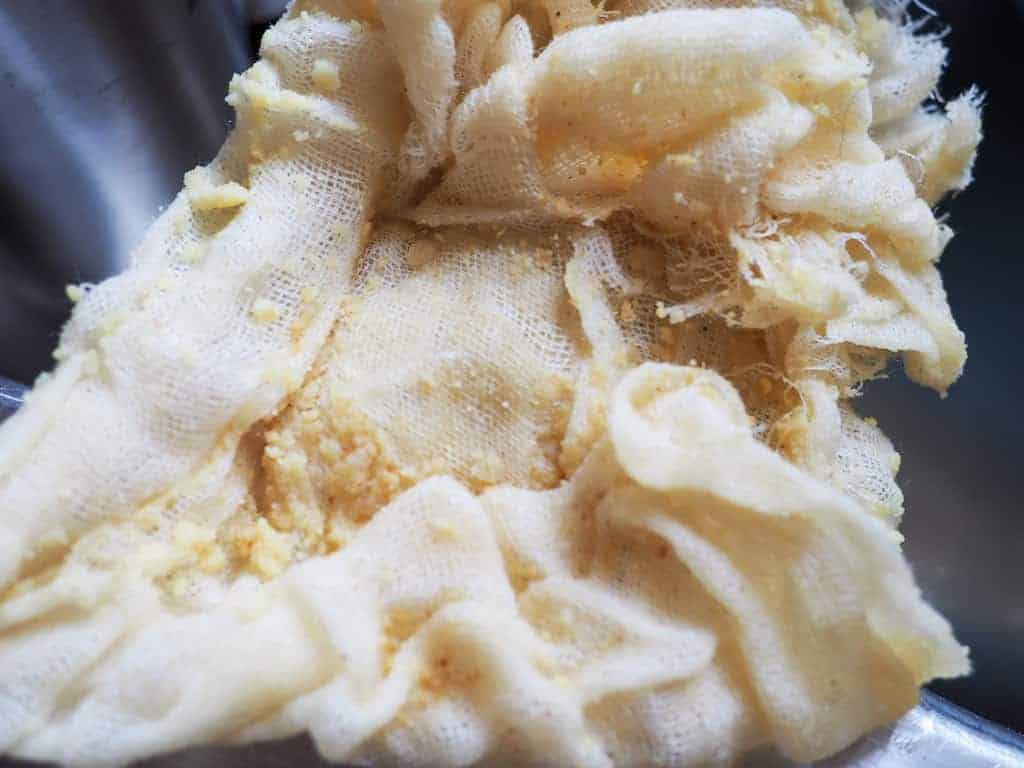 What is Clarified Brown Butter?
Brown butter ghee is clarified butter that has a toasted and caramelized taste. The flavor is very rich, sweet, and almost nutty.
How Do You Make Brown Butter Ghee?
To make clarified brown butter, continue cooking the remainder of your ghee until the milk solids that are still in the pan start to burn a little and it starts to smell like caramel.
The color will become a reddish-brown. This type of ghee is great for cooking sweet things like pancakes and waffles, topping sweet potatoes with ghee and cinnamon, baking cookies, making "sweet" carrots – the possibilities are endlessly delicious.
🥫 Storage/Shelf Life/Reheating
Pour the contents of your strained ghee into GLASS jars and leave uncovered until it cools. If you must use plastic, wait until your ghee has cooled before moving to the plastic as it will melt a plastic container.
Your ghee is now ready to use – you can use it immediately!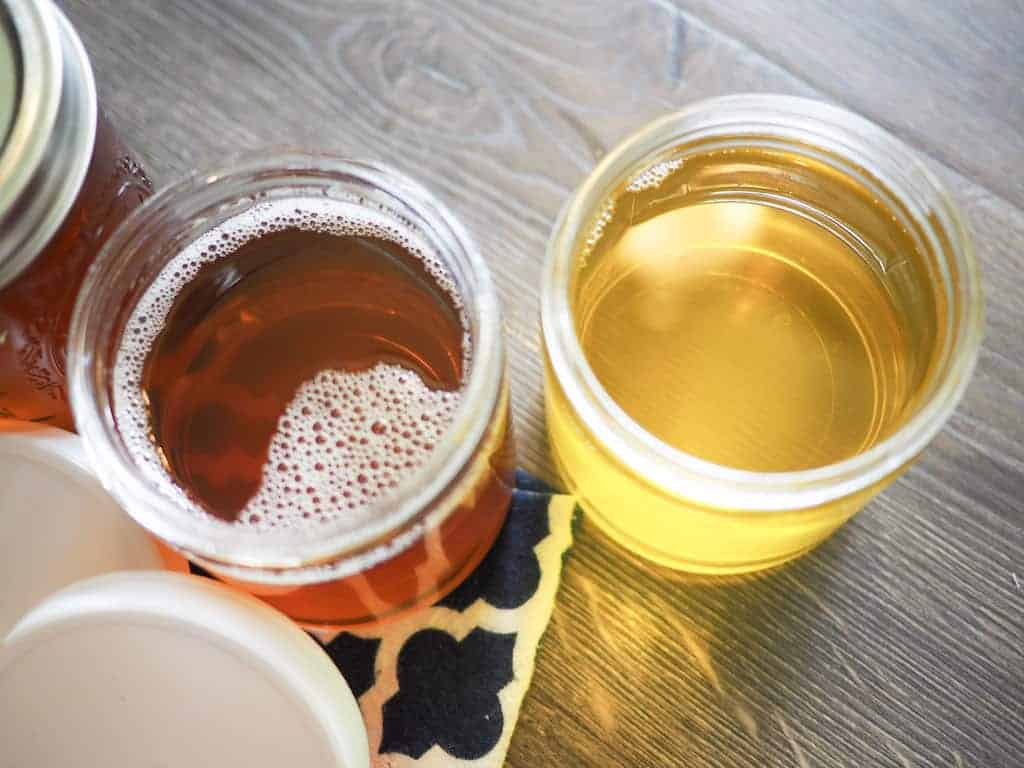 How Do You Store Homemade Ghee?
Ghee is shelf-stable as the dairy has been removed – it has been "clarified." Some people refrigerate ghee and it is completely up to you what you choose to do. I just leave it sitting on the counter or in a cabinet as I do with bacon fat, lard, or coconut oil. You can throw it in the fridge if you are worried about food safety, it will just require softening before use.
What is the Shelf Life of Clarified Butter?
Unopened clarified butter can be stored in a cool, dark place for six (6) to nine (9) months. Once you open it, you should use it within three (3) months. If you store your ghee in the fridge, it can last about a year. (If you are keeping it for a year without using it up, step out of your comfort zone and try using it more! Our jars of ghee last maybe a month.)
What Can I Use Ghee For?
Ghee has a very high smoke point (482°F or 250°C) which means you can heat it up pretty high before it will start to burn. You can use it to saute vegetables, bake vegetables, bake desserts (do not replace butter with ghee in a recipe – it is not a 1 to 1 ratio.)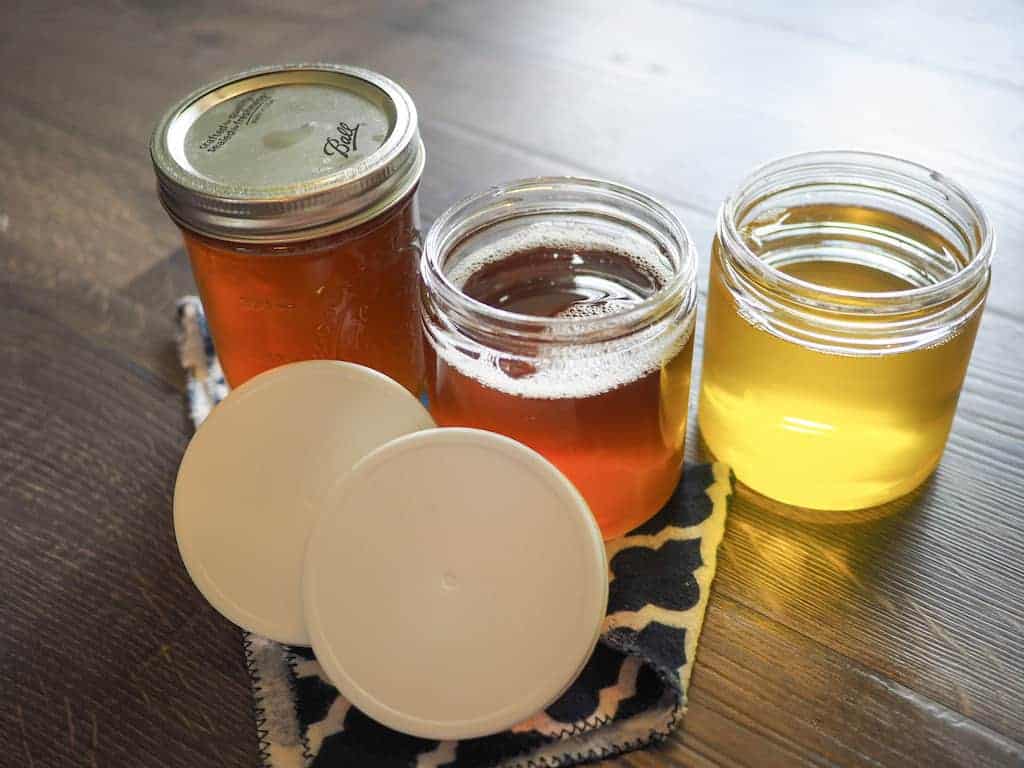 Have You Tried This Recipe?
Please rate it and leave a comment below. I would love to hear what you think!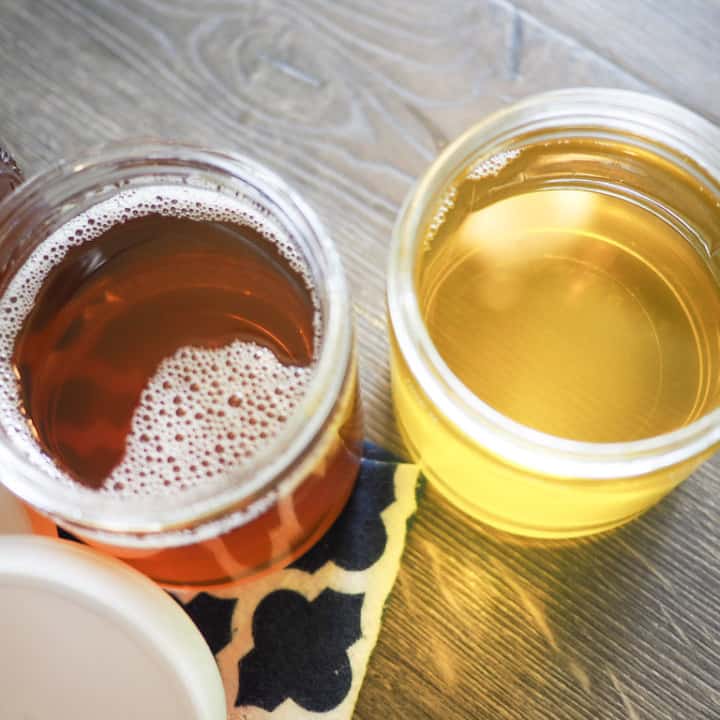 Homemade Clarified Butter (Ghee) – the Real Liquid Gold
Clarified butter or ghee is a creamy, flavorful, and nutritious cooking fat that should be a staple in every kitchen. It is so easy to make and leaves your home smelling heavenly.
Equipment
a large pot

a large bowl

a metal colander/strainer

Cheesecloth

a wide mouth mason jar
Ingredients
6

cups

butter

(salted or unsalted, 1 stick is 1/2 cup)
Optional
Instructions
Heat saucepan to medium/low heat.

Wait for the butter to change color from creamy yellow to a clear yellow where you can see visible milk solids floating.

Strain the milk solids through a fine mesh strainer lined with several layers of cheesecloth into a glass or STURDY plastic bowl. (This is important. Do not use cheap glass as it can crack with the drastic temperature change and cheap plastic can melt.)

If you want to make "brown butter," strain only half the butter. If you do not, strain all the butter (twice if you have a dairy allergy and want to be sure all milk solids are removed.)

To make "brown butter", continue cooking until the milk solids begin to burn and the butter turns a reddish-brown. The ghee will start to smell like caramel and heaven. If it starts sticking to the bottom of the pot, it is probably ready to strain.

Again, strain through a fine mesh strainer lined with several layers of cheesecloth into a bowl.

Once the ghee has cooled a little, pour into glass jars and store at room temperature. As it cools, it will become opaque and might look buttery. This is normal. (When heated, it will become transparent again.)
Notes
**This recipe creates three jars of ghee. You can make as much as you want when you make it, just make sure you have a large enough pot and enough jars for storage. If you only have one pound of butter, use a medium sized pot.
Nutrition
Serving:
2
tbsp
Calories:
102
kcal
Carbohydrates:
1
g
Protein:
1
g
Fat:
12
g
Saturated Fat:
7
g
Cholesterol:
31
mg
Sodium:
101
mg
Potassium:
3
mg
Sugar:
1
g
Vitamin A:
355
IU
Calcium:
3
mg
Iron:
1
mg
Nutrition information is approximate and is automatically calculated, so should only be used as a guide.