Welcome! We are Kari and Michael, and we are Southern Bytes.
We are newlyweds and computer geeks that love to cook, eat, rock climb, and create things around the house. We love traveling to try new food and unique beers - then we try to recreate the food at home. We love New Orleans, so be prepared for Cajun cuisine overload!
I learned to love making food from scratch and eventually started learning to grow my own food. This sparked my desire to become a health coach at the Institute for Integrative Nutrition. At the Institute for Integrative Nutrition, I learned a lot about nutrition and balance.
A lot of what I learned in school is incorporated into my approach to meals and planning. At home, I still cook mostly Southern food and a little Paleo, but we definitely enjoy some goodies in moderation.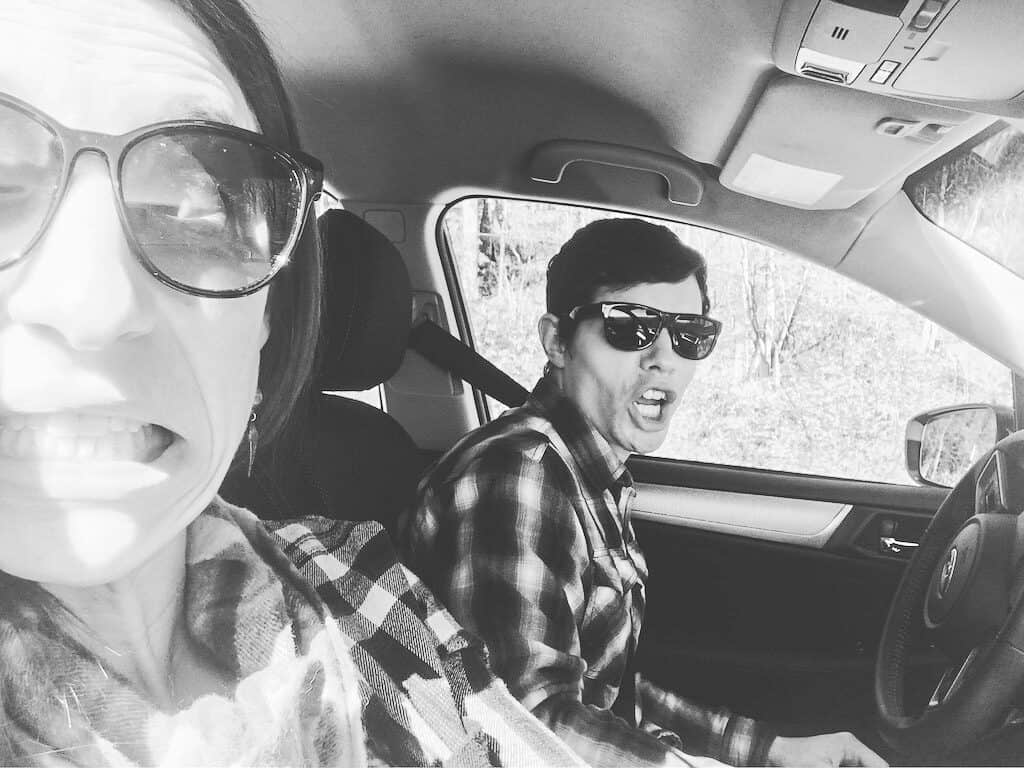 I cook a lot of food from scratch as well because I do have some strange food "intolerances." I call them "intolerances" because they are not quite allergies, but they can be pretty horrible. If I eat whey, poblano peppers, and the occasional mystery ingredient at a restaurant - I can end up hunched over in excruciating pain with extreme nausea. It is pretty severe and can often be totally random!
Michael, on the other hand, well - I think he has a hollow leg. He is a great partner to have in life and in the kitchen because he is very agreeable. He will try anything, but he will also tell me if something doesn't taste good. If you ask him about arrowroot powder, he will be happy to tell you his opinion about my accidental booger sauces 😉
We are excited for you to join us in our kitchen and on our adventures!
About the Southern Bytes Blog
What You'll Find Here
Recipes that are Easy to Make at Home using everyday ingredients. We like to embrace the philosophy of true Louisiana cooking - taking the simplest of ingredients and making something extraordinary.
Recipes that can be adapted for most dietary restrictions. (I try to include variations for Paleo, Gluten-Free, and Vegetarian diets in my recipes.)
Southern Classics that have been tested and tasted by the toughest critics (Michael and my mother-in-law 😉 ).
Italian Classics that I have learned from my mother (that had to be changed into recipes as they were originally written as "a handful of this, a splash of that!")
Spanish Recipes from my best friend and Spanish "sister" from Leon, Spain.
Cajun and Creole Classics that have been passed down through several generations.
Quick Meals and Instant Pot Favorites to help you make the most of your time.
Takeout Copycat Recipes because cooking with your family and knowing what is in your food is so much more enjoyable.
Tips for how to make basic dishes perfectly every single time - Chicken Breast, Biscuits, and Yogurt.
What You Won't Find Here
I don't believe in counting calories, low-calorie, counting macros, Weight Watchers, etc. That kind of dieting works for some people, but for me, it caused a lot of anxiety, extreme thinking, restriction, and negative thoughts.
I try my hardest to not use things like $25 Vanilla Beans or $30 cuts of steak. I can't afford that and I don't expect you to either. My recipes are here to show you how to make a $5 piece of meat taste like a million bucks.
I don't have a professional photographer. I'm sorry. My pictures are real. They are taken in my kitchen, most are taken on the floor - sometimes I carry food out onto my porch for better lighting.
You won't find tofu. I will make suggestions for substituting tofu for meat in recipes, but processed meat substitutes, tofu, tempeh, etc. make me VERY SICK. I will assume that if you are a vegan or vegetarian, that you have experience properly cooking these foods, and if you don't, Iosune at the Simple Vegan Blog, Julie over at the Simple Veganista, and Katie at Hey Nutrition Lady can help you with some good vegan recipes!
Southern Bytes has been
Featured By: