Instant Pot Shredded Chicken: One of the easiest things to cook and such a great way to create the building block for any meal. Your chicken can be seasoned with just about anything your heart desires and will always be perfectly juicy and moist. The best part is – the cooking is hands-free!
Why You Should Fall in Love with Your Instant Pot
I really wanted to share this recipe because of the mixed reputation of Instant Pots on social media lately. So many people have been writing terrible reviews of them. Everyone is of course entitled to their opinion and we will choose to disagree. Michael and I absolutely LOVE this thing. #notsponsored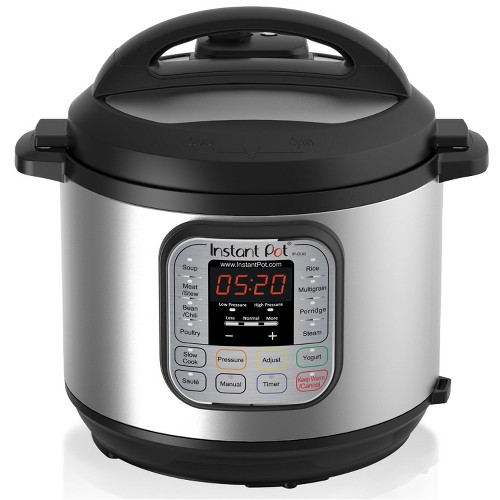 We use it pretty much every day. Sometimes twice a day.
One of the things that we cook in it every single week is boneless chicken breast.
Why Chicken is Better in an Instant Pot
Chicken is so easy to cook and the texture is always perfect. Oven baked chicken often comes out dry and it is hard to be sure if it is cooked properly. In the Instant Pot, it is always perfect. The chicken also seems to absorb the flavors of whatever it is seasoned with so much better. The chicken always tastes amazing. We usually make a few pounds every Sunday to have for lunches throughout the week. We also make another smaller batch one night during the week for a quick dinner.
Shortcut to Perfect Shredded Chicken
To make this really fast, you can just season your chicken, throw on the lid, and let the Instant Pot do its thing. (When we are in a rush, sometimes we do this.)
How to Cook the BEST Chicken Breast

When time is not of the essence, I suggest adding five extra minutes to up your chicken cooking game.
If you use a seasoning like Jamaican Jerk, Taco, or a Cajun seasoning that has a deep flavor, a dry rub does a lot to flavor chicken. If you let it marinate for about 30 minutes before cooking, it can do a lot to boost the flavor of your chicken.
For the seasoning I used today, Herbes de Provence, I just shake it on and let it cook. I have tried to marinate chicken with "less robust" seasonings and it really didn't make a huge difference. I don't really know a better way to describe the seasonings that I mean by "less robust." Basically things like salt and pepper or two other quick favorites of ours – 21 Seasoning Salute from Trader Joe's and Tony Chachere's Creole Seasoning.
For this recipe, I drizzle 1 tablespoon of olive oil over the chicken and generously season with 1 tablespoon of Herbes de Provence and a teaspoon of salt.
Ready to Start Cooking Amazing Instant Pot Shredded Chicken?
The first step to making perfect chicken in your Instant Pot is to saute your chicken on each side in a little olive oil.
This really gives the chicken so much extra flavor, moisture, and texture.
Push the saute button on your Instant Pot and then add some olive oil to the pot (the pot is thin and will heat up really quickly so make sure you are ready!)
Once the oil is hot, place your seasoned chicken breasts into the pot.
After a minute or two, flip the chicken. You want to get a light sear on each side, but you're not trying to cook the chicken.
After flipping, cook the second side for a minute or two and then press the "Keep Warm/Off" button. (Newer Instant Pots might have different labels on the buttons. Depending on what your screen says, you just want to turn the pot off at this point.)
To switch to the pressure cooking function, put your lid on, push the "Poultry" button, and make sure the vent is closed. (Point it AWAY from where it says "Venting.")
How Do You Know You Closed Your Instant Pot Correctly?
Your Instant Pot will now hiss and sputter at you a little, but if it is not closed, the air will just keep spraying out the top and it won't seal. The difference will become pretty evident as the hissing and sputtering will stop after a few minutes and the silver pin will pop up. If it does not stop and it keeps making a sound like blowing air, something is probably not right and either the vent is open or the lid is not sealed.
Now, let the pot do the rest of the work. It seems like it is not doing what you asked it to do and the time isn't starting, but it will.
Am I Using My Instant Pot Right?
This is the part where first time Instant Pot users get really confused and I COMPLETELY understand. I think I glazed over the instruction manual too quickly and it caused a few moments of frustration, confusion, and anger. I screwed up a few recipes because I thought the thing wasn't cooking, was overcooking, you name it. If you pushed any of the buttons other than "Off," it is ON. I promise. You just have to give it time to build up pressure inside before it will start counting down the time. This is how it cooks food so perfectly.
Are You Sure I am Doing This Right?
Your Instant Pot will say "On" on the screen, beep at you, and it then seems like nothing is happening. THIS IS NORMAL. Do not panic. I repeat, DO NOT PANIC. The Instant Pot takes a while to heat up and start building up pressure – longer than you think. It is going to make some funny sounds, hiss at you a little, spit some water, grumble, and then depending on how cold the contents are or how much is in the pot you will eventually hear that silver pin near the vent pop up and CLICK.
The timer should start counting down very shortly after the pin pops up. So be patient. Your programmed button might be set for 15 minutes, but it could take an extra 5-10 minutes to build up pressure and actually get going. (It is usually around 5 minutes unless you are making something thick or brothy like soup or chili that fills the whole pot. The more that is in the pot, the longer it will take for the pressure to build up.)
Is My Chicken Done Yet?
When the timer goes off, I often forget and am doing something else, so the pressure ends up releasing naturally. If you are actually in your kitchen – press the "Keep Warm/Off" button (if you have a new Instant Pot, it might just say "Off") and let the pressure release on its own. (You will know it is safe to open when the silver pin near the vent drops back down.) You can do a manual release if you are in a hurry, but I like to let the chicken "rest" inside the Instant Pot.
If you want to manually release the pressure, BE CAREFUL. Hot steam is going to shoot out the top. Turn the valve toward "Venting" (turn the little knob back toward you) and back up. (Do not do this under a cabinet/shelf because again, hot steam is going to come shooting out the top.) Michael likes to throw a dish towel over the vent to keep the steam from spewing everywhere. It takes a little longer but makes less of a mess.
Again, only after you hear the pin drop, indicating that all the pressure has been released, is it safe to open your Instant Pot.
There will still be some hot air and steam inside, so just like when you open a hot oven – do not go in face first. I usually point the lid away from me to let the rest of the air out before I check out the contents.
BUT Kari, My Friend's Instant Pot Sprayed Soup on Her Ceiling
A lot of friends have sprayed soup on their ceilings. You will find horror stories all over the internet of people with soup and chili on their walls, cabinet, and ceilings. I have been making bone broth in my Instant Pot once a month or more, for the past 6 years. I have never had this experience and I hate to say it, I think it is because of exercising good judgment (and patience.)
There is a "Max Fill" line for a reason and for the same reason, you do not manually release pressure on bubbling liquids. The liquids are bubbling. They are hot and they want to get OUT. Have you ever had a pot of water bubble over when you were cooking pasta? It is the same concept, but with a lot of pressure added and only one tiny vent. Exercise your patience and wait. Wait until the pressure has settled down a bit. If you want to take a risk, you can try to let a little pressure out.
After a while, you get to a point where you can tell when the contents are settled, but it also doesn't hurt to just be patient. Your four-hour dinner took 45 minutes – what's five more minutes?
How Do You Get Your Shredded Chicken Breast So Thin?
Once you can safely remove your chicken from the Instant Pot, you can shred it however you like – chop it up by hand, use forks, or my favorite method, use a stand mixer:
The paddle attachment on a stand mixer is amazing for shredding chicken, especially when it is too hot to shred by hand.
Chicken in,
turn on,
stand by for shredded chicken.
I recommend NOT adding the hot broth to the chicken until you turn off the mixer. Hot splashing liquids hurt a little when they hit you.
Now you have perfectly cooked, finely shredded chicken to use for salads, sandwiches, burritos, Chicken and Sausage Gumbo, Greek Avgolemono Soup, or for mixing into one of my favorite dishes: Buffalo Chicken Casserole.
*If you have had some failures with an Instant Pot in the past, please give it another chance. Initially, they are a little confusing, but they can really do some amazing things. They will not replace a grill or a stove, but they will make your life SO much easier. Especially when it is hot out you don't want to actually cook 😉
Instant Pot Shredded Chicken Breast
Instant Pot Shredded Chicken: One of the easiest things to cook and such a great way to create the building block for any meal. Your chicken can be seasoned with just about anything your heart desires and will always be perfectly juicy and moist. The best part is - the cooking is hands-free!
Print
Pin
Rate
Equipment
Instant Pot or Pressure Cooker

Optional: Stand Mixer
Ingredients
Instructions
Trim fat from chicken breasts.

Dry rub and marinate chicken for 30 minutes. (1 - 2 tbsp of dry rub depending on the amount of meat.)

If not using a dry rub, toss chicken in Herbes de Provence (or other seasoning) , 1 tbsp of Olive Oil, and a pinch of salt in a mixing bowl to coat fully.

Press the Saute button on your Instant Pot and add the remaining 1 tbsp of olive oil. Heat olive oil for 30 -60 seconds - the Instant Pot heats quickly as the metal bowl is thin.

Add your chicken breasts and let them sear for about a minute.

Flip your chicken over so each side has a light sear.

Press the "Keep Warm/Off" button or just "Off" if you have a newer Instant Pot and put on the lid.

Turn your vent to the closed position and press the poultry button.

It should take approximately 18 minutes for the Instant Pot to come to pressure and for the chicken to cook. Your results will vary based on the temperature of your chicken, your home, and your altitude.

When the timer goes off, you can manually release the pressure or wait for it to release on its own. Make sure you press the "Keep Warm/Off" button before you do either of those things.

Carefully remove your chicken from the Instant Pot and shred. It will be hot.
Nutrition
Calories:
279
kcal
|
Protein:
48
g
|
Fat:
8
g
|
Saturated Fat:
2
g
|
Cholesterol:
145
mg
|
Sodium:
263
mg
|
Potassium:
839
mg
|
Vitamin A:
70
IU
|
Vitamin C:
2.7
mg
|
Calcium:
11
mg
|
Iron:
0.8
mg