Homemade Cajun Seasoning is the perfect spice mix to improve any meal – it's a little salty, a little spicy, and packed with flavor. It is the perfect way to add a big punch of flavor to chicken, ribs, seafood, pork, or vegetables.
This Cajun Seasoning Recipe is also known as Bayou Blast. It's a recipe that my mother-in-law shared with me & it has become a favorite of ours.
We use it in so many different recipes – Crockpot Country-Style Ribs, Instant Pot Chicken Breast, and even in Crawfish Monica Pasta! It's the perfect combination of spices, and it has just a little bit of heat.
We like to keep a spice jar filled with this delicious Cajun Spice Mix on hand to use whenever we need it. It only takes a few minutes to whip up, and it is made from pantry staples. I like to make a big batch, so I always have some available when I need it.
🥘 Ingredients Needed
What's in Cajun Seasoning?
The best thing about homemade Cajun Seasoning is that it is made from simple ingredients that you likely already have in your pantry. They are common spices that you can get at any store, which is always nice.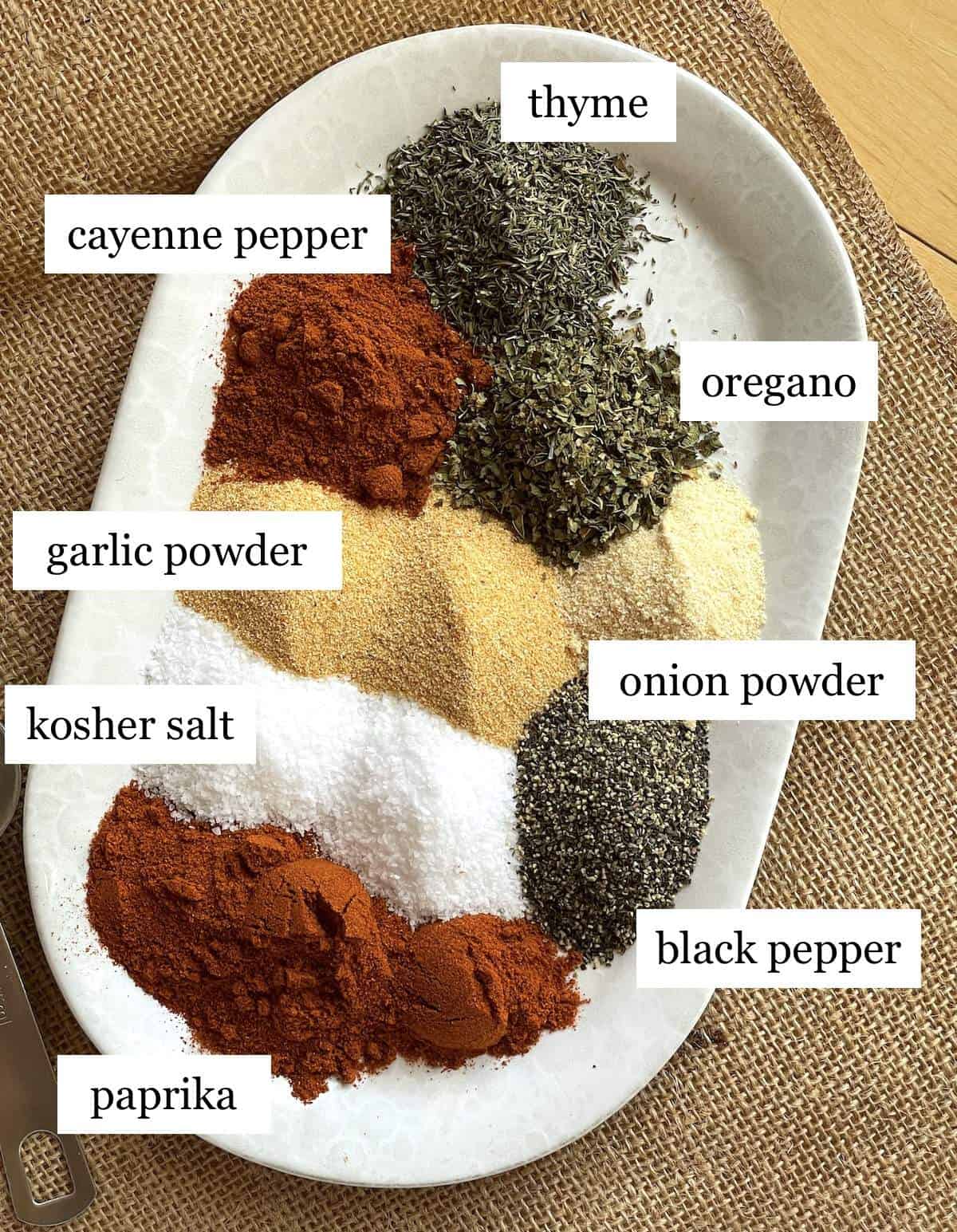 Garlic Powder
Onion Powder
Paprika – I use regular paprika, but if you want to add a little smoky flavor, you can use smoked paprika.
Kosher Salt – Do not use table salt for this recipe – sea salt would work, but you want large crystals of salt to add a crust to whatever you rub this on.
Thyme
Oregano
Cayenne Pepper
This Homemade Cajun Seasoning Recipe has a subtle heat and tons of flavor – like most Cajun food. If you are looking for a more mild Cajun Seasoning, you can reduce the amount of cayenne pepper that you use.
If you really like spicy food and want more of a "slap you in the face" heat, you can increase the amount of cayenne pepper or add some crushed red pepper flakes. It is really easy to adjust the spice level. (Full measurements can be found in the recipe card at the bottom of the post.)
🥣 How to Make Cajun Seasoning at Home
Making your own Cajun Seasoning could not be easier. Simply combine all the spices in a mason jar or other airtight container & shake to mix up.
You can also combine all of the ingredients in a bowl & mix them there. Just be sure to transfer it to an airtight container for long-term storage.
🫙 How to Store Homemade Seasoning
Homemade seasonings should be stored in a cool, dry place. Try to keep them out of direct sunlight if possible. They will last a long time if stored properly, but the quality will decrease if exposed to moisture or excess sunlight.
Ways to Use Cajun Seasoning
Bayou Blast Seasoning is essential to have around if you plan on becoming an expert in Cajun cuisine. We use it as an all-purpose seasoning and love to use this seasoning on so many things, especially to season meat.
It really takes so many recipes to the next level. I don't use specific measurements for dry rubs a lot of the time – just coat the meat until it is fully covered. So easy!
Chicken: As Blackened Chicken Seasoning or on Instant Pot Shredded Chicken. It is also a delicious dry rub for Smoked Chicken.
Ribs: As a dry rub for both Baby Back Ribs & Country-Style Ribs.
Burgers: Mix it into the meat when making blue cheeseburgers.
Pork: As a Cajun dry rub on pork tenderloin, pork shoulder, or pork butt.
Shrimp: Sprinkle shrimp with Cajun seasoning before sautéing them in butter or olive oil, or use it in the breading before frying shrimp.
Steak: As a Cajun marinade for a good charcoal grilled steak.
Pasta: Season the chicken or shrimp in a Cajun Pasta, Crawfish Monica Pasta, or Cajun Crawfish Étouffée.
Fish: Make easy Blackened Shrimp or Blackened Fish.
Vegetables: Sprinkle over Roasted Vegetables – it is great on Air-Fried Green Beans, Crispy Smash Potatoes or Baked French Fries, or Corn & Okra Succotash!
Breading: I have even added it to my Fried Chicken Tenders, Fried Fish, Fried Squash, & Fried Okra Breading.
All-Purpose Seasoning: Replace your go-to Cajun Seasoning in Homemade Gumbo, Southern-Style Collard Greens, or Authentic Red Beans & Rice.
We also gave out little bags of "Bayou Blast" Cajun Seasoning at our New Orleans wedding as a favor with a quote on the bag, "How sweet it is to be loved Bayou." (The other bag is Everything Bagel Seasoning with the quote, "Thank you for coming… it means EVERYTHING to us." )
A Homemade Spice Blend adds a unique touch to your wedding favors and is fun to make!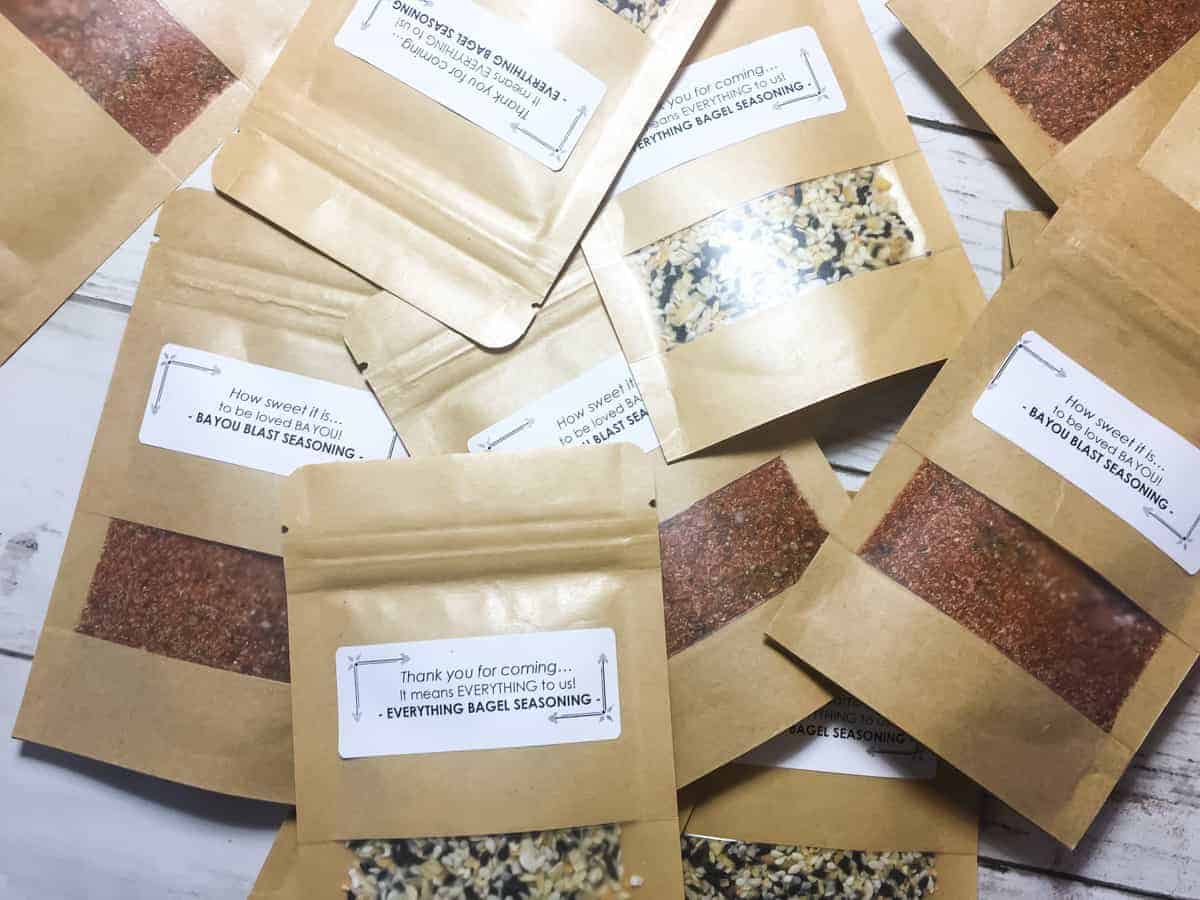 ✏️ Helpful Tips
When you are using this spice mixture as a dry rub on meat, let it sit for at least 15 minutes for the meat to absorb more of the flavor.
Store your seasoning in an airtight container in a cool, dark place. It will last a long time, but if moisture gets in, it will get clumpy.
Homemade Cajun Seasoning is a fun gift (see above for the wedding favor idea), but you can also give it as a gift in a cute jar. Homemade spice mixes are fun to make and have such a personal touch. We like to gift – Everything But the Bagel Seasoning, Cajun Seasoning, Homemade Taco Seasoning, Cinnamon Sugar, Greek Seasoning, Fajita Seasoning, and Vanilla Sugar with a little recipe booklet of how we use the recipes. It is such a fun gift to make!
🙋‍♀️ Frequently Asked Questions
What is a good substitute for Cajun seasoning?
at home. (You can also use Creole Seasoning if you have it – unless you are a purist, most store-bought Cajun and Creole Seasoning blends have become very similar!)
Is Old Bay Cajun Seasoning?
No, Old Bay is NOT Cajun Seasoning. It is more of an and has 18 different spices and herbs. To me, it has more of an all-spice/ginger/clove kind of taste with a just a little kick.
🌶️ Store-Bought Cajun Seasoning Brands
If you can't make Homemade Cajun Seasoning or would rather just buy it, there are a lot of great options out there.
The flavor of this homemade cajun seasoning blend is a little different than the store-bought blends, so here's a little bit about them. We use different brands depending on what we are making.
Have You Tried This Recipe?
Please rate it and leave a comment below. I would love to hear what you think!
Homemade Cajun Seasoning
Homemade Cajun Seasoning is the perfect spice mix to improve any meal – it's a little salty, a little spicy, and packed with flavor. It is the perfect way to add a big punch of flavor to chicken, ribs, seafood, pork, or vegetables.
Instructions
Combine all ingredients in a mason jar (or other airtight container).

2 ½ tablespoons paprika,

2 tablespoons kosher salt,

2 tablespoons garlic powder,

1 tablespoon black pepper,

1 tablespoon onion powder,

1 tablespoon cayenne pepper,

1 tablespoon dried oregano,

1 tablespoon dried thyme
Notes
This recipe makes 2/3 of a cup of seasoning.
Nutrition
Serving:
2
tbsp
Calories:
16
kcal
Carbohydrates:
4
g
Protein:
1
g
Fat:
1
g
Saturated Fat:
1
g
Sodium:
1271
mg
Potassium:
82
mg
Fiber:
1
g
Sugar:
1
g
Vitamin A:
994
IU
Vitamin C:
1
mg
Calcium:
24
mg
Iron:
1
mg
Nutrition information is approximate and is automatically calculated, so should only be used as a guide.