This Homemade Creole Seasoning Recipe tastes so much better than store-bought seasoning, and it is so easy to make. It has no preservatives or fillers and is such a delicious way to add a boost of flavor to homemade Creole dishes.
There isn't much better than making homemade seasonings. Whether you're making your own Taco Seasoning, Cajun Seasoning, Cajun Sparkle, Chicken Bouillon, or Jerk Seasoning, there are so many delicious dishes that you can make with homemade spice blends.
The freshness of this Creole Seasoning recipe is something that doesn't compare to the seasoning you can buy at your local grocery store – you'll want to make a huge jar to keep on hand to combine with your Creole Holy Trinity to replicate the bold flavors of New Orleans Creole Cuisine in your kitchen whenever you crave it.
My homemade Creole seasoning blend includes garlic powder, onion powder, paprika, cayenne pepper, dried thyme, dried oregano, dried basil, kosher salt, and black pepper. You can also add a little white pepper if desired; we just don't love the flavor of it, so I leave it out. The spices and different herbs are really the key ingredients and will help add so much extra flavor to your Creole cooking.
While Creole and Cajun seasoning are a little different, you can substitute them for each other in a desperate situation, though I would make my own if I had the time! (I have a separate Cajun Seasoning Recipe if you are looking for Cajun seasoning.) Do not use Old Bay Seasoning in place of Cajun or Creole seasoning – it is NOT the same thing and has more of an allspice kind of taste.
🌶️ How to Use Creole Seasoning
This delicious spice is such a versatile seasoning blend that will be used so often; you might want to make a double batch! Here are some suggestions for using it to make some delicious Creole food:
Gumbo Seasoning
Jambalaya Seasoning
Other Easy Recipes
🥣 Creole Seasoning Recipe
Store-bought creole seasoning is a perfectly fine option – I use Tony Chachere's Creole Seasoning on everything (it is the main ingredient in my famous Raising Cane's Sauce recipe) – but like everything else, homemade is usually best, and it's so easy to make it at home. The trick to Authentic Louisiana flavor is using quality ingredients.
A good Creole Spice mix is built using three layers – a base of salt, garlic powder, and onion powder, then a layer of spice from cayenne pepper, paprika, and black pepper. (Feel free to add more cayenne pepper if you want to increase the spice level.)
Then the layer of herbs – basil, thyme, and oregano. (I like to dry fresh herbs in the summer to use in my seasonings to add a fresh punch of flavor.)
Combine all of the spices together and mix until well combined. That's it! You can grind them up with a spice grinder if you want, but I like to keep the spices whole.
You can leave out the salt if you want to be able to separately control the salt in each of your dishes – that's another perk of making your own seasoning – you can customize it to your needs. It's such an extraordinary blend of flavorful spices that you might not even need the salt. (Though at our house, we love salt.)
🫙 How to Store Homemade Creole Seasoning
Keep your homemade seasoning blend in an airtight container, like an airtight jar or mason jar, in a cool, dry place in your spice cabinet. It will keep for a long time if stored properly.
Give Creole Spice Mix as a Gift
Make a batch of this spice mixture and put it in a cute spice jar or a 4 ounce mason jar. Tie a bow around it and give it as a gift to your favorite home cook. Homemade spice mixes are a great gift, and homemade gifts are my favorite. (We even gave out Cajun seasoning and Everything Bagel Seasoning as wedding favors!)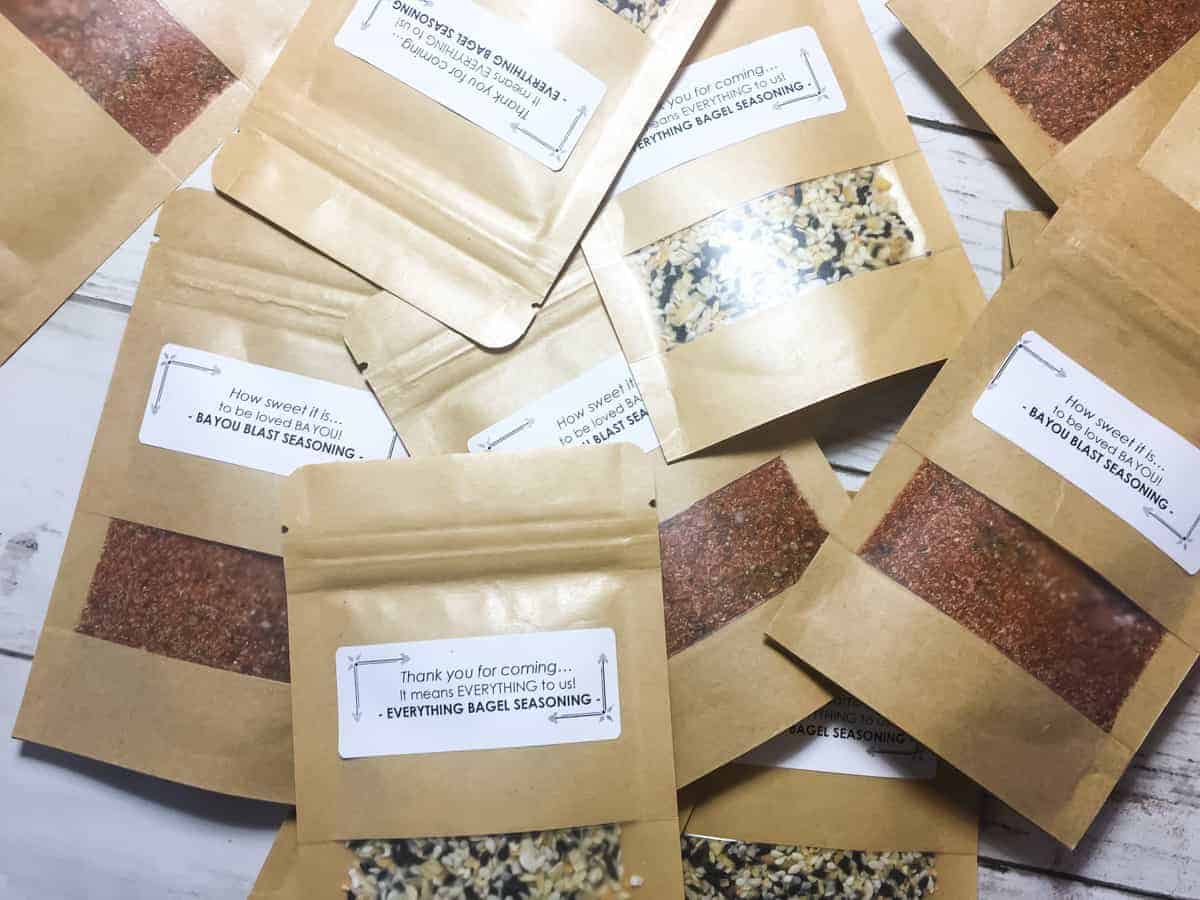 Have You Tried This Recipe?
Please rate it and leave a comment below. I would love to hear what you think!