Chicken and Sausage Gumbo is a soulful, belly-warming, bowl of perfection. Gumbo is the truest representation of Louisiana cooking - taking simple, inexpensive ingredients and elevating them into something extraordinary. My favorite gumbo is made grain and gluten-free for a Paleo treat that anyone can enjoy.
When I first met my husband, I had a pretty mixed opinion of New Orleans and the wonderful food there. My first trip to New Orleans was not that great - I was sick for most of the trip and was so stuffed up that food had pretty much no taste.
Michael convinced me to give New Orleans a second chance and now it is one of my favorite places. And the food - well, there's nothing like it anywhere else.
When you are in New Orleans, seafood gumbo is always a great choice because the seafood is really fresh. When you are landlocked in Tennessee like us - chicken and andouille sausage gumbo is a great alternative.
Table of Contents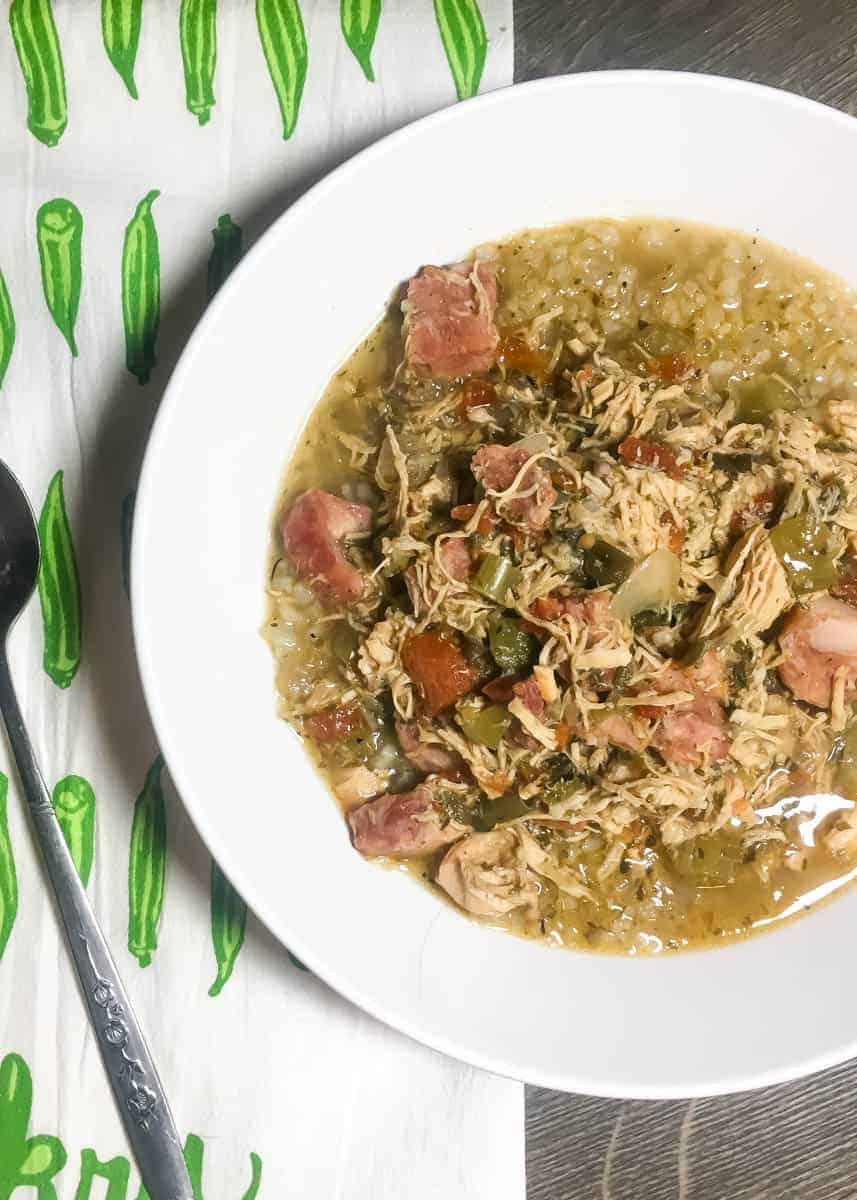 🥘 Ingredient Notes
• Ingredients to Make a Roux - I use almond flour and avocado oil. The almond flour gets really toasty and tastes really good. (I have tried a paleo roux with tapioca starch, but it just gets kind of gummy and burns easily. I like the almond flour best.)
• Cooked Chicken: diced or shredded. This is a good way to use up a leftover rotisserie chicken. I like to cook mine in my instant pot and shred it up while the gumbo is cooking. By the time you need to add the chicken, it will be done.

• Andouille Sausage - For Paleo sausage, my favorite is Gilbert's Chicken Sausage - otherwise, we get something from a butcher or Whole Foods.
• Chicken stock or broth
• Diced Green peppers
• Diced Green Onions
• Diced Celery
• Cut Okra - either fresh or frozen
• Diced Onions

• A can of diced tomatoes or fresh garden tomatoes, diced.
• Dried Parsley
• Marjoram
• Kosher Salt
• Dried Thyme
• Dried Basil
• Tony Chachere's Creole Seasoning

🥣 How to Make It
Your first step will be cooking your chicken and baking your okra. Get your oven heated to 350°F.

You have two options here for making your chicken - I like to cook 2 - 3 chicken breasts in my Instant Pot. If you don't have an Instant Pot, you can bake your chicken in the oven at 350 - 375°F for about 20 minutes. (Drizzle it with a little olive oil, salt, and pepper. Cook in a baking dish or on a cookie sheet with edges.)

While your chicken is cooking, you should also pre-cook your okra so that it doesn't get super slimy.
How Do You Keep Okra from Getting Slimy?
Baking okra before adding it to gumbo dries it out a little and prevents it from becoming a slimy mess. To do this, spread out your okra on a baking sheet and bake at 325°F (163°C) until it is slightly dried out. This should take about the same amount of time as it takes to cut up all the veggies and get your roux started.
Once the okra is in the oven, you can begin chopping your vegetables. Your gumbo will start with the "Cajun Holy Trinity" - onions, green peppers, and celery. Once you have your veggies chopped, you can start your roux.
How Do You Make a Paleo Roux for Gumbo?
To make a Paleo Gumbo Roux, you use the same proportions of oil and flour as regular gumbo - ½ a cup of flour to ⅓ cup of oil - but use your favorite Paleo flour I like to use almond flour and avocado oil. I have used tapioca starch and light tasting olive oil but the tapioca starch got a little too gummy for my liking and seemed to burn easier.
Heat your oil over a medium-low heat and then add your flour. (Picture 1) It will look kind of like paste at first (Picture 2), then it will slowly start to get darker. (Picture 3)
How Do You Know if Your Roux is Cooked Enough?
Once your roux starts to brown and thicken - almost the color of sand, but not quite the color of a cardboard box, it is ready to use. (Picture 4)
Cooking the Gumbo
When your roux is cooked enough (Picture 1), Immediately add your okra and your "holy trinity" - green peppers, celery, and onion. Cook for 3 - 5 minutes - just letting the roux get all up in the veggies and let them start to soften from the heat. (Picture 2)
Then add your garlic, tomatoes, green onions, and season with marjoram, basil, bay leaves, thyme, and salt and pepper. (Picture 3) Cook for 1 - 2 minutes.
At this point, your chicken should be ready to go, so shred that and drop it right in. (If you cooked your chicken in an Instant Pot, go ahead and add the broth that was in the bottom of the pot. Yum!) (Picture 4)
Cook for a few minutes and then add your broth.
Add the rest of your chicken broth and stir it up! (Picture 5)
Slowly bring the gumbo to a boil and start cooking your andouille.

The timing should coincide so that your andouille will finish cooking when your gumbo starts boiling. Add your andouille, then, turn the heat on your gumbo down to a simmer and wait patiently.
Simmer your paleo gumbo on low heat for an hour at least - longer if you have time. I usually cook mine for about 3 hours. The longer you cook your gumbo, the better it will be. If it starts to look like too much broth is cooking off, feel free to add more.
🍳 Serving Suggestions & Uses
When you are ready to eat your gumbo, serve it over cauliflower rice (if Paleo or Whole30) otherwise you can use white rice. Season and garnish with salt, pepper, and a splash of Tabasco Sauce.
How to Make Cauliflower Rice
I love to make cauliflower rice - it is so easy. I saute a finely diced onion until translucent, then add a bag of riced cauliflower. You can use fresh or frozen. Season with a pinch of kosher salt and a few shakes of 21 Seasoning Salute. Saute for a few more minutes, then reduce the heat and cover to fully cook the cauliflower. This should take about 7 - 10 minutes.
📋 Tips
• Find a brand of andouille sausage that you really like - if you don't like the sausage, you won't like your gumbo. Our favorite brand is Vernon, though it is not Paleo. Gilbert's Sausage makes a Paleo version that is really good and the kind you can get from the Whole Foods butcher is usually Paleo - always ask first. (The brand Bilinski's sells a compliant andouille sausage as well, but we didn't really like that one.)
• Be sure to bake your okra before adding it to your gumbo - it will keep it from getting slimy. If you are using freshly picked okra from your garden as we do, it works really well to boil it to soften the "pod" as it can be a bit fibrous - then slice and bake the okra. It is an extra step, but if your okra are too fresh (or you let them grow too long) they can be almost inedible if you don't soften the pod.
🥫 Storage/Shelf Life/Reheating
Once cooled, gumbo can be stored in the fridge for about a week. Gumbo can also be frozen - I like to freeze my gumbo in long, flat containers and then once frozen, vacuum seal the blocks. They can stay frozen this way for at least 6 months.
Try These Other Great Paleo Recipes
Have You Tried This Recipe?
Please rate it and leave a comment below. I would love to hear what you think!
📝 Recipe
Paleo Chicken and Sausage Gumbo
Chicken and Sausage Gumbo is a soulful, belly-warming, bowl of perfection. Gumbo is the truest representation of Louisiana cooking - taking simple, inexpensive ingredients and elevating them into something extraordinary.
Ingredients
For Chicken
2 - 3

boneless chicken breasts

Cooked and shredded. My favorite way to do this is in an Instant Pot, though you can also bake your chicken on a nonstick cookie sheet (or use a nonstick mat) at 375° F for about 25 minutes.
For Gumbo
⅓

cup

avocado oil

Use a light tasting oil. For Paleo - avocado or light tasting avocado.

½

cup

almond flour Use your choice of flour, for Paleo - almond flour is ideal.
First Vegetable Group (Group #1)
1

cup

onion, diced

1

cup

celery, diced

1

cup

green bell pepper, diced

24

oz

okra, diced, frozen or fresh
Second Vegetable Group and Spices (Group #2)
Broth
2

quarts

chicken/bone broth

1

quart

water

1

tsp

kosher salt

Salt to taste at this point, you may need more depending on your preferences.

½

tsp

black pepper

Pepper to taste at this point, you may need more depending on your preferences.
Sausage
1

lb

andouille or hot smoked sausage, sliced

Gilbert's Andouille is Paleo, as is the Whole Foods Andouille at MOST Whole Foods. Ask the butcher of the ingredients before buying because stores might use different ingredients.
For Serving
4

cups

cauliflower rice

You can use regular rice if you are able to eat it, but to remain Paleo or Whole30, use cauliflower rice.
Instructions
Begin by getting your chicken cooking. I like to make mine in my Instant Pot so I can be hands-free to cook the rest of the gumbo. You can find instructions here. You can also bake your chicken breasts on a nonstick cookie sheet (or use a nonstick mat) in the oven at 350 - 375° F for about 20 - 25 minutes with olive oil, salt, pepper, and some Tony's Creole Seasoning on them.

While cooking your chicken, you can also cook your okra. Baking the okra ahead of time will keep it from getting stringy and slimy when you add it to your gumbo. It requires 15 - 20 minutes to cook, so I usually pop it in the oven at 350° F when I throw the chicken in the Instant Pot and start cutting up veggies. Check on it once or twice and stir to be sure it is not burning.

Cut up all your vegetables. I separate them into groups because I find it easier to just toss them into bowls by what goes in the pot when. Combine your diced onion, celery, and green pepper. In a separate bowl, combine green onions and garlic.

Begin your roux. It will take a few minutes to heat up but will start to change quickly once it has heated up. The colors will change from white, to light brown, and then the perfect shade of brown - somewhere between sand and a cardboard box.

Add your first group of vegetables (Group #1) and cook for about five (5) minutes.

After the onions start to appear translucent, add the second group of vegetables (Group #2) with the spices and your can of tomatoes, and your shredded chicken.

Cook for another five (5) minutes and then add your chicken stock, water, more salt, & pepper. Bring to a boil.

While the gumbo is coming to a boil, cook your andouille. I like to use quartered pieces of sausage - you can also cut it into rounds.

Add the cooked andouille to your gumbo once it is boiling and reduce heat to a simmer. Simmer on low heat for at least an hour, I recommend 3 hours. Gumbo gets better the longer it cooks and even better the longer it sits.

When I am working from home, I will make it in the morning and let it simmer on low, low heat all day.
Rice
Serve with cauliflower rice if you are strict Paleo or following a Whole30. White rice is fine if you can eat it! (Instructions above on cooking the cauliflower rice.)
Garnish
Salt/pepper to taste and add a splash of Tabasco sauce.
Nutrition
Serving:
1
cup
Calories:
355
kcal
Carbohydrates:
14
g
Protein:
22
g
Fat:
24
g
Saturated Fat:
6
g
Cholesterol:
62
mg
Sodium:
1461
mg
Potassium:
891
mg
Fiber:
5
g
Sugar:
5
g
Vitamin A:
845
IU
Vitamin C:
71
mg
Calcium:
129
mg
Iron:
3
mg
Nutrition information is approximate and is automatically calculated, so should only be used as a guide.