Homemade dog food is such an easy way to spoil your dog and feel great about doing it. All you need is a stove and a large pot to make a yummy and healthy meal for your dog.
This recipe is the stovetop directions to make my Instant Pot Dog Food Recipe. I know not everyone has an Instant Pot (though you should!) so here are directions that everyone can use.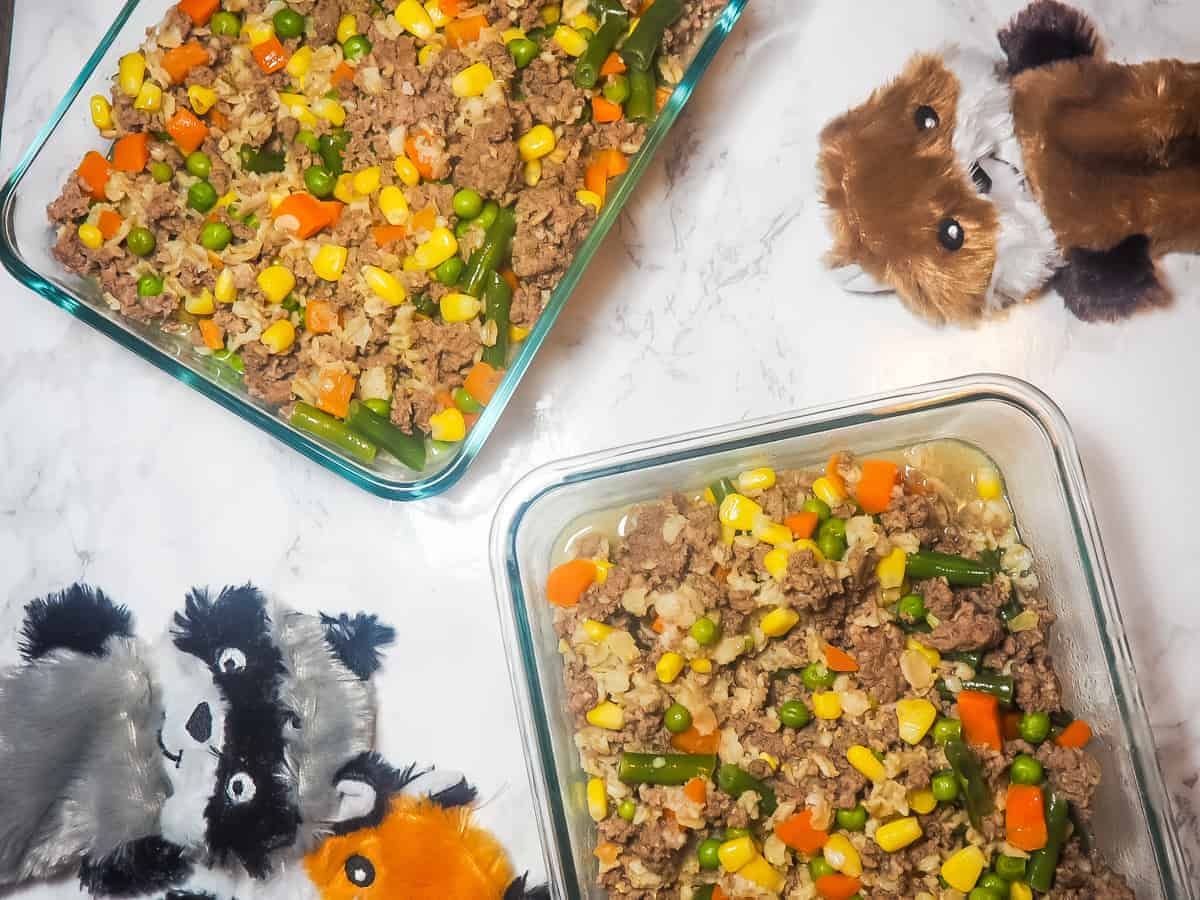 Jump to:
🥘 Ingredients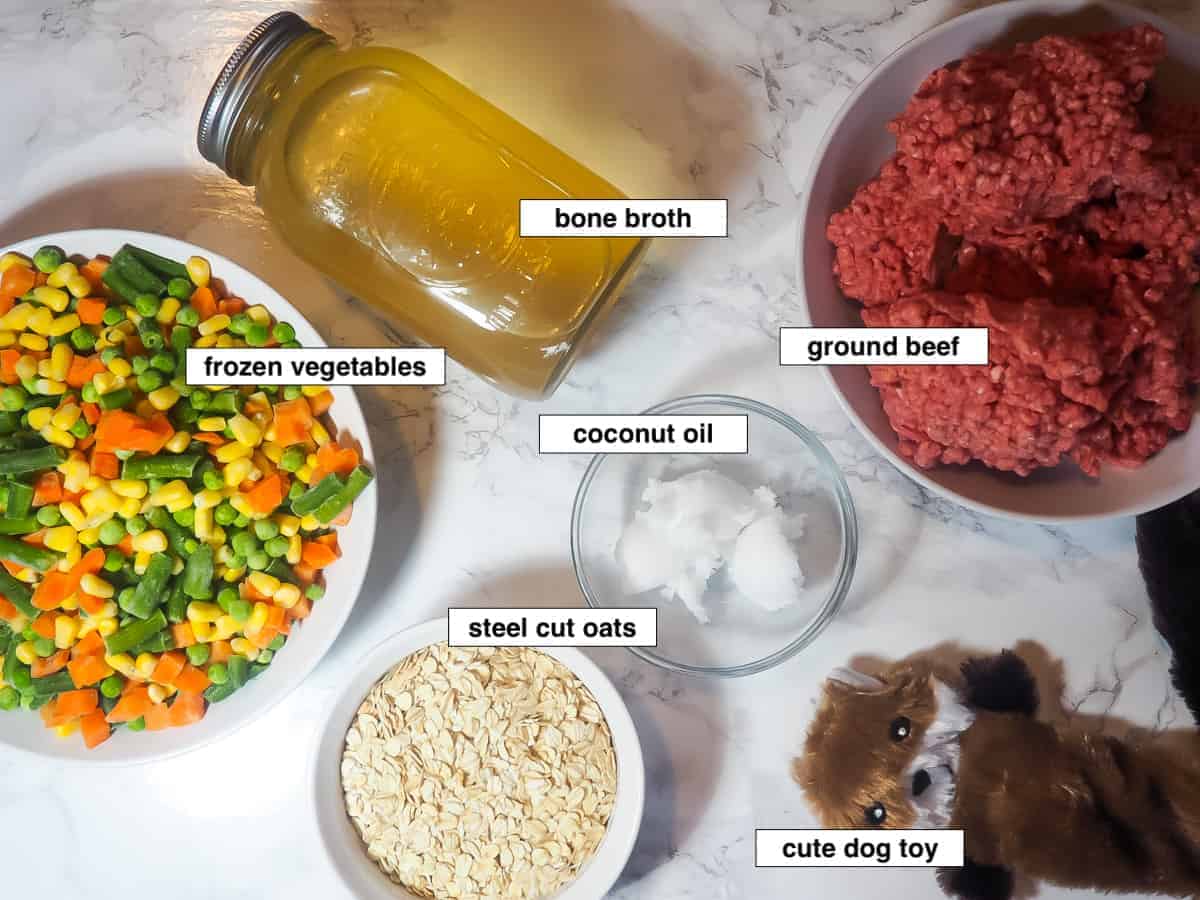 • ground meat - I alternate between ground beef, ground chicken (choose organic for ground chicken), ground turkey, or even fish if we have some that is fresh and recently caught.
• uncooked oats or leftover cooked rice
• frozen or fresh vegetables that are chopped into bite-size pieces
• optional fruit - we like to use berries
• chicken or beef bone broth or stock
• coconut oil
🥣 How to Make It
Here's how to make homemade dog food on the stove. (To make homemade dog food in your Instant Pot, you can check out my recipe for Homemade Dog Food in an Instant Pot. )
First, heat up a medium or large-sized pot on the stove and cook your ground meat. (Pictures 1 - 3) Drain off any fat and once cooled, discard it. (Picture 4)
Next, add your drained meat back to your pot and add your coconut oil and frozen vegetables. (I add a bag or two, aiming for 20-24 ounces, of frozen vegetables. If using a 12-ounce bag, use two. If using a 16-ounce bag, use one and a half.) (Picture 5) Stir to combine and let the coconut oil melt.
Mix well (Picture 6) then add your bone broth and oats. (Picture 7)
Bring to a boil, then reduce to a simmer until most of the liquid cooks off and the oats soften. (Picture 8)
Remove your pot from heat and let your dog food cool before serving or storing. You can divide the food into portions depending on your needs - I usually split it in half and freeze one batch. I use a measuring cup when I serve the food, so I don't take the time to split it into individual portions.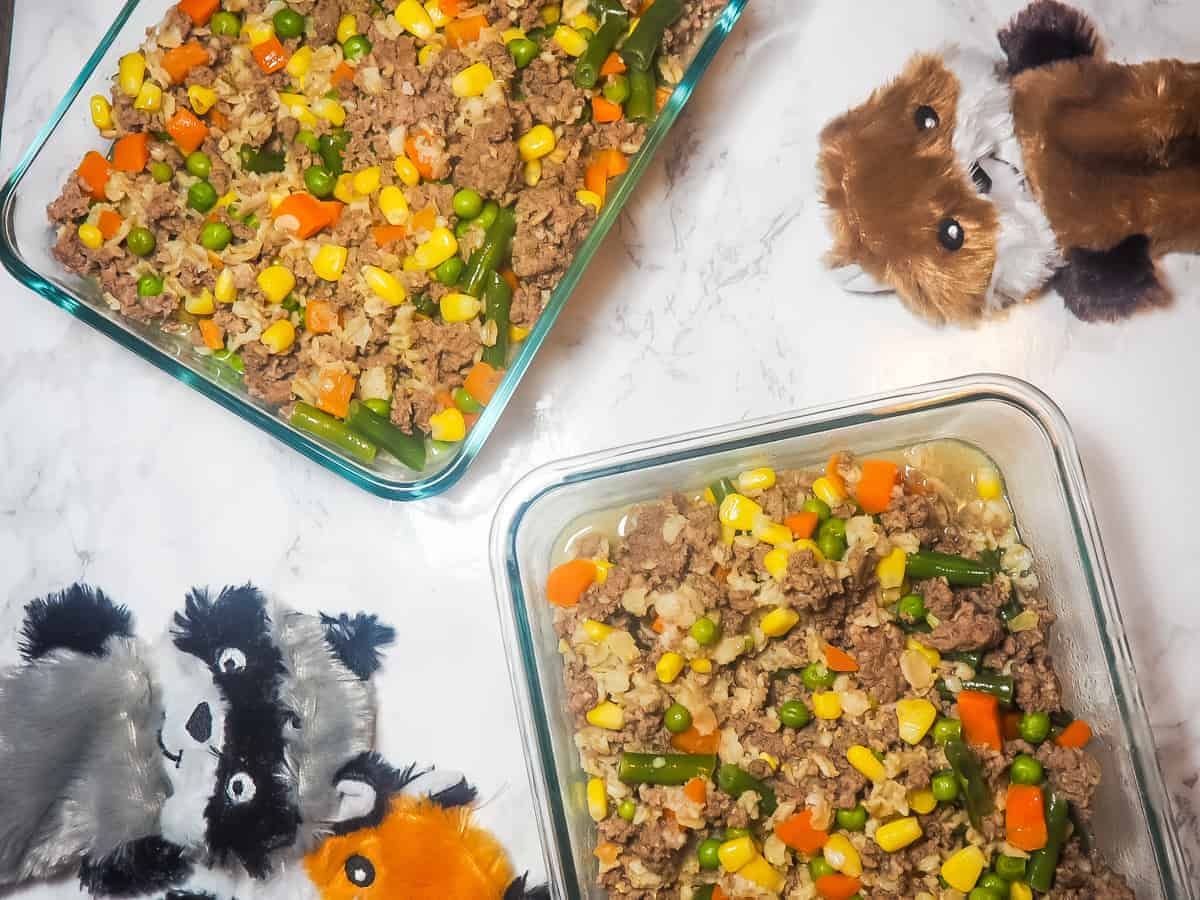 📖 Options
???? What Kinds of Vegetables Should You Use?
I like the mixed vegetable mix from either Walmart or Aldi that is peas or green beans, carrots, and corn. (Do not use anything with onions!) The last mix I bought had lima beans as well. You can also use a bag of just carrots mixed with a bag of cut green beans. (You know your dog so feed them what they like!)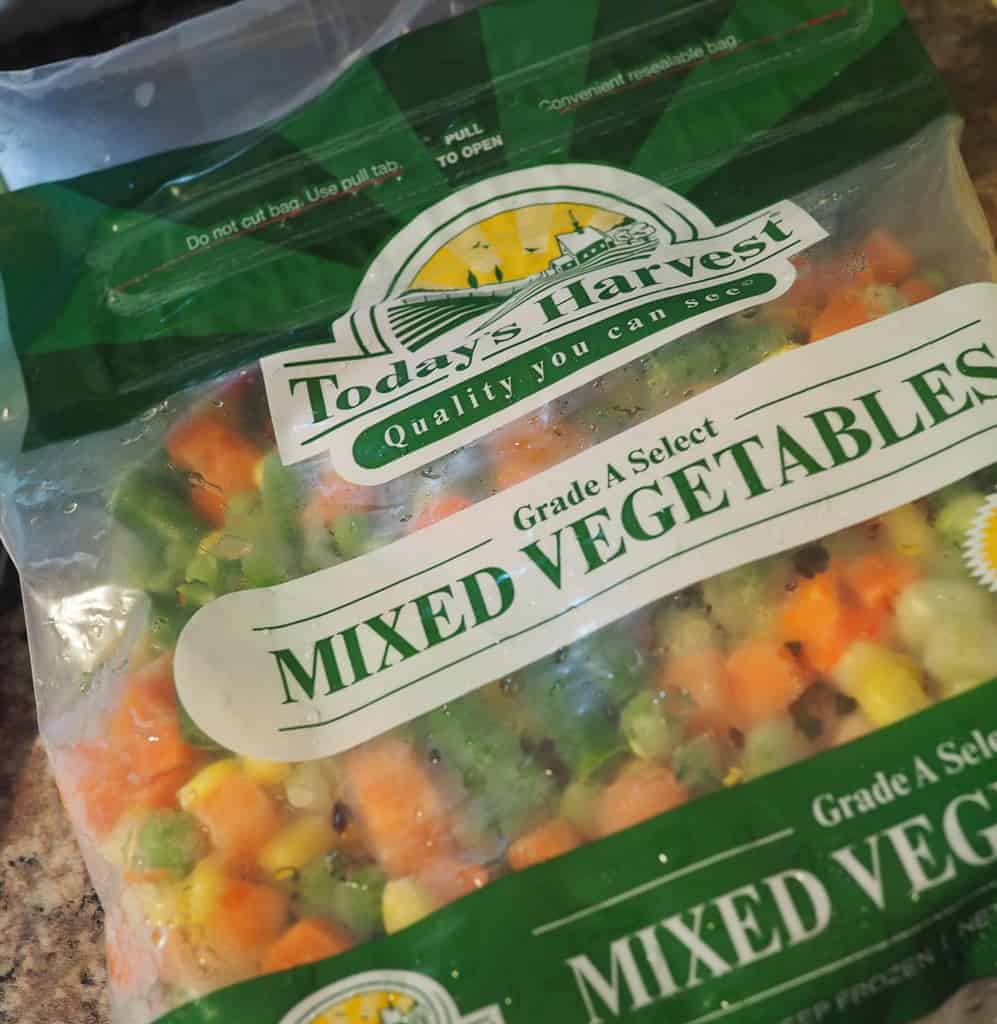 ???? Can You Add Fruit?
Absolutely! Fruit has a lot of nutrients that are great for dogs. Just don't go overboard with it. We often use what is in season or what we have in the freezer. We like to use some kind of berries - strawberries or blueberries are best. Do NOT use grapes as they are very bad for dogs. You can add fruit before or after cooking, just beware that if you cook with blueberries, your dog food will turn purple 😉
???? What Grains Can You Use?
The easiest grains to use are oats and leftover rice. (If your dog has an allergy to grains, you can substitute diced sweet potatoes.)
???? What Else Can You Add?
We like to add little bits of leftovers from all kinds of things: cooked duck, roast beef, pot roast, grilled chicken.. even pork. We also sometimes add eggs, beef broth, duck broth, or sometimes even some wild game!

We supplement her diet with raw shank bones (frozen with marrow still in them) and raw pig's feet. She loves them in all their disgustingness.
🍲 Serving Size
The most important thing is to be sure and discuss serving sizes and ingredients with your vet before switching your dog to a new diet.
Here's our personal experience: I give Melly 1 heaping cup of the food two times a day (with a small scoop of homemade yogurt on top) and she weighs somewhere between 40 and 45 pounds. She absolutely loves it!
If she has had an extremely active day, running around like the border collie she is and chasing squirrels up trees or patrolling the fence, I will give her a little extra at dinner. Our vet likes that we rotate different meats, veggies, and fruits - it gives her a variety of nutrients like a dog would find in the wild.
📋 Tips
• Make sure that you don't abruptly change your dog's food - mix with their regular food or kibble for a few days until they are used to the new food. Your dog's belly will thank you. And again, remember to always discuss with your vet before feeding your pet something new.
• Top your dog food with a scoop of homemade or plain greek yogurt.
• Rotate different meats, fruits, and vegetables to make sure your dog gets different and nutrients. If your dog has a sensitive stomach, you might be best sticking to one combination that you know works 🙂
🍳 Serving Suggestions/Uses
I serve Melly's food both hot or cold - she's not very picky. I often top it with 1/4 cup of plain yogurt (with no sweeteners added) when serving. Yogurt is not necessary but provides probiotics and helps with healthy digestion. I like to make plain, Greek yogurt in my Instant Pot.
📋 Recipe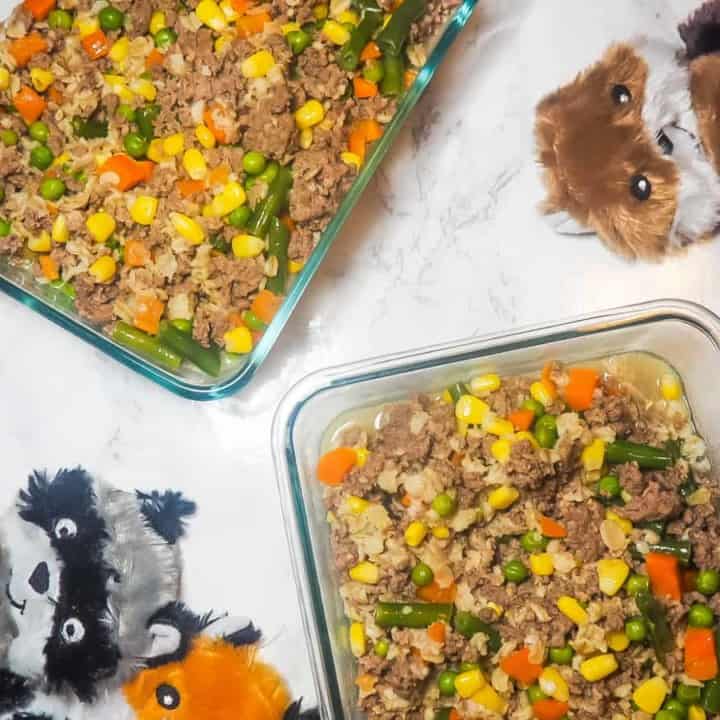 How to Make Easy Homemade Dog Food - Stovetop Directions
Homemade dog food is such an easy way to spoil your dog and feel great about doing it. All you need is a stove and a large pot to make a yummy and healthy meal for your dog.
Ingredients
2 - 3

lbs

ground beef

or: ground chicken, turkey, or fresh fish - shredded chicken breasts work well too.

24

ounces

frozen vegetables

peas, green beans, carrot, and corn

1

cup

frozen fruit

I like to use blueberries and strawberries. (Optional)

1 - 2

cups

leftover cooked rice or oats

1.5

cups

bone broth

2 - 3

tbsp

coconut oil

refined or unrefined - whatever you have
Topping
1/4

cup

plain yogurt

optional for serving
Instructions
Cook 2 1/2 to 3 pounds of your choice of ground meat in a large pot on the stove.

Drain off the cooking grease and discard once cooled. Return the cooked meat to your pot.

First, add your frozen vegetables, fruit, and coconut oil.

Once the coconut oil melts, add bone broth and oats.

Mix well to combine everything.

Bring the mixture to a boil then reduce to a simmer. Cook for 10 - 15 minutes until the broth is absorbed and the oats are soft.

Remove your dog food from the heat and let the mixture cool. Divide into two portions - one for the next few days and one to freeze. (You can also portion the food into single servings if you feel so motivated.)
Notes
This recipe is really flexible. You can use ground beef, turkey, fresh fish, or chicken. You can use shredded chicken breast as well. The only thing I would not recommend is canned fish, as it can be very fatty and too much can lead to pancreatitis.
I switch between oats and rice and vary the vegetables and fruits based on what we have and what is in season. Melly is a former street mutt and will eat almost anything, especially if you cook it all together, so we give her all kinds of fun veggies!
Nutrition
Serving:
1
cup
Calories:
379
kcal
Carbohydrates:
12
g
Protein:
22
g
Fat:
27
g
Saturated Fat:
12
g
Cholesterol:
81
mg
Sodium:
100
mg
Potassium:
396
mg
Fiber:
2
g
Sugar:
1
g
Vitamin A:
1734
IU
Vitamin C:
4
mg
Calcium:
36
mg
Iron:
3
mg
Nutrition information is approximate and is automatically calculated, so should only be used as a guide.