Homemade Dog Food is a great way to spoil your dog and feel good about doing it. Made in an Instant Pot, this Instant Pot Dog Food Recipe is a quick, cheap, and easy way to feed your dog a nutritious meal that they will think is a treat.
If you are anything like we are, spoiling your dog is a natural part of everyday life – we make her homemade blueberry dog treats, pupsicles, sweet potato dog treats, and pup-kin spice pumpkin dog treats. Fur babies are family, and we want to be the best pet owners that we can be. Our border collie rescue, Melly, is 13 years young and is full of energy and love. She is treated like a queen, and although she will eat almost anything, monitoring her health and feeding her nutritious meals is really important to me.
I love using my Instant Pot to make dog food (and just about everything else) because it makes it quick and easy, and everything comes together in one pot.
The commercial dog food options that were available to us didn't provide exactly what we were looking for in terms of optimal nutrition, and we wanted something that didn't come with unnecessary additives, so we talked to our vet and decided that homemade dog food would be a great option for us.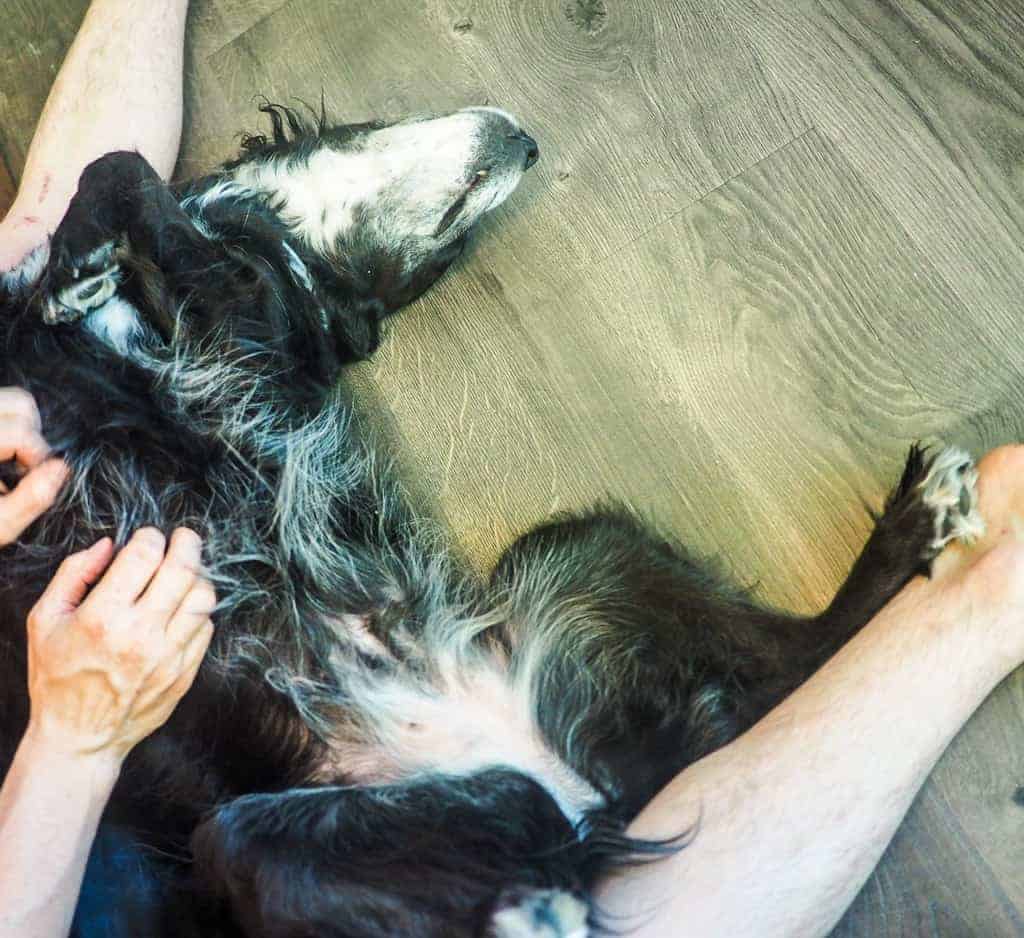 I made Melly a batch of homemade food for the first time a few years ago and have been making it for her ever since. It's cheap, easy to make, and she loves it. I love knowing everything going into it, so I know she isn't eating mystery meat.
Our vet compliments her constantly for her weight, clean teeth, and energy level – she's almost 13 but acts like she's still a puppy. (When I first published this post in 2019, she was 11!)
When I started making homemade food for her, I started making homemade treats (blueberry dog treats are her favorite) and smoothie pops for her as well. She loves eating her "human food," and I am happy to make it for her.
(This post was originally posted in 2019 – I've made some updates to it to add some more information, and because it randomly disappeared from Google search – I figured it was time for an update!)
This is a basic homemade dog food recipe using an Instant Pot – I also have stovetop dog food directions.
🥘 Ingredients Needed
This recipe is pretty comparable to what you would get from the grocery store from Fresh Pet (I think Costco sells it in big tubes), except you can control what goes in it, and it's fun to make it yourself!
The nice thing about making your own DIY dog food is that you can think about your dog's needs and any food allergies that they might have. Instead of having to read a million labels, you are in control of what goes in the food. If your dog is a picky eater, you can also feed them what you know that they like: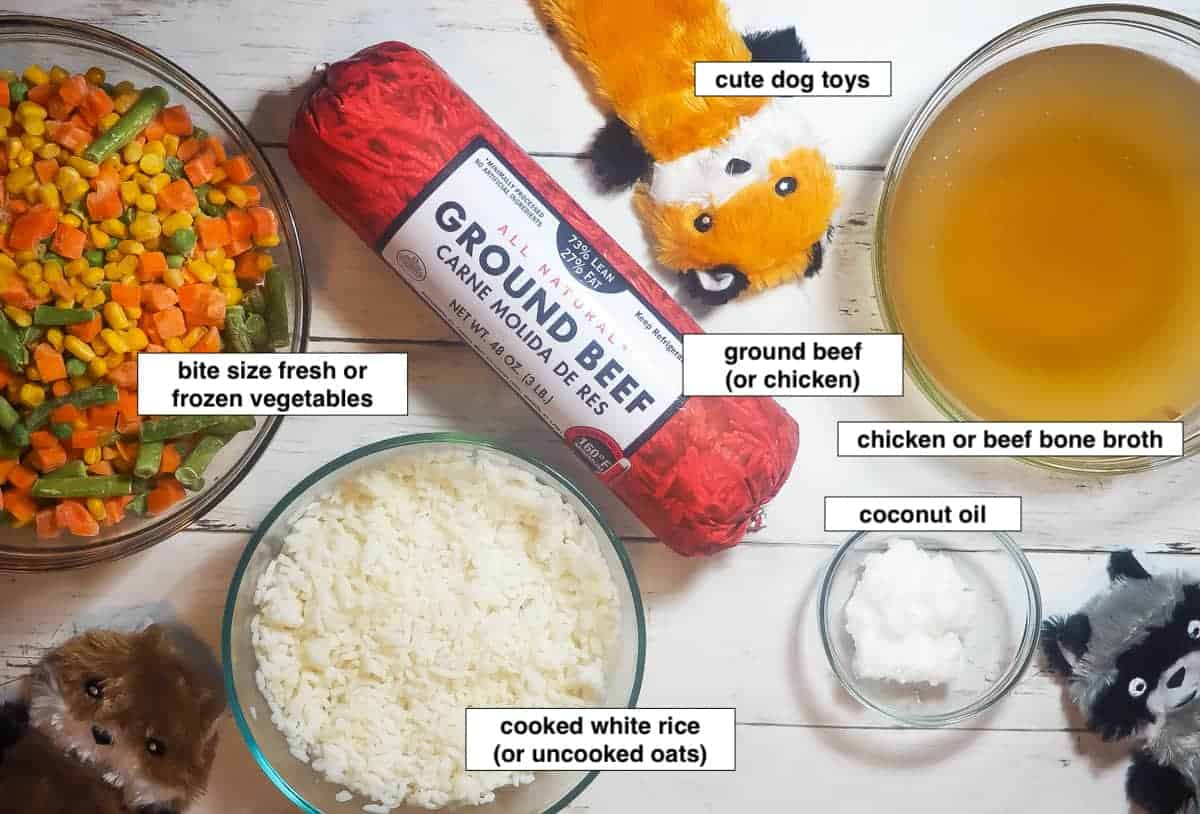 Meat – I alternate between ground beef, chicken (chicken breast, chicken thighs, or ground chicken – choose organic for ground chicken), turkey or ground turkey, venison, or even fish. We love to share our fish when we have fresh fish that we've recently caught. (You can also cook a whole chicken and shred it up if you are feeling really adventurous, but that's a lot more work. If you cook a whole chicken, be sure that all bones are removed.)
Healthy Carbohydrates – There's a lot of conflicting information about whether or not dogs should eat a grain-free diet. When we fed Melly a completely grain-free diet, it actually made her sick. We found that meeting her complex carbohydrate needs in the form of whole grain – rice, oats, rinsed quinoa, or barley – works really well for her. Do what works best for your dog! (See my notes below about bio-individuality.) We also add sweet potatoes, butternut squash, real corn (off the cob), or purple potatoes to her food. (I changed out the picture of this recipe because I was getting sick of explaining to people that corn IS safe for dogs to eat. It provides the same vitamins and minerals to dogs as it does to people – the confusion comes from people recommending against foods where corn is the main ingredient in the food. Corn should be used to supplement a diet, not be the main ingredient in the food, which is the problem with many commercial dog foods. If a human ate only corn, they would have nutritional deficiencies as well!)
Frozen or Fresh Vegetables that are chopped into bite-size pieces – Our dog loves green beans, carrots, peas, broccoli, spinach, squash, corn, and potatoes.
Chicken or Beef Bone Broth – I use homemade bone broth, but you can use any kind of none broth or stock that does not have onions in it.
Coconut Oil – Our dog LOVES the taste of coconut, so we use unrefined coconut oil. You can use whatever you have! You can also leave this out and squirt fish oil into the food when serving instead.
Optional Supplements (Add after cooking/when serving)
Fruit – So many fruits are great for dogs – we love feeding blueberries, strawberries, apples, bananas, avocados, and tomatoes. (With apples, avoid the seeds, and with avocado, avoid the skin and pit.)
Kefir
Supplements – We give our dog food-grade bone meal, organic kelp, Paramount Pet Health Fish Oil, Paramount Pet Health Multivitamin, and Paramount Pet Health Hip & Joint. (The Parament Pet Health Supplements provide fat-soluble vitamins that are easy to digest and absorb. If your pet is young, the joint supplement might not be necessary, but if they are a breed prone to hip and joint issues, it could be worth looking into.)
Eggs and Egg Shells – Eggs are such an amazing source of nutrients for dogs (and people!), and organic egg shells are an excellent source of calcium for dogs. If you have your own chickens, be sure to wash the eggs before feeding them to your dogs and make sure that they can't get to your nesting boxes if you start feeding them eggs – they might start wanting to help themselves to a tasty treat 😉
Spirulina – Spirulina is seen as a "nutritional powerhouse" and is an antioxidant that can help with digestion. Check with your vet if your dog takes any medications, as it can interact with some medicines.
Dogs are just like people in that there's no "one size fits all" solution when it comes to nutrition – this is called bio-individuality. All dogs are omnivores, where they thrive eating both animals and plants – as opposed to cats who are strict carnivores – but the types of animals and plants that they thrive on will vary from dog to dog. Some dogs are allergic to chicken; some are allergic to salmon. Some can only eat venison. Find what works for your dog, and they will thrive! Just like people – I can end up in the hospital if I eat poblano peppers, and I have good friends who can die from eating peanuts. Bodies are wild.
🥣 How to Make It
To make homemade dog food, I use my Instant Pot, but you can use any pressure cooker. To make homemade dog food on the stove, you can check out my recipe for homemade dog food on the stove. You can also make this with a crockpot or slow cooker, just cook the meat first on the stove – then combine it all and let it cook on low for a few hours to let the flavors come together.
First, set the Instant Pot to "Saute" and cook the ground meat. (Pictures 1 – 3) Pour off any fat, and once cooled, discard it.
Add the drained meat back to the Instant Pot. (Picture 4) Dump in the leftover rice and mix well. (Picture 5) If you are using barley, quinoa, oats, or sweet potatoes instead of rice, skip to the next step. (I mix in the leftover rice early in the process because it is usually in a huge clump that needs to be broken up into smaller pieces. This is difficult to do once the Instant Pot is full.) I use Instant Pot rice that has been previously cooked.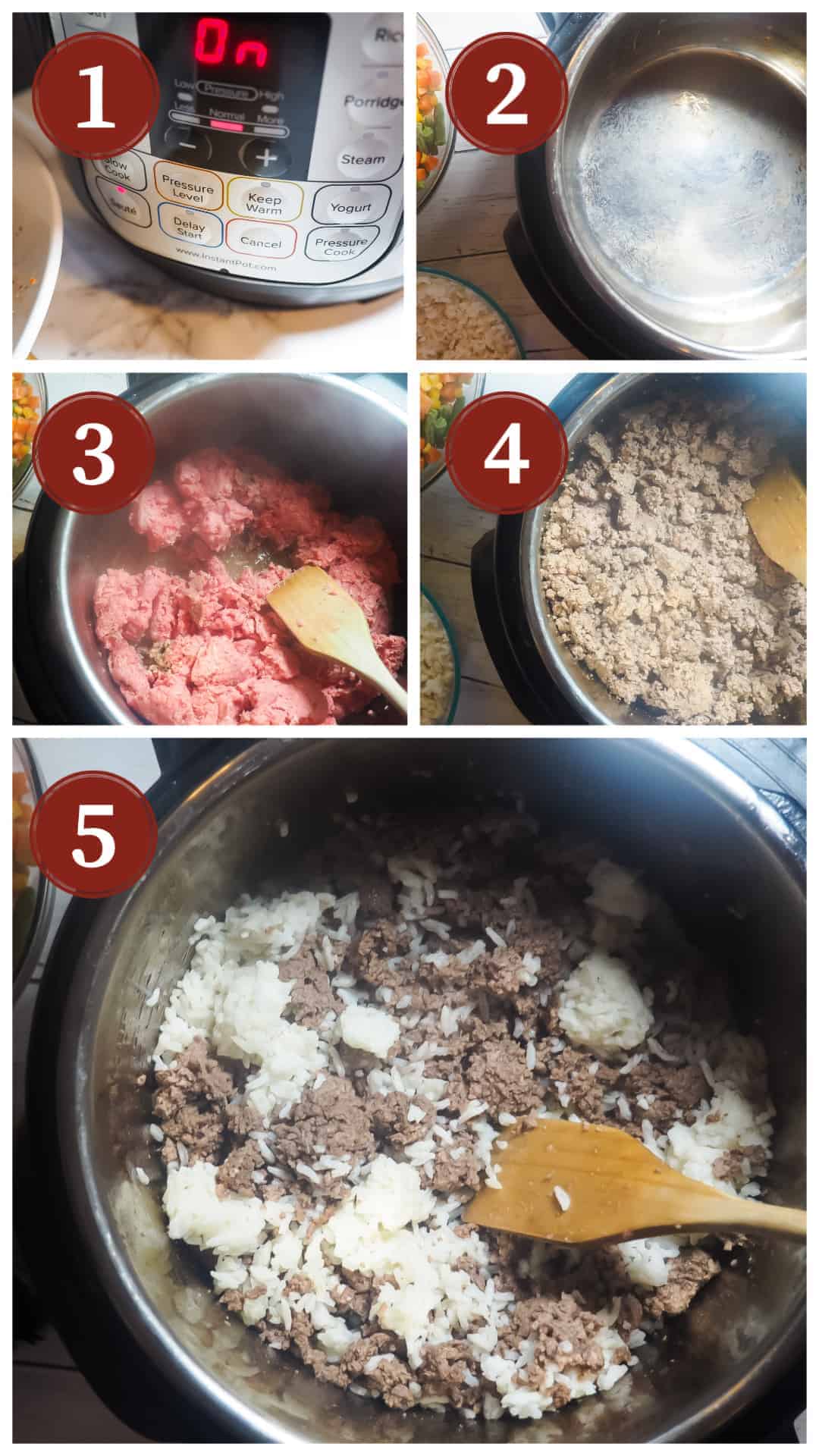 Next, add the bone broth and coconut oil. Stir to combine and let the coconut oil melt. (Picture 6)
Then, add in the vegetables. I try to use around 24 ounces which would be two 12-ounce bags or one and a half 16-ounce bags. Mix well. (Picture 7)
If you are using barley, quinoa, oats, or sweet potatoes instead of rice, add them now and mix to combine everything.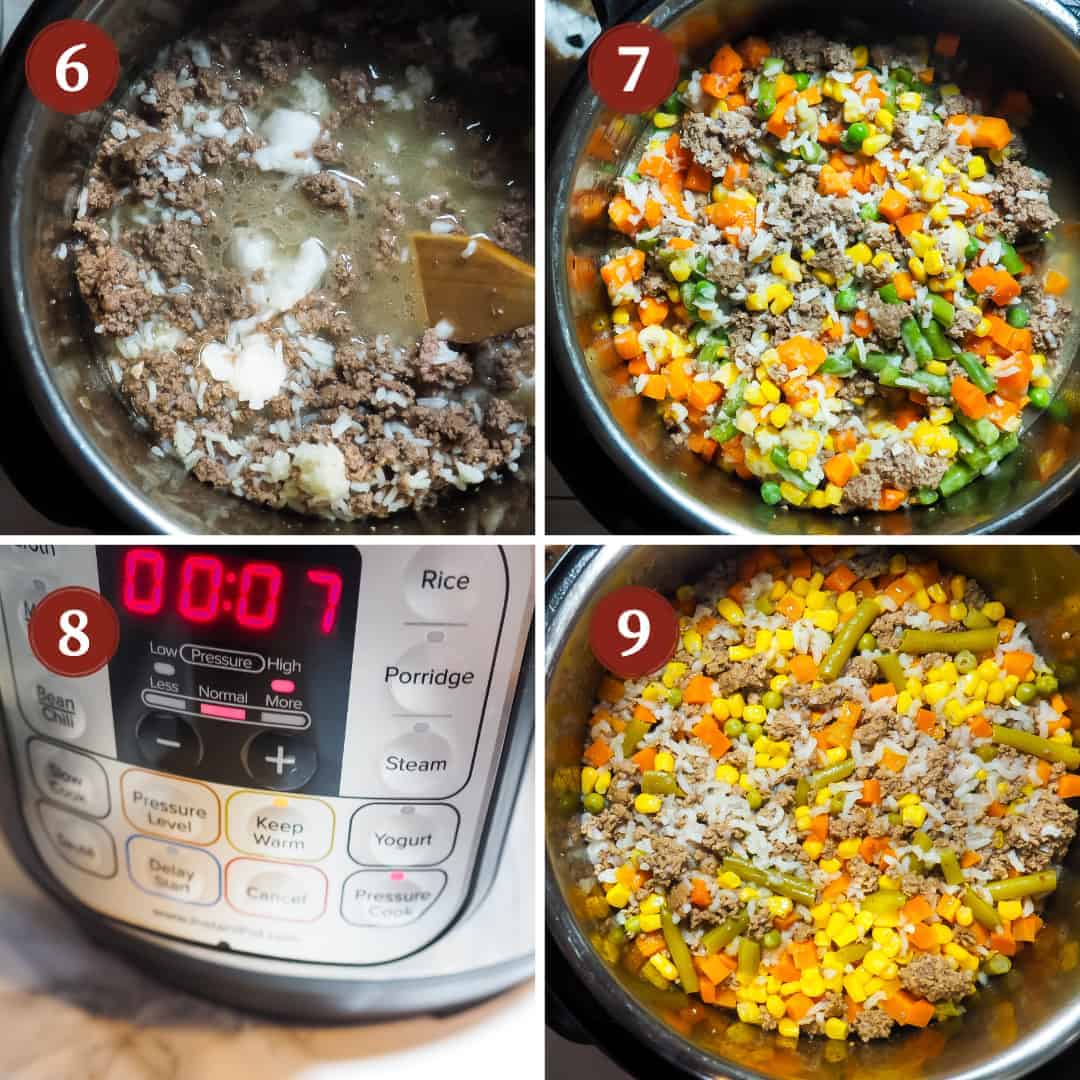 Finally, put the lid on and close the vent so it is set to "Sealing." Set your Instant Pot to "Pressure Cook" or "Manual" mode at "High Pressure" for 7 minutes. (Picture 8)
Allow all of the pressure to release naturally, which should take around 5 minutes. (This is called a "Natural Release.") If it takes a little longer, that's okay. Then carefully open your Instant Pot, pointing the lid away from you so you don't get steamed. (Picture 9)
Let the dog food cool completely before serving it or storing it.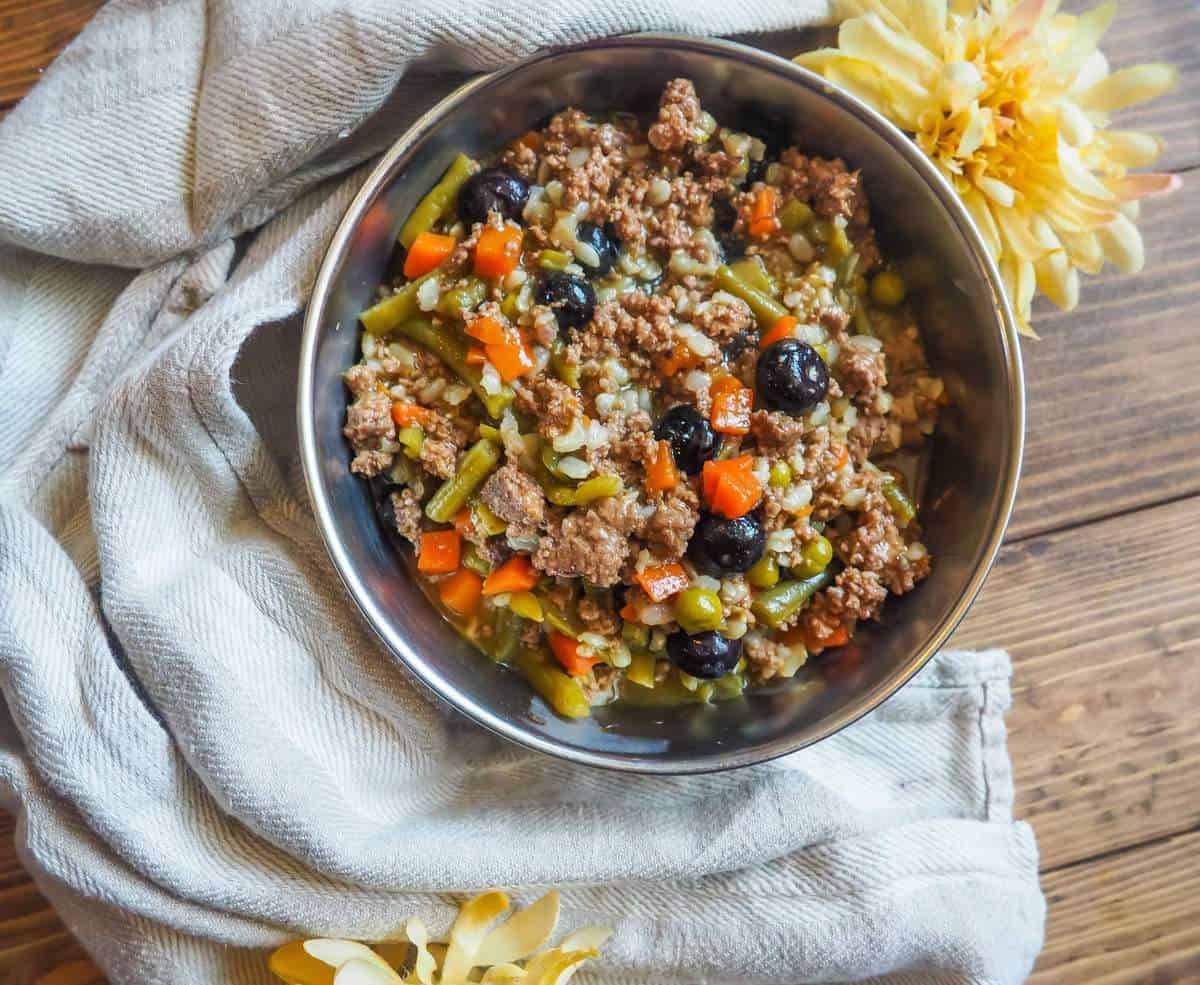 You can divide the food into portions depending on your needs – I usually split it in half and freeze one of the batches, reserving the other in the refrigerator to use right away.
I use the "scoop when I serve" method, but you can portion yours into individual portions and store it that way if it is easier for you. You can also grind up the food in the food processor before serving to make it easier for smaller dogs or dogs with no teeth to eat. If your dog has trouble chewing, you can mix in a little extra broth when serving to make the food a little easier to slop up.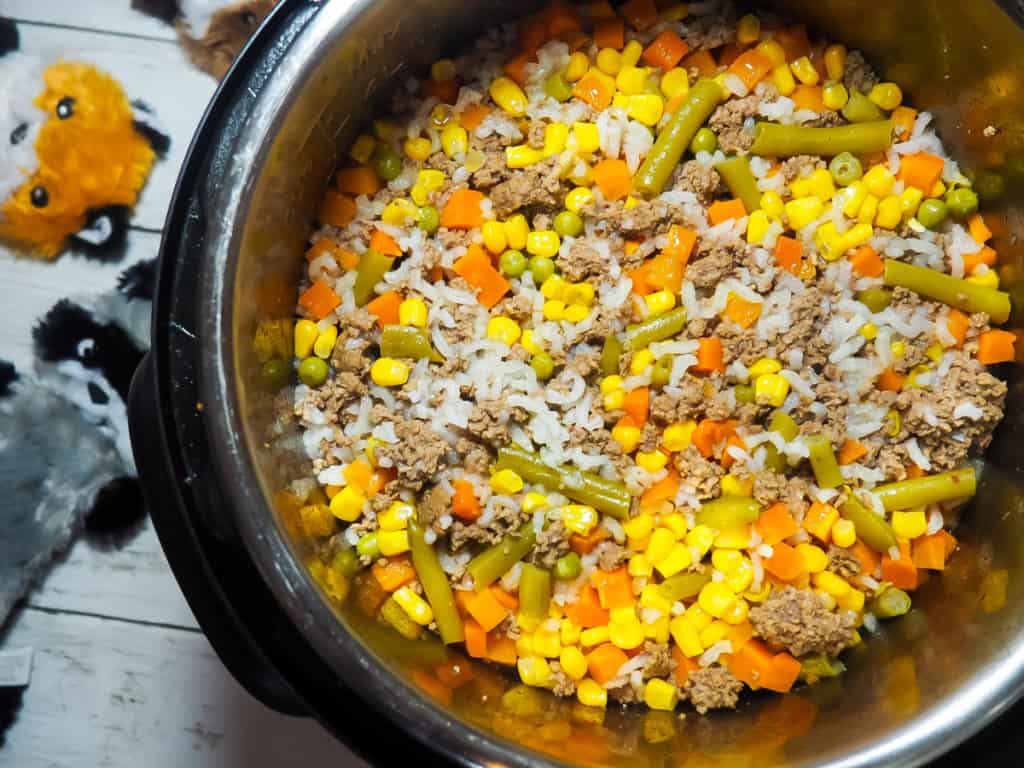 🧂Variations & Substitutions
🥬 What kinds of Vegetables can you add to Homemade Dog Food?
I usually get the bag of frozen vegetables from the store that is green beans and carrots and use that. Sometimes I get a bag that has corn or peas in it as well. (Corn is completely safe for dogs to eat as long as it is not the only food they are eating.)
I also save some of the broccoli stalks when cutting up a head of broccoli to roast broccoli, and I have been adding that lately as it is a good source of fiber, vitamins C and E, potassium, and folate for dogs. I also add some spinach to get her some iron, potassium, magnesium, vitamin A, and folate.
Once the food is cooked in the Instant Pot, it honestly all kind of just all mushes together and tastes like meat mush, so you can try adding different things and see if they notice. If your dog is a picky eater, add things like broccoli and spinach in small amounts because you know they will know there are vegetables in their food.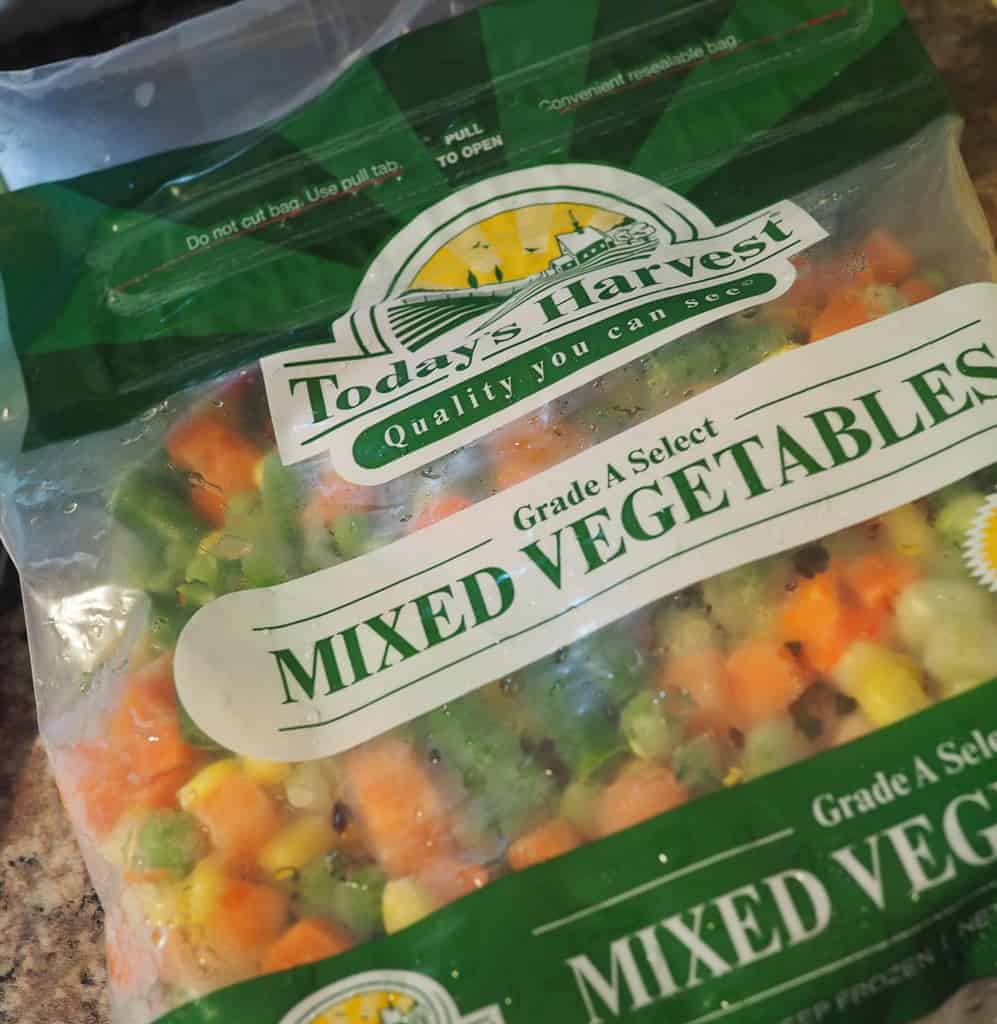 🍓 Can You Add Fruit to Instant Pot Dog Food?
Absolutely! Fruit has a lot of nutrients that are great for dogs. Just don't go overboard with it. We often use what is in season or a little of what we have in the freezer.
We like to use some kind of berries – strawberries or blueberries are best. Apples are also really good for dogs, just be sure to avoid the seeds. Do NOT feed your dog grapes, as they are very bad for dogs.
You can add fruit before or after cooking, just beware that if you cook with blueberries, your dog food will turn purple.
🌾 What Grains Can Go in DIY Dog Food?
The easiest grains to use are oats, barley, quinoa, and rice. If you use quinoa, it has to be rinsed with cold water before it is cooked or your dog will never trust you again. (If your dog has an allergy to grains, you can substitute diced sweet potatoes.)
🐕 What Else Can You Add to Homemade Dog Food?
Because we have been feeding our dog homemade food for a while now (and because she was a street dog before we got her), she tends to do well with eating all kinds of things.
We give our dog wild game, fresh fish, eggs, homemade stock (made without onions), fresh produce, kefir, goats milk kefir, pumpkin, squash, and organ meats – she loves it all. We also add the supplements listed above from Paramount Pet Health because she's getting older, and we want her to live forever.
We supplement her homemade food with raw shank bones (frozen with marrow still in them) and raw pig's feet. She loves to gobble them up, even though they are totally gross.
We also add canned sardines in water to her food or to top off a lick mat if she's getting some kefir as an afternoon treat. (I've included some more about that at the bottom of the post.) Sardines are a nutrition powerhouse for dogs and are a great addition to a dog's diet. Quoting greatpetcare.com, "Sardines are a great protein source for dogs and a good source of omega-3 fatty acids—such as eicosapentaenoic acid (EPA) and docosahexaenoic acid (DHA). Sardines are also rich in Vitamin B12, Vitamin D, calcium, and the antioxidant selenium." Just be forewarned; sardines are awfully stinky.
🍲 Serving Size
The most important thing when feeding homemade food to your dog is to be sure to discuss serving sizes and ingredients with your vet before switching your dog to a new diet.
Here's our personal experience – I give Melly 1 heaping cup of the food two times a day (with a small scoop of homemade yogurt or kefir on top), and she weighs somewhere between 40 and 45 pounds. She also gets some Paramount Pets Supplements (Fish Oil, Hip & Joint Supplement, and Multivitamin) now that she is older. She absolutely loves it!
If she has had an extremely active day, running around like the border collie she is and chasing squirrels up trees or patrolling the fence, I will give her a little extra at dinner time. Our vet likes that we rotate different meats, veggies, and fruits – it gives her a variety of nutrients like a dog would find if they were foraging for food in the wild.
⌛How to Transition Your Dog to Homemade Food
If your dog has spent their entire life eating kibble, make this transition slowly, as they could end up with diarrhea. For dogs that eat a lot of table scraps, you could get away with replacing about ¼ of their food with this food for 3 – 4 days, then switch to half and half for 3 – 4 days, then ¾ new food + ¼ old food for 3 – 4 days, then 100% new food!
If your dog is really sensitive, I would do a week to two weeks at each stage. Melly has no problem with these transitions because I constantly add weird new things to her homemade food, but if your dog has eaten the same kibble their entire life, you should go slowly.
✏️ Helpful Tips
Make sure that you don't abruptly change your dog's food – mix it with their regular food or kibble for a few days until they are used to the new food. Your dog's belly will thank you. And again, remember to always discuss with your vet before feeding your pet something new.
Top your dog food with a scoop of homemade or plain greek yogurt or kefir to give them some healthy probiotics.
Rotate different meats, fruits, and vegetables to make sure your dog gets different vitamins and nutrients. Though, if your dog has a sensitive stomach, you might be best sticking to one combination that you know works.
You can divide the food into portions depending on your needs – I usually split it in half and freeze one of the batches, reserving the other in the refrigerator to use right away.
If it is easier, you can portion your homemade dog food into individual portions and store it that way right after you make it – get all the work done at once. This helps if multiple people are in charge of feeding or if you have a pet sitter that helps you out – you can label the portions as well to make it even easier to keep track of.
If you have a small dog, a dog with no teeth, or a dog that knows when you are sneaking them healthy food, you can grind up the food in a food processor after it cools a little bit. (I haven't tried a blender, but that should work as well.) This will make it look a little more like canned food and will be a little easier for smaller dogs or dogs with no teeth to eat. If your dog has trouble chewing, you can mix in a little extra broth with the food when serving to make the food a little easier to slop up.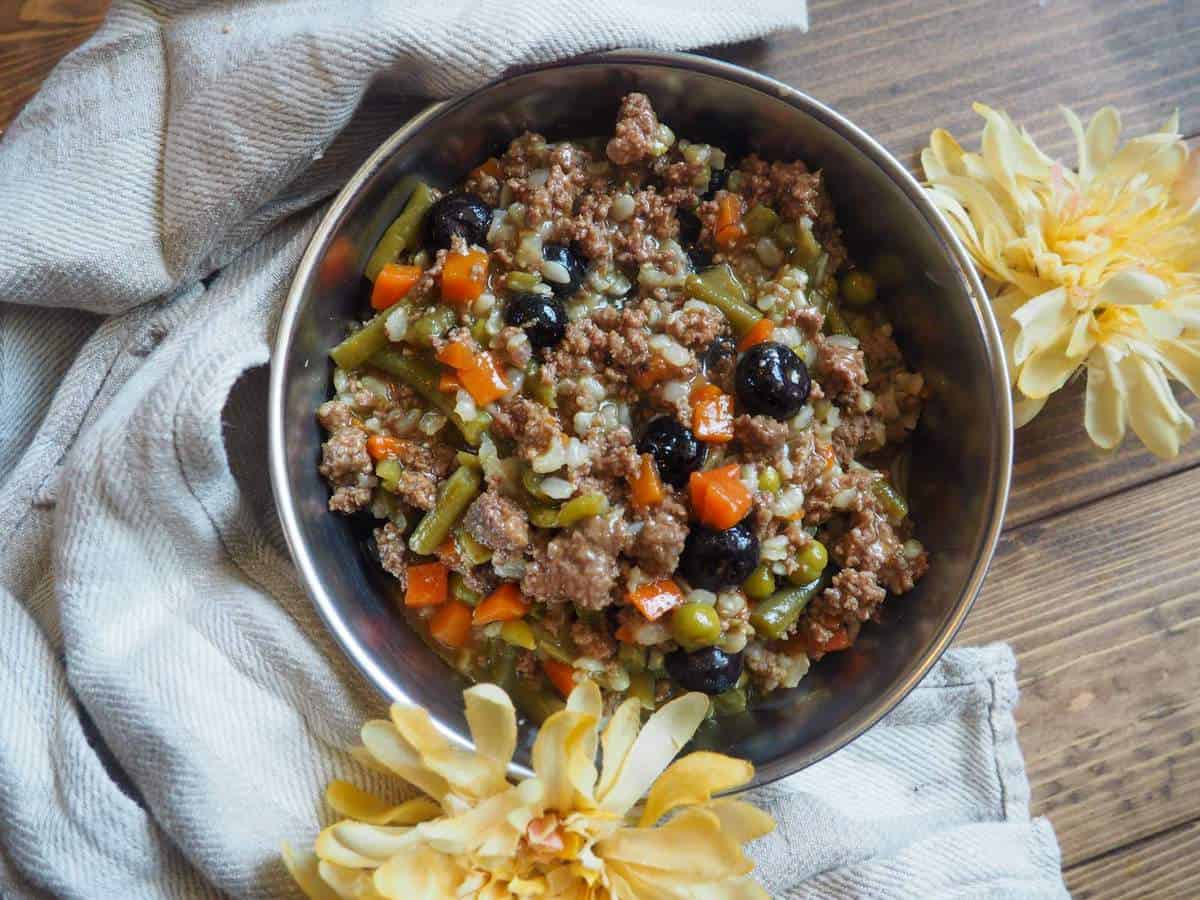 🐶 Homemade Dog Food Serving Suggestions
I serve Melly's food both hot and cold, but she's not picky. I often top it with ¼ cup of plain yogurt or a few tablespoons of plain kefir (with no sweeteners added) when serving. Yogurt is not necessary but provides probiotics and helps with healthy digestion. I like to make plain Greek yogurt in my Instant Pot as well.
🙋‍♀️ Frequently Asked Questions
How do you travel with Homemade Dog Food?
The answer to this depends on how long the trip is and what the accommodations are going to be. If I'm going to stay with family, I will just freeze a bunch of food and keep it on ice in a cooler – then put it right in the freezer when I get to their house. I will do the same thing if we are going to an Airbnb or a friend's house. We usually don't travel for more than a week or two, so we can make it work.

If it is going to be longer than that, or we will be in a hotel or something complicated is happening, like we will be camping or without power, I will transition back to dehydrated raw food (just mix it with hot water that is usually easily available) for that trip. Open Farm and Honest Kitchen are good options for this – and they pack small and light.
Can this dog food recipe be doubled or tripled?
Absolutely – this recipe can be made for as large of a quantity as you can fit in your Instant Pot. I have an 8 quart Instant Pot, and I have made a HUGE batch (I think I did 4x this recipe) to freeze and stock up when I found ground beef on sale.
Is raw food better for dogs than cooked food?
There's a lot of research suggesting that the nutrients in food are better absorbed by dogs when food is eaten raw. Their digestive tracts are much shorter than ours are, and they are much less susceptible to food-borne illnesses, so if you are comfortable feeding a raw diet, more power to you. I, unfortunately, have some fun immune system issues that prevent me from being comfortable feeding raw food to my dog as she loves to give face kisses.
🧩 Dog Enrichment Tips
A lot of people think that dogs only need exercise to be enriched and tired out. That is actually not the case. Dogs also need a lot of mental stimulation, just like children. They need to be challenged. As dogs get older, this is especially important as an older dog can't exercise and run and play as much as they are used to.
For our old gal, we use a lot of the enrichment tools below to feed her. They make her have to work for her food and gives her something to do to break up the time between walks and stalking the birds and bunnies outside:
Lick Mats – with these, we freeze kefir or her homemade food mashed into it. Let it soften just a touch, and it makes breakfast take 10 minutes instead of 30 seconds.
Outward Hound Slow Feeder – This is a good everyday feeder to help your dog to slow down while they are eating. They come in lots of different sizes and colors and can go in the dishwasher when they get slimy and gross.
Kong Wobbler Feeder or Bob-a-Lot Treat Dispenser – These are good for an afternoon treat snacks or if you are feeding dry kibble. They make it a little more fun to try to get to the food.
Black Kong – The black Kong is for dogs that can chew apart a red Kong. We use these to give a peanut butter treat or coat with some rehydrated Honest Kitchen food. To make it take longer to eat, you can put it in the freezer. This is good to give if you have to keep your dog occupied when you have a bunch of Zoom meetings.
Zogoflex Treat Toys – Melly loves these, but my parents' dog Lily who is a STRONG chewer, almost destroyed it, so use them with caution if your dog is a good chewer.
Lickimat Wobble Bowl – Use these bowls like a Lick Mat, but it is more of a challenge because they move, so leave space for your dog to move around, and don't feed them on a rug because they might make a mess. If you blend up your homemade dog food in the food processor, you can spread it into a Wobble Bowl, then freeze it and watch your dog entertain themself for a while trying to eat breakfast.
A Towel – Roll up dry kibble and broken treats in a towel and tie it in a knot. Let your dog go sniffing and untie it. This is great to do if you feed kibble when traveling. Do NOT do this if your dog chews on bedding.
Have You Tried This Recipe?
Please rate it and leave a comment below. I would love to hear what you think!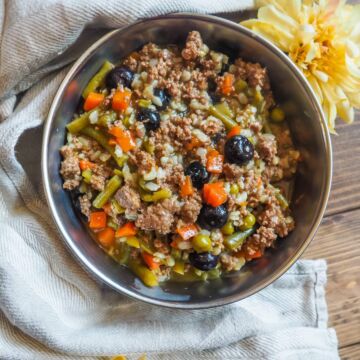 Instant Pot Dog Food
This Homemade Dog Food Recipe is a great way to spoil your dog and feel good about doing it. Using an instant pot, it is a quick, cheap, and easy way to give your dog a nutritious meal that they will think is a treat.
Ingredients
2 – 3

lbs

ground beef

or: ground chicken, turkey, or fresh fish – shredded chicken breasts work well too.

24

ounce

frozen vegetables

peas, green beans, carrot, and corn

1

cup

frozen fruit

I like to use blueberries and strawberries. (Optional)

1 – 2

cups

leftover cooked rice or oats

2

cups

bone broth

2 – 3

tbsp

coconut oil

refined or unrefined – whatever you have
Topping
1/4

cup

plain yogurt

optional for serving
Instructions
Cook 2 1/2 to 3 pounds of your choice of ground meat in your Instant Pot on the saute setting or in a frying pan on the stove.

Drain off the cooking grease and return the meat to the Instant Pot.

First, add the leftover rice. If using oats, quinoa, barley, or potatoes skip this step.

1 – 2 cups leftover cooked rice or oats

Next, add bone broth and coconut oil and be sure to scrape the little bits off the bottom of the pan – this is how to "deglaze" the Instant Pot.

2 cups bone broth,

2 – 3 tbsp coconut oil

Now, add oats and frozen vegetables. Mix well to combine everything.

24 ounce frozen vegetables

Put the lid back on the Instant Pot and set it to "Manual" or "Pressure Cook" mode. Cook for 7 minutes on "High Pressure."

Let the pressure release naturally and open only when the pin drops. Stir everything up and add fruit if using.

Let the mixture cool and divide into two portions – one for the next few days and one to freeze. (You can also portion the food into single servings if you feel so motivated.)

Use a food processor to grind up food if you have a small or elderly dog with no teeth.

Serve topped with yogurt or kefir and desired supplements.
Notes
To supplement calcium in this food, I will also add food-grade bone meal or broccoli stalks as the vegetable portion. You can save them in the freezer and use them as needed. You can also add a tin of sardines packed in water. Fair warning, both broccoli stalks and sardines make this food smell… kind of like a fart.
Recipe Tips
This recipe is really flexible. You can alternate between using ground beef, ground turkey, or ground chicken. You can also use shredded chicken breast or fresh fish as well. The only thing I would not recommend is canned (tinned) fish, as it can be very fatty, and too much fat can lead to pancreatitis in dogs.
You know what your dog likes and their allergies – if they can't eat carrots – use a different kind of vegetable. If they can't eat grains, add diced potatoes or sweet potatoes!
I switch between oats and rice and vary the vegetables and fruits based on what we have and what is in season. Melly is a former street dog and will eat almost anything, especially if you cook it all together, so we like to mix in all kinds of "dog-friendly" goodies.
If you have an 8 or 10 quart Instant Pot, you can double the recipe to make more at once and freeze some of the food for later.
How to Store Instant Pot Dog Food
Let your dog food cool before serving or storing. You can divide the food into portions depending on your needs – I usually split it in half and freeze one batch. It will be good for about 6 months and while still safe to eat, the quality will begin to decrease after that.
I use a measuring cup when I serve the food, so I don't take the time to split it into individual portions – you can do this if you would like!
Store cooked dog food in the refrigerator for up to a week. If you don't think you will get through it all in a week, freeze some of it.
Special Equipment Needeed
Nutrition
Serving:
1
cup
Calories:
380
kcal
Carbohydrates:
12
g
Protein:
22
g
Fat:
27
g
Saturated Fat:
12
g
Cholesterol:
81
mg
Sodium:
103
mg
Potassium:
396
mg
Fiber:
2
g
Sugar:
1
g
Vitamin A:
1734
IU
Vitamin C:
4
mg
Calcium:
36
mg
Iron:
3
mg
Nutrition information is approximate and is automatically calculated, so should only be used as a guide.