The Cajun Holy Trinity is the flavorful base of so many Cajun and Creole dishes. It is made up of diced green bell peppers, diced onions, and diced celery.
The Holy Trinity flavors my favorite Chicken and Sausage Gumbo, White Bean & Ham Soup, Red Beans & Rice, Creole Jambalaya, Seafood Gumbo, Shrimp Creole, Creamy Southern Butterbeans, and so many other delicious recipes.
While Cajun and Creole cuisine have their differences – yes, Creole recipes use a lot of tomatoes, including in their gumbo, they all do tend to start with the same base.
Creole recipes take a lot of inspiration from Haitian and Italian immigrants who moved into the city of New Orleans, so tomatoes and okra are very prominent, whereas Acadian and Cajun recipes have a heavier French and "out in the country" or "make do with what you have" kind of influence.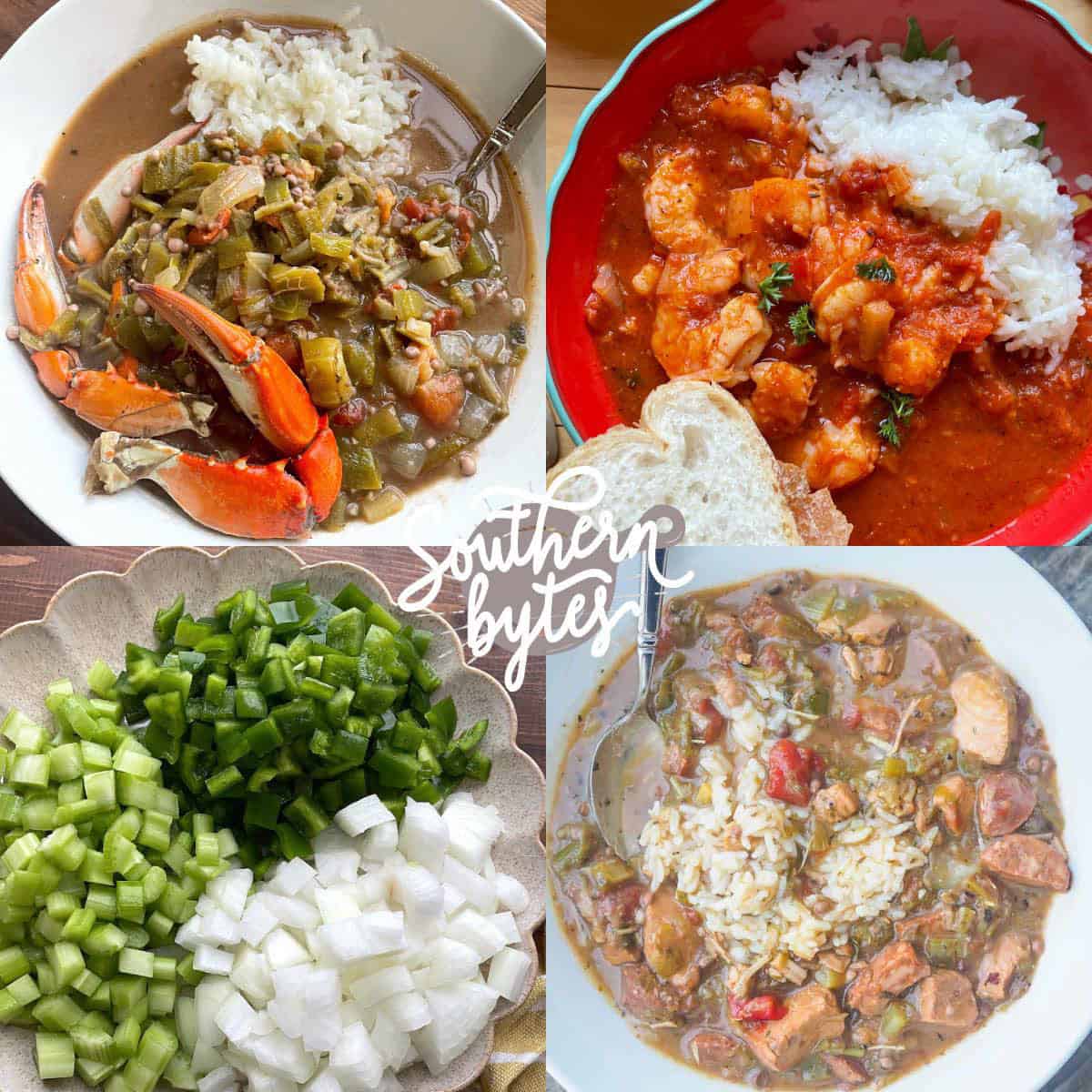 The name Holy Trinity is said to have been made popular by Paul Prudhomme, the New Orleans chef, and South Louisiana native. He's most famous for the restaurant K Paul's Louisiana Kitchen, which closed in 2020 due to monetary losses. (We used to drool over K Paul's Grillades and Grits – pronounced GREE-YAHDS, like you're in Boston. Greeyaaaads.) I've considered making them for a blog post, but I haven't done it yet. Here's a Grillades and Grits recipe that is based on K Paul's restaurant and sounds pretty delicious!
Anyway, back to the Trinity. The name refers to the Christian Holy Trinity, describing God as three divine people in one body, the Father, Son, and the Holy Spirit. The Cajun trinity is a nod to Louisiana's Catholic heritage. Sometimes garlic is even jokingly added as, "the pope!" The name signifies how important not only celery, bell pepper, and onion are to the preparation of Cajun food but how important cooking is to the culture of Louisiana.
What is the Holy Trinity Ratio?
Traditionally, the Cajun or Creole holy trinity is made with equal parts onions, celery, and green bell pepper, though it really depends on the recipe that is being used and how much of each ingredient the chef decides to use.
What is the difference between a traditional Mirepoix and the Holy Trinity?
The "Holy Trinity" is Louisiana's version of the traditional French mirepoix – the one made from celery, carrots, and onions. The technique was taught to the Cajuns by the French after leaving what is now Canada, and these settlers – the Acadians, settled in the swamps and bayous of Louisiana, where they adapted their traditional French cuisine to the local ingredients and cooking techniques.
The Acadians became Cajuns as they adapted to their new home, its people, and the environment. So, instead of carrots, Cajuns use green bell peppers, which is said to be because of how much easier it was to grow bell peppers in the Louisiana soil. (I have to agree, I can grow hundreds of peppers in the ground in Tennessee, but carrots have to be grown in a very amended raised bed – the hard clay is not friendly to many crops.)
Traditionally, a Mirepoix uses a ratio of two parts onions, one part celery, and one part carrots. On the other hand, the Holy Trinity, uses equal parts onions, celery, and bell peppers. If you're using a small onion and small bell pepper, this equals about two celery stalks. If you're a stickler for measuring things, it's usually a cup of each. You can also just eyeball the amounts.
The kinds of vegetables you use do matter. In Louisiana, the Holy Trinity always uses green bell pepper, as it's mild and not sweet like a red bell pepper, though I love to add red bell pepper to some dishes for added flavor. When it comes to onions, yellow onions, and white onions are ideal.
Red onions are best for making pickled red onions or for making pico de gallo, or Mango Avocado Salsa, and sweet onions are best for caramelizing into bacon jam or onion soup.
(The Cajun Trinity is also said to be an evolution of the Spanish Sofrito, which contains onion, garlic, bell peppers, and tomatoes and is an integral ingredient in Spanish cuisine. Depending on where you are – Latin America, Spain, Portugal, and even Italy the ingredients might vary slightly.)
What about Garlic?
Garlic is added as needed to most Cajun and Creole food – often to most dishes that start with a trinity, it just is not included in the trinity. If it is, it is sometimes jokingly referred to as, "the pope."
Holy Trinity Variations
Variants to the Holy Trinity can include green onions, shallots, or fresh parsley. (We add both green onions and parsley to our Chicken and Sausage Gumbo!)
How do you use the Holy Trinity?
The Cajun trinity is used as one of the earliest layers of flavor in so many dishes. I usually start my first layer with sauteed andouille sausages, bacon, smoked sausage, or tasso, then I scrape up all the meaty bits in the bottom of the pot and cook my roux in the fond from the meat, then once the roux is cooked, the trinity ingredients are sautéed together in the roux to form a base of flavor that is a talent that many home cooks don't even know they have. (It's so easy! You can do it too!)
Once you have the vegetables for your trinity chopped up, keep them ready to go to add to your favorite Cajun and Creole recipes.
Here are some of our favorite dishes that build rich flavors using the holy trinity as their base:
Chicken & Sausage Gumbo – Now my gumbo recipe is Creole gumbo, meaning that it has tomatoes in it. My mother-in-law grew up in New Orleans, and her family is Italian. That's just what they did. It's delicious gumbo.
Duck Gumbo – My duck gumbo is more of a Cajun gumbo. The roux takes about an hour to cook, so it's a much darker color than my Chicken and Sausage Gumbo, but they are equally delicious in their own ways.
Have You Tried This Recipe?
Please rate it and leave a comment below. I would love to hear what you think!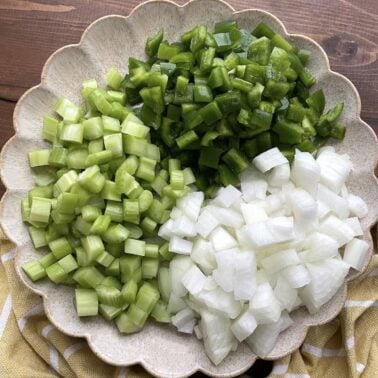 Cajun Holy Trinity
The Cajun Holy Trinity is the flavorful base of so many Cajun and Creole dishes. It is made up of diced green bell peppers, diced onions, and diced celery.
Ingredients
1

large

onion

diced

2

stalks

celery

diced

1

green bell pepper

diced
Optional
2-3

cloves

garlic

minced

2-3

green onions

thinly sliced

1

handful

fresh parsley
Instructions
Dice the onions, green bell pepper, and celery stalks.

1 large onion,

2 stalks celery,

1 green bell pepper

Optionally, thinly slice green onions, mince garlic, and chop fresh parsley.

2-3 cloves garlic,

2-3 green onions,

1 handful fresh parsley

Use as needed in your favorite Cajun and Creole recipes.
Nutrition
Calories:
113
kcal
Carbohydrates:
26
g
Protein:
4
g
Fat:
1
g
Saturated Fat:
0.2
g
Polyunsaturated Fat:
0.2
g
Monounsaturated Fat:
0.1
g
Sodium:
81
mg
Potassium:
748
mg
Fiber:
7
g
Sugar:
11
g
Vitamin A:
1379
IU
Vitamin C:
121
mg
Calcium:
112
mg
Iron:
2
mg
Nutrition information is approximate and is automatically calculated, so should only be used as a guide.