Holidays are the perfect time to bake a giant ham. In the days following, there are so many easy ways to use and repurpose leftover ham into more delicious meals.
A delicious ham is a staple on the table for so many major holidays – but there is always so much leftover! I am always looking for easy leftover ham recipes.
When looking for uses for leftover ham, you are pretty much looking for recipes using ham as an ingredient – not recipes where ham is the star of the show. These are all recipes for cooked ham.
Whether you are looking for leftover ham casseroles, leftover ham pasta recipes, or leftover ham soup recipes – I've compiled my favorites here. So many soup and casserole recipes using turkey or chicken can be made with ham as well, so if you have a favorite – give it a try!
Table of Contents
How to Store Leftover Ham
Leftover ham can be stored refrigerated or frozen. I love to dice it up into small pieces and store the ham in batches of 1 cup. Most recipes use 1/2 – 1 cup or 2 cups, so storing it this way makes it easier for cooking with later on.
Store Leftover Ham in the Refrigerator – I generally keep a small amount of leftover ham in big slices in the fridge. We will eat this for a meal of leftovers in the days immediately after the holiday to finish up the sides. Then, I will usually make one recipe with some ham – usually Ham & Cheese Scones – and I freeze the rest. Leftover ham will keep for 3 – 5 days in the fridge in an airtight container.
Freeze Leftover Ham – My favorite way to freeze ham is diced up or cubed so it's ready to thaw whenever I want to use it. I also save the ham bone to use in Southern Collard Greens or Louisiana Red Beans & Rice. I usually wrap the ham tightly in plastic wrap, then a layer of aluminum foil, and then I put that in a Stasher bag. This helps to protect the ham from freezer burn.
Many of the recipes listed here can be made ahead of time and frozen, so if you are really feeling motivated, you can prep some meals while the ham is fresh and freeze them for even easier meals down the road.
Tips for Leftover Ham Success
Ham is Usually Pre-Cooked – Hams from the grocery store are almost always already fully cooked or cured, they just require reheating and glazing. There's no need to worry about cooking ham all the way through or heating it before adding it to a "leftover" recipe since it's already been cooked, at least once.
Avoid Drying Out Leftover Ham – Ham doesn't have a lot of fat so it can dry out very easily. Be sure to reheat ham covered, and ideally with a spoonful of broth or water in the pan or dish with it. If you're adding ham to a casserole, soup, or pasta with a sauce, this isn't needed as the ham will absorb the sauce or liquid from the dish.
If you're looking to try something new, these easy leftover ham recipes will make your holiday ham go even further. (View leftover ham recipes here in slideshow form!)
Leftover Ham Breakfast Recipes
There are lots of "healthy" leftover ham recipes, but the ones listed here are the ones that fill your soul & your belly.
Pro Tip: Whether you plan on serving a holiday ham or not, buy a ham or two near the holidays while they are on sale and keep one in the freezer. You can make a lot of "budget meals" from just one ham!
Leftover Ham Soup Recipes
If you used a bone-in ham, ham stock is a delicious option. You can use ham stock as the base of so many stews & soups. Split pea soup is one of my dad's favorites and it can be made on the stove, in a crock pot, or in the Instant Pot.
Listed in the Instant Pot Ham Recipes & Slow Cooker Ham Recipes sections below, I also have more soups.
Leftover Ham Casserole Recipes
Leftover Ham Sandwich Ideas
Leftover Ham Crockpot Recipes
Instant Pot Leftover Ham Recipes
I love using my Instant Pot to make easy meals, and when the ham is already cooked, it is even easier to make a quick dinner.
Dinners with Ham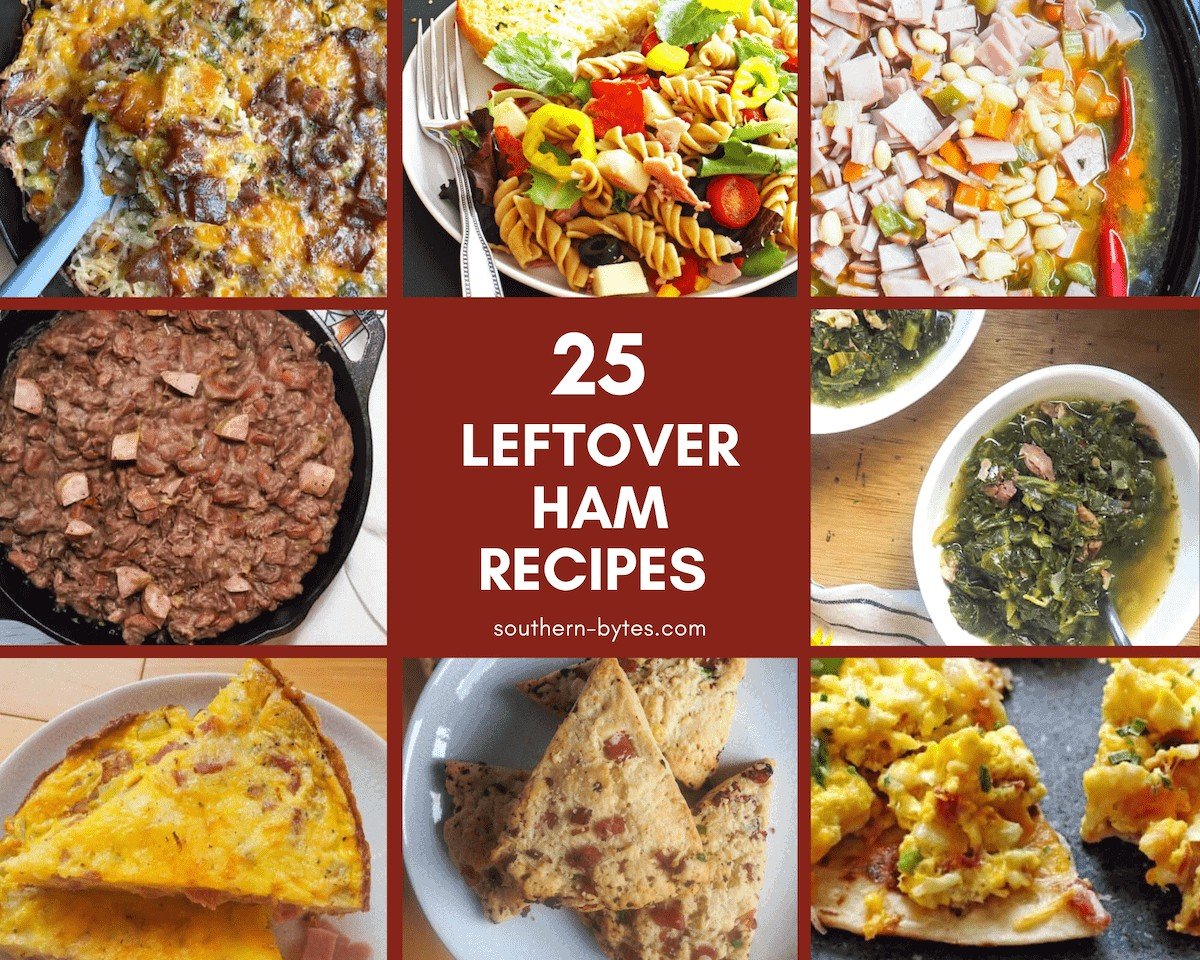 Leftover Ham Pasta Recipes
Leftover Ham Appetizer Recipes