Peanut Butter Perfect Bars are creamy, peanutty, sweet, and delicious. Perfect bars are packed with protein and are my favorite afternoon or pre-workout snack.
Jump to:
Do you have a snack at your house that you go crazy for? At our house, it is Peanut Butter Perfect Bars. We could eat them for every meal. They are super filling and are high in protein and carbs, which is great for us as rock climbers.
The only reason we don't buy them more often is because they are really expensive. Now that we can make them for less than half the cost - we make them ALL.THE.TIME. (I did some calculations and based on the ingredients that I use, it comes out to about $6.13 per batch and 50 cents a serving if you make 12 bars that are somewhere around 1/8 cup to 1/4 of batter each!)
All the recipes that I found online came close but were not exactly what we wanted. After some trial and error, we came up with an amazing, high protein snack bar. Every time I make them, Michael tells me that they are even better than the real thing. These are seriously SO GOOD.
Making these peanut butter protein bars yourself is seriously SO easy. Mix, chill, eat. That's it!
🥘 Ingredients
• creamy peanut butter
• crunchy peanut butter
• raw honey
• dry milk powder: I love this Hoosier Hill Farms whole milk powder. (3/23/20 - It is currently out of stock, but I am guessing that is because of people "panic buying" non-perishables. If it does not come back in stock in the next month or two, I will test out a different brand.)
• powdered egg whites: I started using this brand after Anthony's Goods stopped selling egg white powder. It is a little more expensive, but the quality is the same.
• kosher salt: I say this all the time, but I almost exclusively cook and bake with kosher salt. There is so much more consistency.
• (refined) coconut oil: If someone tells you they hate coconut oil because it tastes like coconut, they probably had unrefined coconut oil. We use REFINED for cooking because it is flavorless and unrefined for beauty products and snacks for the dog. More on this in my note at the bottom.
👩‍🍳 Instructions
Start by gathering up your ingredients.

Begin by mixing your creamy peanut butter (1 cup), crunchy peanut butter (¼ cup) and honey (⅓ cup). We like the bars with a little texture, so we do one cup of creamy peanut butter and a quarter of a cup of crunchy peanut butter. If you don't want the crunchy goodness, you can use all creamy peanut butter. (Pictures 1 - 2)
Next, add everything else and mix it together. This is sticky and messy and if you get it on your fingers, no one will judge you for sneaking a taste. (Pictures 3 - 4)
Next, put the perfect batter in a silicone muffin pan or a silicone mini-loaf pan to portion them out. Then freeze the bars for 30 - 60 minutes. (If you don't have a silicone pan, you can coat any kind of rectangular dish with refined coconut oil and press the batter into it. Freeze, then slice into individual portions.)
We got this set of muffin pans/molds as a wedding gift and they are AWESOME. We used them for so many things.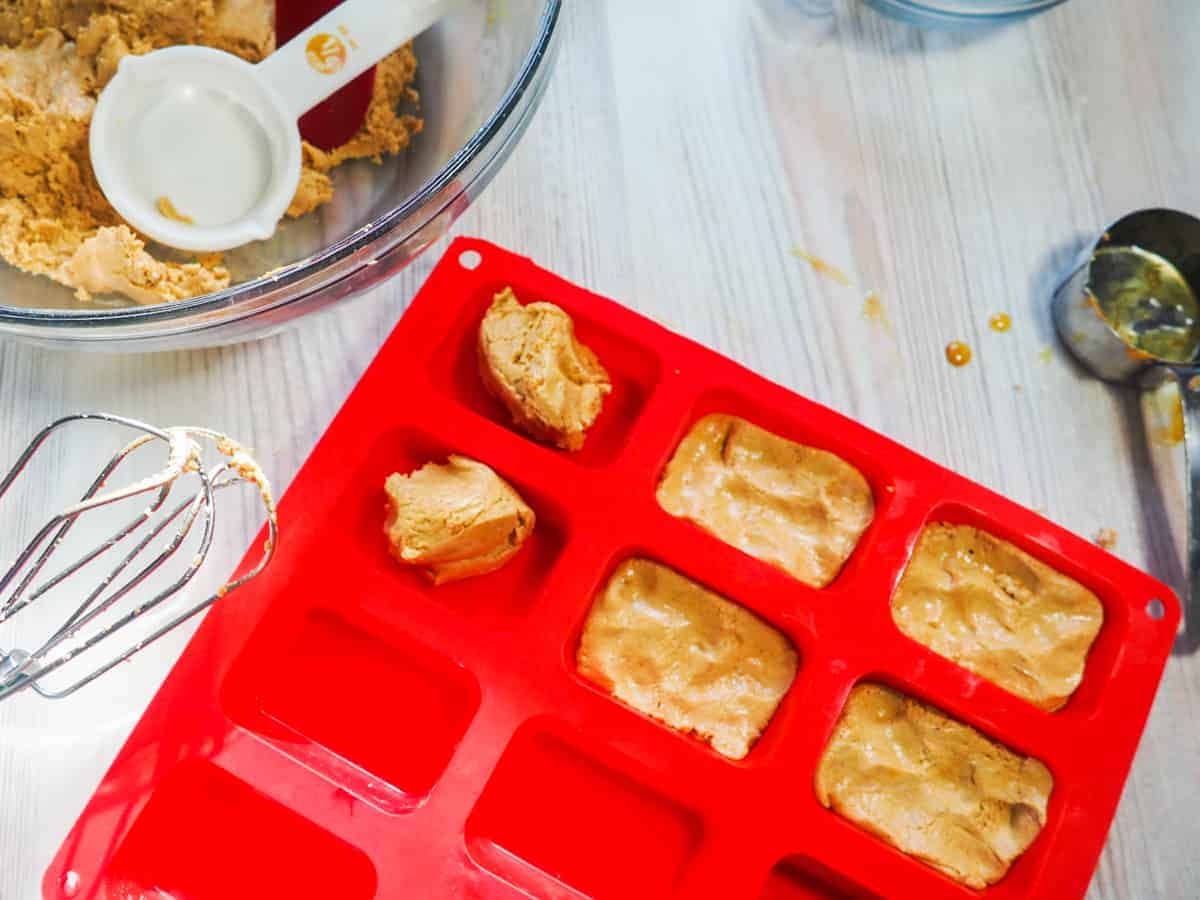 After 30 - 60 minutes, pop the bars out of your tray and move them to an airtight container.
🥫Storage/Shelf Life
Store in the refrigerator or freezer. We like to freeze them in reusable sandwich bags. They should keep for up to 6 months, but I doubt they will last that long.
📝 Tips
Store your perfect bars in the freezer - they are great frozen, but if you take them to school or work they will defrost throughout the day and will be perfect for eating.
Try to use a well-mixed peanut butter. If you have to use an oily peanut butter, stir your peanut butter very, very well before making your bars.
If your batter seems dry, add another 1/2 tablespoon of melted refined coconut oil.
If you have a peanut allergy, you can use sunflower seed butter or almond butter.
🗂️ Options
What Optional Mixins Can You Add?
Our absolute favorite thing to add is Enjoy Life Mini Chocolate Chips. You can add 1/4 - 1/2 cup mini chocolate chips, semi-sweet chocolate chips, white chocolate chips, or shredded coconut. There are so many different things that you can add!
*What is the Difference Between Refined and Unrefined Coconut Oil?
Refined coconut oil is flavorless and is amazing for cooking and baking. UNrefined coconut oil has a very prominent coconut taste and is often the reason that people say that they don't like coconut oil. I don't like the taste myself, but it is great for skincare, haircare, intentionally flavoring things like coconut - and also for our pets. Melly LOVES the stuff. When she hears a mason jar opening, she comes running. REFINED coconut oil really tastes like nothing at all, so it is great for greasing baking dishes and pans, binding things together, or adding a healthy fat and nutritional component to a dish without adding a contrasting flavor.
🔖Recipe
Peanut Butter Perfect Bars
Peanut Butter Perfect Bars are creamy, peanutty, sweet, and delicious. Perfect bars are packed with protein and are my favorite afternoon or pre-workout snack.
Print
Pin
Rate
Chilling Time:
30
minutes
Equipment
Mixer

Silicone Mini-Loaf Pan

Silicone Mini-Muffin Pan
Instructions
In the bowl of a stand mixer or a large bowl with a hand mixer, combine both types of peanut butter with the honey.

Once well combined, scrape down the sides of the bowl and make sure it is well mixed.

Add the rest of the ingredients and mix well to combine. It will get very fluffy and creamy, like a whipped peanut butter.

Spread your perfect bar batter into a silicone mini loaf pan, silicone muffin tray, or a large baking dish and press flat with a piece of wax paper.

Place covered in the freezer for 30 minutes. Remove from the pan and store in an airtight container in the refrigerator or my favorite, the freezer! (If you use a large baking dish, slice into bars and then place in an airtight container.)
Notes
Optional Add-Ins are:
1/4 cup of mini chocolate chips
1/4 cup regular chocolate chips
1/4 cup white chocolate chips
1/4 cup of shredded coconut
Make sure to use REFINED coconut oil - unrefined coconut oil has a very strong coconutty taste.
Nutrition
Serving:
1
bar (1/4 cup)
|
Calories:
294
kcal
|
Carbohydrates:
17
g
|
Protein:
17
g
|
Fat:
19
g
|
Saturated Fat:
7
g
|
Cholesterol:
8
mg
|
Sodium:
328
mg
|
Potassium:
397
mg
|
Fiber:
2
g
|
Sugar:
14
g
|
Vitamin A:
75
IU
|
Vitamin C:
1
mg
|
Calcium:
91
mg
|
Iron:
1
mg