This is a new addition to Southern Bytes where I am going to share the non-food stuff for the people that are actually interested in what we are up to at our house – beyond "just getting to the recipe."
The Fun Stuff – Food
I have been cooking up a storm over here – I tested out about 10 new recipes for Thanksgiving and I'm going to start rolling those out in September. I'm so excited to share those recipes!
We have also been growing an insane amount of okra – it took a while to get started but now I can't seem to reign it in. The variety I chose is called Emerald Green Velvet and they grow 7 – 9 inches long (my largest so far was 11 inches and it still tasted great!) without getting woody. The problem we found with the "Clemson Spineless" variety was that once they got larger than 4 or 5 inches – if we didn't pick them they became inedible. So far, these have been pretty big producers and they have been huge without getting woody. They have been great in Seafood Gumbo, Chicken and Sausage Gumbo, and Fried Okra – fingers crossed they continue to be awesome! (Plus the flowers are gorgeous.)
I have a few okra recipes that I'll be sharing soon, but we used some of the okra last week to make Seafood Gumbo and it was so good with the fresh okra!
Some other recipes we have had on repeat are my newest recipe Cinnamon Toast Crunch Cereal Treats and Chicken Shawarma from Jo Cooks – we serve it with a Greek Salad, homemade pickles, and Stonefire Naan Bread. It is one of my husband's favorite dishes.
I made it for my in-laws who are visiting this weekend to help us install a sub-panel for our new table saw (and for my birthday) and they loved it! (I'll do a post about the table saw at a later date – but my husband and I talked pretty extensively about table saws and finally agreed on spending the money on a Saw Stop – in the end, we decided that the cost of a surgery to sew a finger back on or a one time cost of a table saw was worth just paying for the table saw.)
Another recipe I am working on is an awesome breakfast casserole. It is packed with hash browns, sausage or bacon, eggs, and tons of cheese. It is so good! I hope to have this ready for you all soon!
The Not Fun Stuff – Back Pain
I've been struggling with some on and off back issues for the past ten or so years and for the past 3 years, it has been really bad. For the past 6 months, it has really escalated. I finally got the results of the MRI I had last week. I was torn between hoping for good news and also hoping for bad news so that I can have surgery and just get my back fixed. I have tried just about everything (dry needling, physical therapy, yoga, pilates – I even got a pilates reformer, which has been the most helpful) but I am running out of options.
Looking at my MRI, the disc in the space where my L5-S1 is supposed to be is just blank. I'm pretty sure that at this point I am going to need a disc replacement and I just want to get it over with while I am stuck at home anyway! I am going to get one more steroid injection, and then explore the option of the disc replacement surgery. If you struggle with lower back pain, what do you do for relief? If you have had this surgery, please reach out to me! I would love to hear about it. Also, super weird, but I have found some relief sleeping with a maternity pillow of all things (I love this pillow.) It is massive and takes up half the bed, but I have been sleeping so much better. I call it my nest.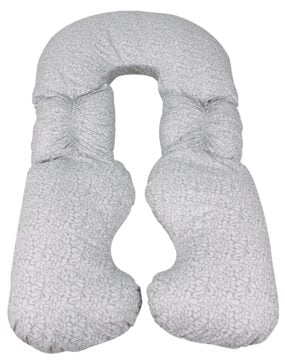 That's all I have for today!
My hope is to keep these frequent and brief but interactive – so what is going on with you guys? Anything exciting? Is back-to-school stuff going well?