Looking for the Best Garlic Toast Recipe? This Super Simple Garlic Bread Recipe is packed with garlic flavor, rich buttery goodness, and perfectly crispy bread that is tender and fluffy inside. Best of all, it can be whipped up in just 10 minutes!
Looking for an easy side dish for a fresh salad, pasta e fagioli, or a big bowl of homemade pasta? This is my favorite recipe for the very best garlic toast! It is a delicious blend of fresh minced garlic, softened butter, Italian Seasoning, and olive oil for a huge burst of garlicky flavor on crunchy toasted bread. Any bread.
The best thing about this easy garlic toast recipe is that you can use whatever you have and make it to suit your dietary preferences – you can make vegan garlic bread if you eat plant-based or use olive oil if you just want to make a quick garlic bread recipe and don't have any butter!
What is the Best Kind of Bread to Use to Make Garlic Toast?
The great thing about this garlic toast recipe is that it is so flexible. Use it as a guideline to help you make easy garlic bread. You can use any kind of bread that you have on hand. For the bread, I like to use French bread, sourdough bread, or a soft loaf of Italian bread. You can cut the recipe in half to use up some leftover slices of bread that are starting to get stale – once the bread is toasted up, you can't tell!
I personally love to keep leftover garlic butter in the freezer to spread on some sourdough bread or leftover beer bread. I slice it up, then cut the bread into somewhat similarly sized pieces and just pop it in the air fryer. It is such a simple side dish to put together! (You can also use any kind of sliced bread or a loaf of bread that you may have left over from lunch sandwiches toward the end of the week that is starting to get stale.)
🥘 Ingredients in this Homemade Garlic Toast Recipe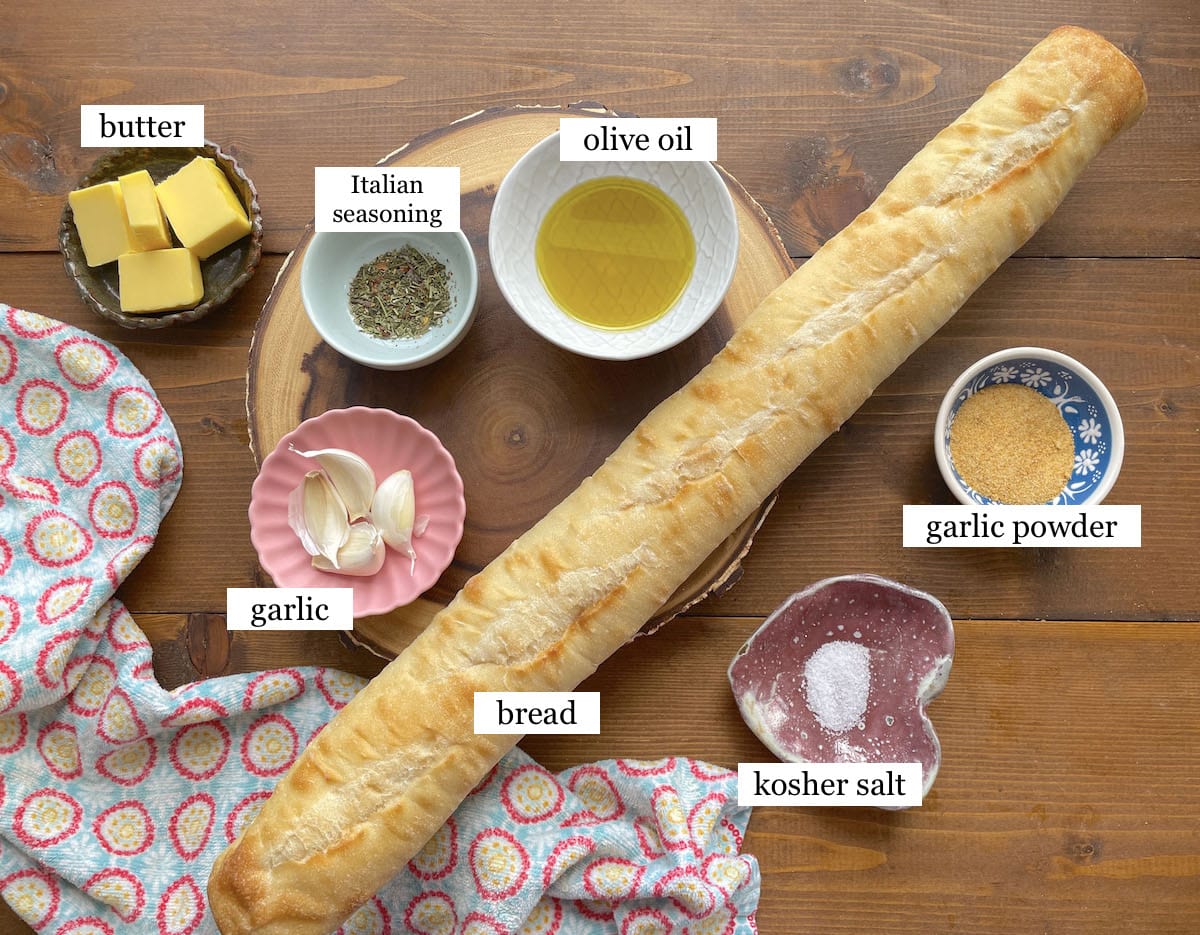 French Bread or Italian Bread – I like to use bread that isn't too hard or crunchy on the outside. As it toasts, it hardens up more, and if you use a baguette that is already tough to chew, it can be like biting into a rock.
Fresh Garlic Cloves – I recommend using a garlic press to ensure that the garlic is finely minced. You can also mince the garlic by hand, then use the side of your knife to mash the minced garlic into your cutting board – repeat until you make a soft paste. And, you can also grate a clove of garlic with a zester. (So many ways to make this recipe!) You can even use roasted garlic to take this garlic bread recipe over the top.
Extra Virgin Olive Oil
Unsalted Butter, softened to room temperature – If you want to use salted butter, leave out the salt in the recipe. If you find that you crave more salt on your toast slices, you can sprinkle more on when serving, but once you overdo it, you can't go back, so use salt sparingly. (I like to use a little flaked sea salt as a garnish – it looks so fancy but is such an easy addition. I just keep some in a sealed plastic bag in my pantry.)
Italian Seasoning
Kosher Salt, optional
Optional, Garlic Powder for sprinkling (Note: this is not the same as garlic salt.) A sprinkle of garlic powder will up the garlic punch!
Optional – Fresh Herbs for garnishing. The brightness of green from fresh basil or fresh parsley looks really pretty on garlic toast, but we don't always have it on hand, so it is an optional ingredient.
If desired, you can also add Freshly Grated Parmesan Cheese to make cheesy garlic toast.
🍽 Equipment Needed
A Small Mixing Bowl
Measuring Spoons
A Baking Sheet
A Cutting Board and Serrated Knife
🥣 How to Make the Best Garlic Toast
Here are the basic steps for how to make garlic toast.
Preheat the oven to 350°F and place a non-stick baking mat or piece of parchment paper onto a large baking sheet with edges. (You can also bake it in your toaster oven or air fryer.)
Slice a loaf of French bread (or any type of bread, really) into thick slices, about 3/4 to an inch thick.
Peel and mince the garlic.
In a small bowl, combine the softened butter with the olive oil, minced garlic, Italian seasoning, & salt. (Mix parmesan cheese into the butter if you are using it.) Do NOT use melted butter.
You need the butter to be soft enough to be spreadable but thick enough to keep the garlic in suspension – that's the trick! If the butter is melted, the garlic just sinks to the bottom of the bowl, and it is a pain to get the garlic onto the toast!
Recipe Tip
You want to use SOFTENED BUTTER with garlic toast, not melted butter, so that the garlic doesn't sink to the bottom of the bowl and becomes impossible to spread evenly.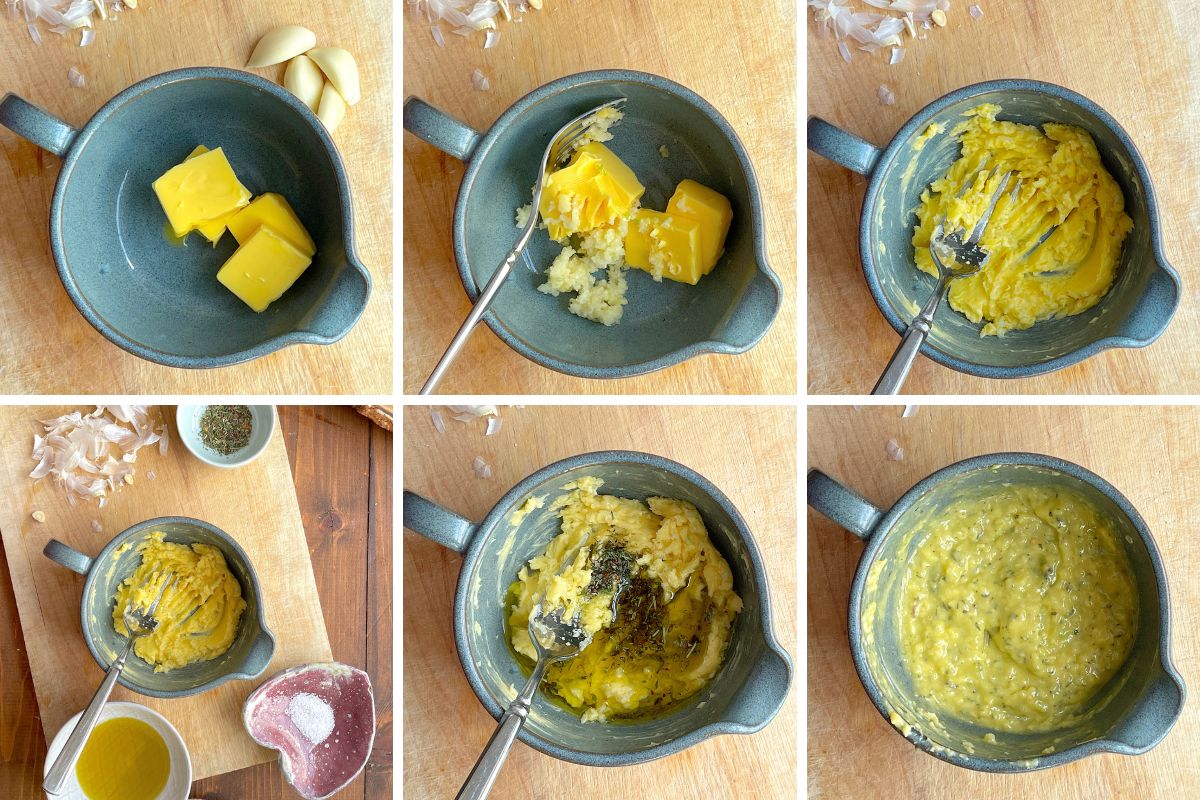 Using a spoon, spread the garlic butter mixture on each side of each slice of bread. Make sure to get the butter into all of the nooks and crannies on both sides of the bread, then place the toast slices onto the prepared baking sheet.
Sprinkle a pinch of garlic powder over the toast slices if desired to add an extra pop of garlic flavor.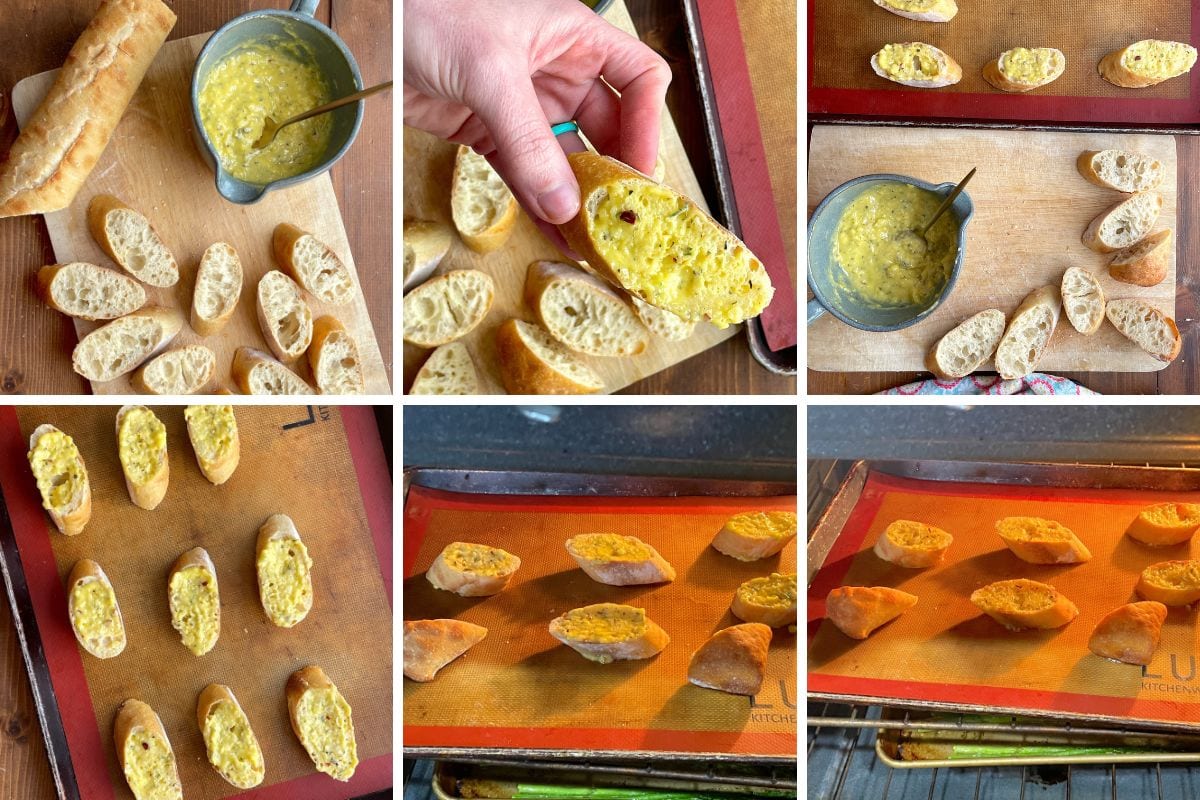 Place the pan into the center of your preheated oven and bake for about 5 minutes until the edges are a nice golden brown. As the butter melts, it seeps into the bread and makes the best garlic bread.
The crust will be crispy, but the interior should still be fluffy and soft with a delicious garlicky flavor.
Serve immediately topped with fresh herbs like chopped parsley if desired.
If you want your toast to be more crispy or to have a hard crunch, you can bake the slices for up to 10 minutes or use your air fryer. (If you aren't going to serve the bread right away, remember that the longer the bread sits, the harder it will get, so don't overbake it!)
Air Fryer Garlic Bread
To air fry your garlic toast, prepare it the same as above, but bake it for just 2-3 minutes. Place a piece of aluminum foil under the air fryer basket to catch melting butter; otherwise, you will have a mess to clean up. Do not put the foil directly under the bread, or you will prevent the air from circulating around the bread.
Adjust the Garlic Butter as Needed
The size and quantity of the bread you use will dictate how much of the butter and garlic oil mixture you'll need. The amount of the mixture that I made was perfect for 12 small slices of a regular French baguette.
If you want to thin the butter mixture, you can add a little bit more olive oil to the bowl. You can also make a second batch and freeze the leftover butter if you need more. I like to keep leftover garlic butter on hand, frozen in two tablespoon portions, to pull out of the freezer when needed for dinner. (It's the perfect amount for two of us.)
You can also increase the quantity of garlic butter depending on how big your slice of bread is or how much you need to make. (If you are making a large quantity for a party, you can make a double batch of the butter ahead of time and freeze it as well!)
You can also increase the amount of garlic if you want to fight off vampires after dinner.
Can you Freeze Homemade Garlic Bread?
Yes! You can butter the toast on each side of the bread, then freeze the bread slices on a baking sheet. Once frozen, toss the slices into a freezer bag. Bake from frozen at 350°F for 7-10 minutes.
You can also freeze leftovers of the garlic butter in two tablespoon portions. I like to use Souper Cubes to do this.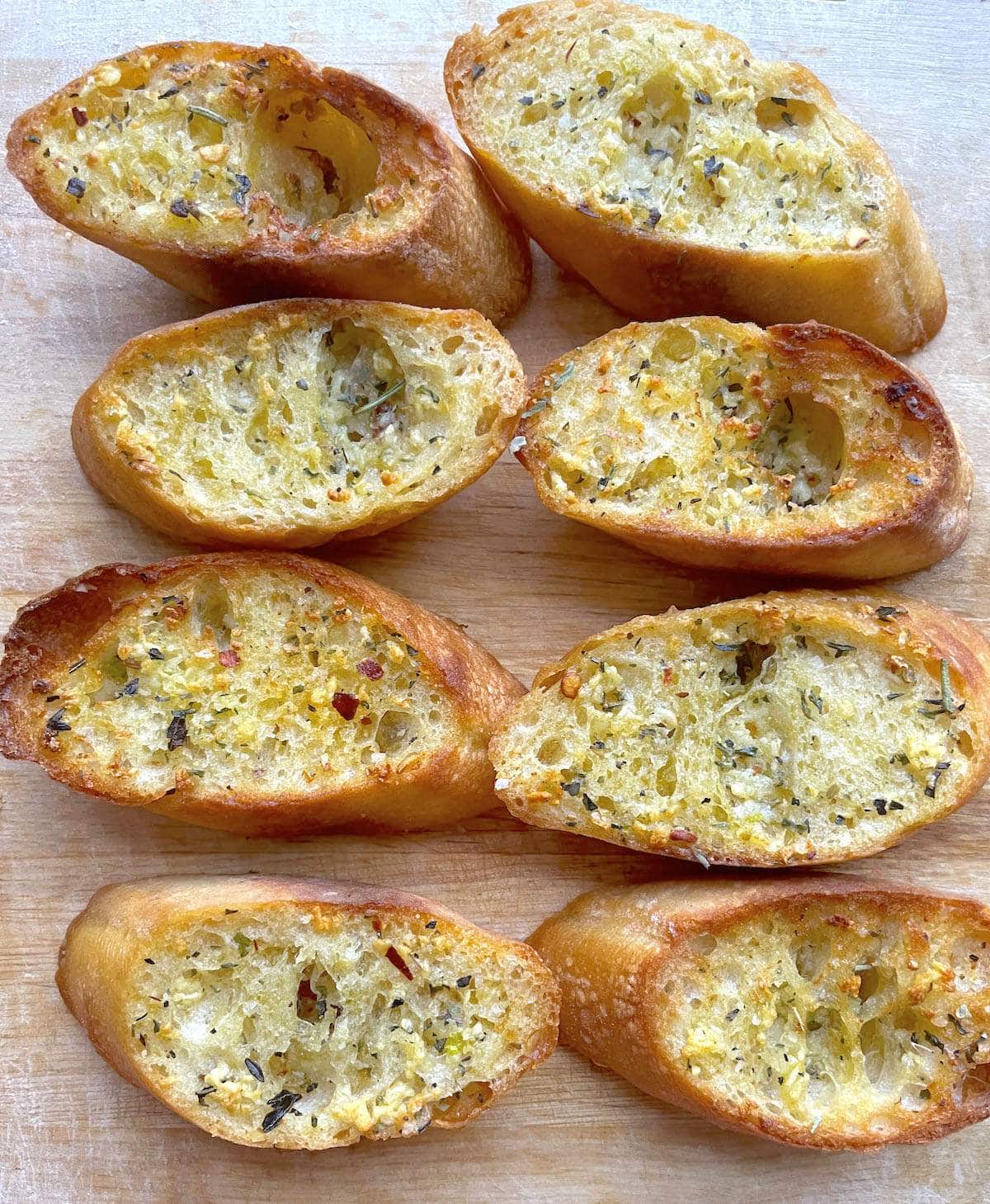 Variations & Substitutions
Make Vegan Garlic Toast using double the olive oil and leaving out the butter. I personally think there is nothing better than buttery garlic bread, so to me, the butter is the best part, but you can leave it out if you need to. (You can also substitute vegan butter; just keep an eye on the bread when baking, as some vegan butter can burn quickly.)
Make Garlic Texas Toast by using thick slices of white bread. The thick-sliced white bread from Pepperidge Farm is perfect for making Texas Toast Garlic Bread.
What to Serve with Garlic Toast
This homemade garlic toast is the perfect side for so many different recipes! It is such an impressive-looking garlic bread recipe to serve to guests, and it is such an easy recipe. Here are some ideas for serving it as a side dish or appetizer:
Have You Tried This Recipe?
Please rate it and leave a comment below. I would love to hear what you think!
Garlic Toast
Looking for the ultimate garlic toast recipe? This recipe is packed with garlic flavor, rich buttery goodness, and perfectly crispy bread that is tender and fluffy inside. Best of all, it can be whipped up in just 10 minutes!
Ingredients
1

loaf

hearty bread

French Bread or Italian bread works best, not a baguette

3-4

cloves

garlic

about 3-4 teaspoons, finely minced

⅛

cup

extra virgin olive oil

(just eyeball about half of the ¼ cup mmeasuring cup)

¼

cup

butter

softened to room temperature

½

teaspoon

Italian Seasoning

¼

teaspoon

kosher salt

optional
Optional
garlic powder

for sprinkling

fresh parsley

or fresh basil ,chopped, for a garnish
Instructions
Preheat the oven to 350°F.

Thinly slice the bread into 10-12 round slices.

In a small bowl, mix together the minced garlic with the olive oil, softened butter, Italian seasoning, and salt.

⅛ cup extra virgin olive oil,

¼ cup butter,

½ teaspoon Italian Seasoning,

¼ teaspoon kosher salt,

3-4 cloves garlic

Using the back of a spoon, spread the mixture on both sides of each slice of bread and place them onto a baking sheet. (See the notes below for baking a loaf whole.)

Optional, sprinkle some garlic powder over each piece of toast to increase the garlic flavor.

Bake the toasts for 5 minutes until the edges of the bread are a little crispy, but the inside is still soft. Do not overbake or the toast will harden too much and will be hard to chew.

Optional, sprinkle the toasts with finely chopped fresh parsley or basil. Serve immediately and enjoy.
Notes
You can also use presliced bread or keep the loaf whole and cut slices almost all the way through, then stuff the garlic spread in between the slices and bake it to make a pull-a-part loaf of garlic bread.
Special Equipment Needeed
Nutrition
Serving:
1
slice
Calories:
266
kcal
Carbohydrates:
20
g
Protein:
3
g
Fat:
19
g
Saturated Fat:
10
g
Polyunsaturated Fat:
3
g
Monounsaturated Fat:
6
g
Trans Fat:
0.3
g
Cholesterol:
10
mg
Sodium:
219
mg
Potassium:
87
mg
Fiber:
1
g
Sugar:
12
g
Vitamin A:
120
IU
Vitamin C:
0.2
mg
Calcium:
4
mg
Iron:
1
mg
Nutrition information is approximate and is automatically calculated, so should only be used as a guide.