Sweet Potato Casserole is a Southern Thanksgiving classic. With creamy, dreamy, sweet potatoes and a sweet and crunchy pecan praline topping, everyone will be back for seconds.
Sweet Potato Casserole was never a dish on my Thanksgiving table growing up, but my husband won't have Thanksgiving dinner without it. (We are classic green bean casserole people.) This recipe is a variation of the recipe his mom uses, and it is now one of my favorite Thanksgiving side dishes as well. (He says it is *GASP* better than the original!)
The original recipe called for canned yams and sugar in the filling – this recipe uses cooked whole sweet potatoes, sweetened condensed milk, honey, and a little less white sugar. (It's basically a pie.) I make the sweet potatoes in my Instant Pot.
You can adjust the amount of sweetened condensed milk added if you want to make it sweeter – we have found that ⅓ cup is sweet enough with a bite of the crunchy streusel topping. If you use ½ cup of condensed milk, it makes this even more of a dessert-like side dish.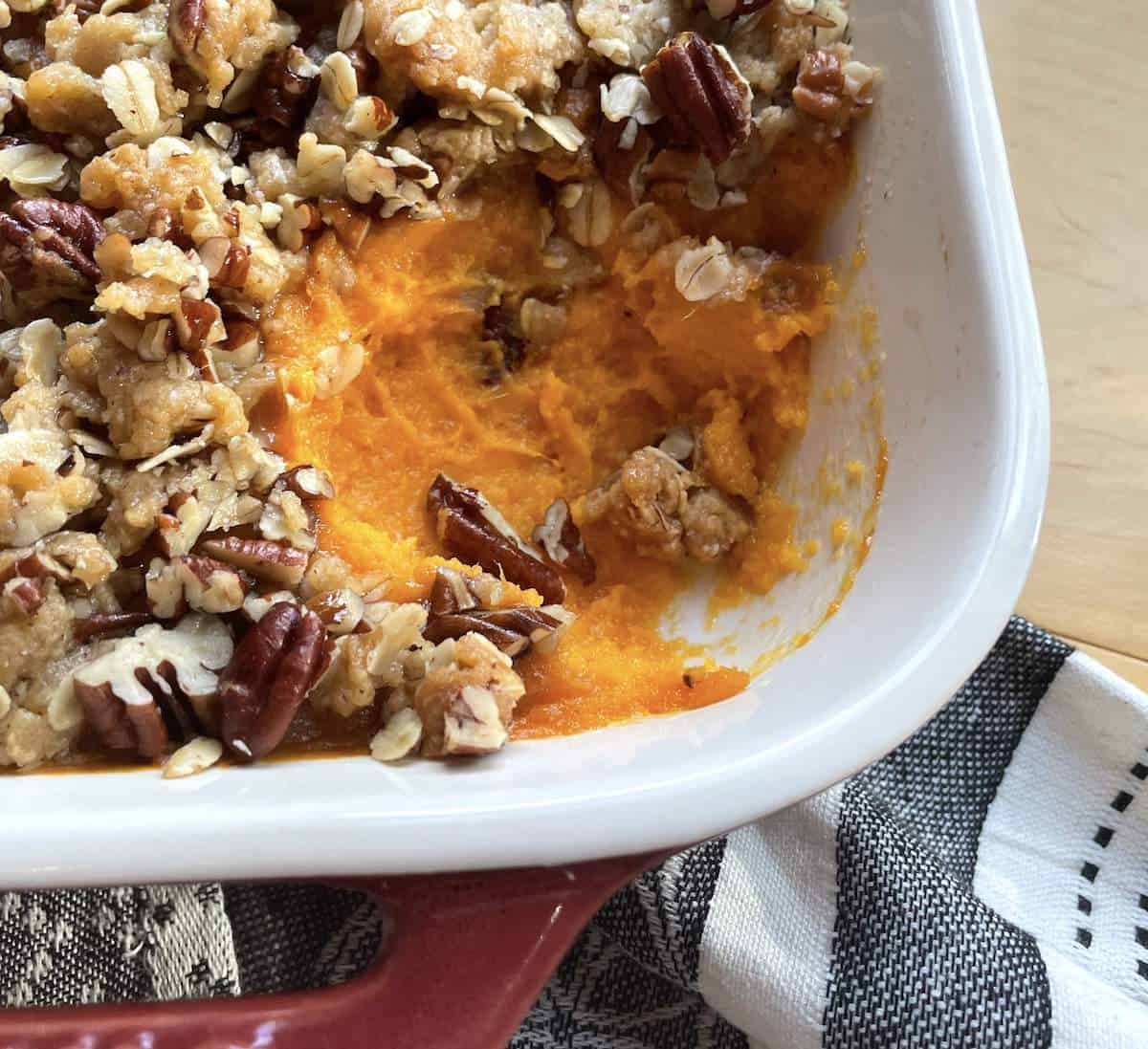 This sweet potato casserole is unlike the classic recipe for sweet potato casserole with a marshmallow topping – it has an incredible crunchy topping made with brown sugar, butter, oats, and pecans. The filling is sweet, creamy, light, and delicious, but the topping is the best part. Your taste buds won't know what hit them when you get a bite of the filling mixed with the crunchy pecan streusel topping!
Table of Contents
Sweet Potato Filling
Salted Butter – You can use salted or unsalted butter, but I like the flavor that the little bit of salt in salted butter adds.
Cooked & Mashed, Whole Sweet Potatoes – You will need 5 cups or approximately 4 – 5 cooked sweet potatoes. – I like to cook the potatoes in my Instant Pot, then drain them in a strainer to get any excess moisture out.
Eggs
Sweetened Condensed Milk – We have found that ⅓ of a cup makes this casserole sweet enough with a bite of topping. If you use ½ a cup of condensed milk, it makes this more like a dessert.
Honey
Pecan Praline Topping
Salted Butter – You can use unsalted butter if you prefer.
Light Brown Sugar
All-Purpose Flour
Oats
Pecans, roughly chopped – This is technically optional, but it is so good – I wouldn't skip the pecans unless you have an allergy. (If you are working around a nut allergy, you can use extra oats for extra crunchy deliciousness.)
🍽 Equipment Needed
A Large pot
A Small Saucepan
A Baking Dish, Small Casserole Dish, or Pie Pan
Optional, a blender, food processor, electric mixer, hand mixer, or immersion blender to puree the potatoes. I think an immersion blender is the easiest option, but you can use what you have.
🥣 How to Make Sweet Potato Casserole
Start by cooking sweet potatoes however you prefer. I like to make them in an Instant Pot – I pressure cook them on high pressure for about 30 minutes unless they are huge potatoes – then I will do 45 minutes. (If you don't have an Instant Pot, you can bake them or microwave them until they are tender.)
Let the potatoes cool before attempting to peel them. You can do this step a day or two ahead of time.
Next, preheat the oven to 350°F.
Start with the Sweet Potato Filling
In a large pot or dutch oven, melt the butter for the sweet potatoes (¼ cup) over medium/low heat. (Picture 1)
Mix the mashed sweet potatoes with the melted butter and stir until the butter is fully incorporated and the potatoes are heated all the way through. Remove from heat. (Picture 2)
In a separate bowl, mix together the vanilla extract, sweetened condensed milk, eggs, sugar, and honey. Mix this into the potatoes and stir until the puree is well combined. (Pictures 3 – 5)
If you notice that your potatoes are a little stringy/fibrous, you can puree the mixture with an immersion blender. I like to do this to get the potatoes velvety smooth – just don't over-mix it or the potatoes can get gummy. (You can't get the same creamy texture using just a potato masher, so I think this is important if you are using fresh sweet potatoes.)
Then pour the mixture into a large baking dish or pie pan and smooth out the top. It should be nice and smooth and look similar to a pumpkin pie. Below are two versions – one in a pie pan and one in a baking dish.
Make the Pecan Praline Topping
While the sweet potato mixture cools a little, make the praline topping in a small saucepan. Melt the butter, then mix in brown sugar, flour, oats, and pecans. Stir over heat until the texture is similar to stiff wet sand. (Pictures 6 – 10)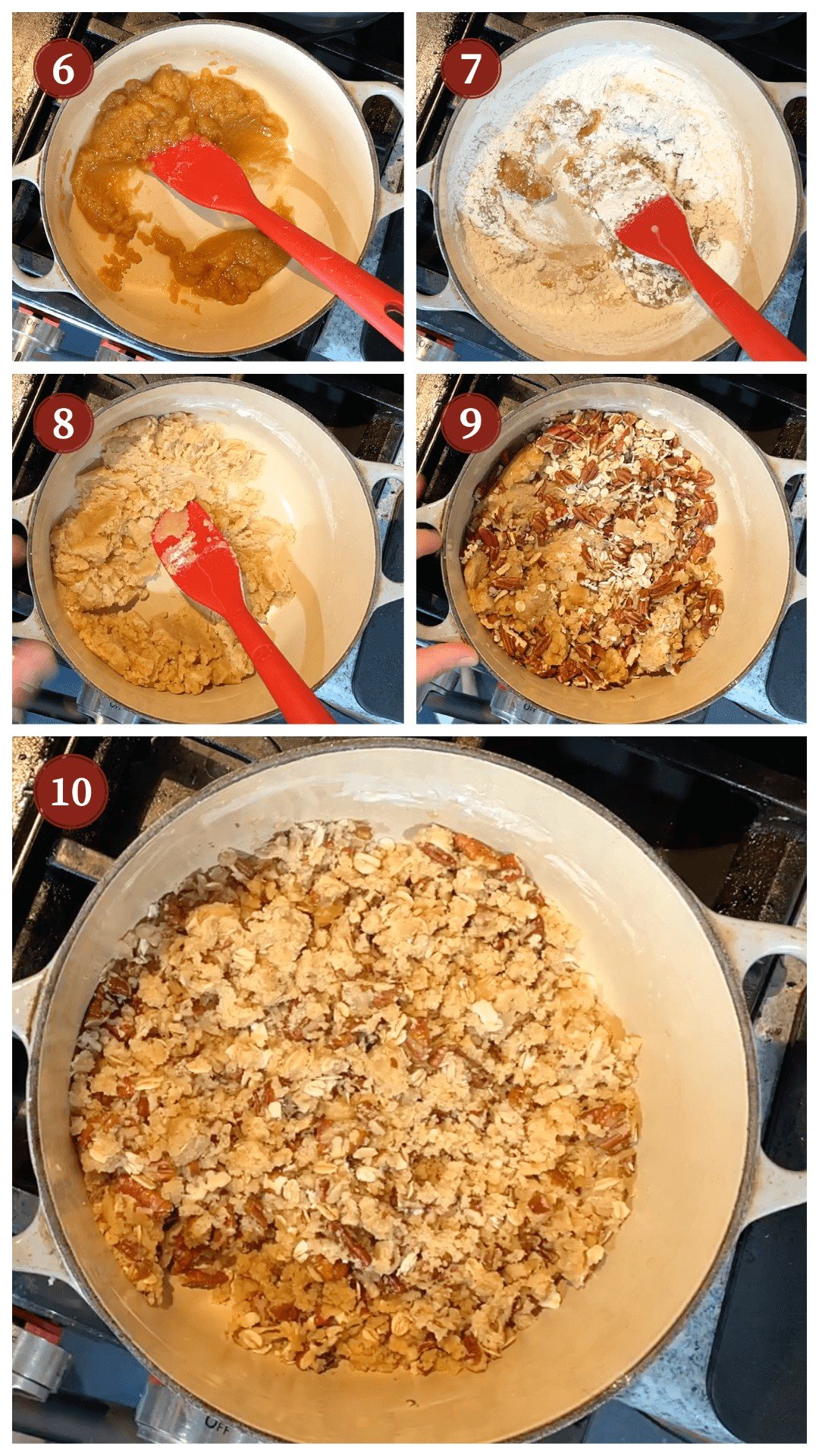 Spread the streusel topping over the top of the sweet potato mixture, trying to get every nook and cranny of the entire casserole covered.
Bake in the preheated oven, uncovered, for 35 minutes until the topping is golden brown and smells toasty and nutty, and delicious.
🍱 Recipe Yield
This casserole recipe makes about 8 – 12 servings. If people want seconds, you may end up with fewer servings. If you are feeding a larger group, you can easily double it.
🙋‍♀️ Frequently Asked Questions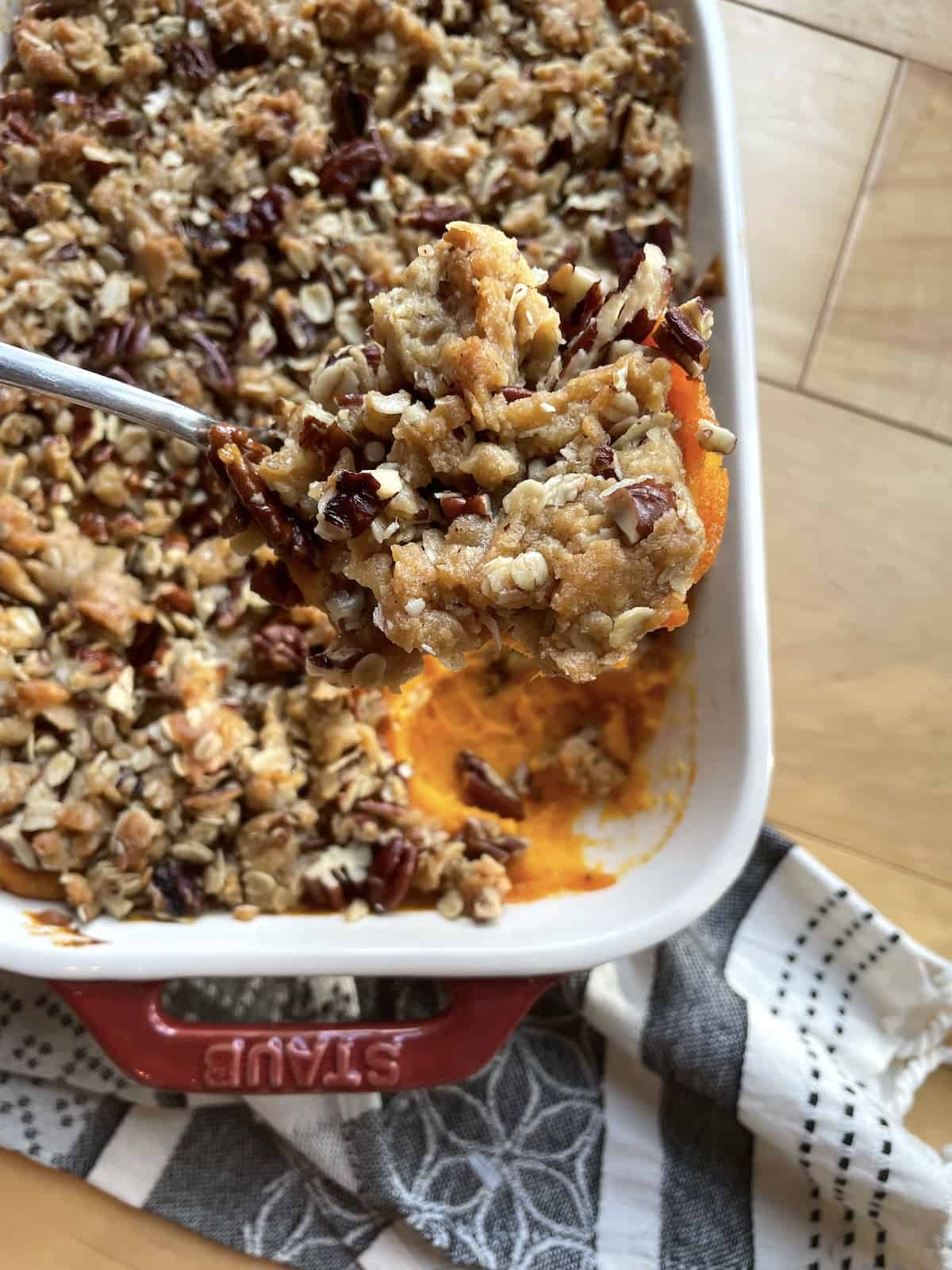 🍳 What to Serve with Sweet Potato Casserole
The easy sweet potato casserole recipe is a Thanksgiving staple, but we honestly love to have it any time of the year – it's a family favorite. We like to serve it alongside:
Sweet Potato Casserole goes great with other tasty sides as well:
🥫 How to Store Leftover Casserole
Store leftovers in the fridge for up to five days. We usually just cover the casserole with foil or plastic wrap and reheat it as needed. There usually isn't much leftover, so we eat it pretty quickly. Leftovers can also be stored in an airtight container.
You can also freeze leftover casserole.
To reheat, the casserole can be microwaved or placed in the oven at 350°F for 10 – 15 minutes – I usually cover it for the first 10, then finish it uncovered so the topping can get crispy again. (Just keep an eye out for the topping so that it doesn't burn.)
✏️ Helpful Tips
Drain your potatoes before baking to get out any excess liquid.
The oats and pecans in the topping are optional, but the crunch is so good – I highly recommend adding both.
If you need to make this recipe ahead of time, I would suggest making the filling and topping separately, then assembling it and baking the casserole right before you plan on serving it. The topping will remain crunchy when reheated if baked or toasted, but it will be at its best when freshly baked.
If you notice that your potatoes are a little stringy and fibrous, you can puree the sweet potato mixture with an immersion blender or a food processor. I like to do this to get the potatoes velvety smooth – just don't over-mix it, or the potatoes can get gummy.
Have You Tried This Recipe?
Please rate it and leave a comment below. I would love to hear what you think!