These four-ingredient peanut butter banana dog treats are so easy to make. Healthy homemade dog treats are a great way to give your dog a tasty treat that you can feel confident about.
As a dog owner, I know that my dog is spoiled rotten. She will do just about anything for a cookie, including "waiting" with a treat on her head until she is given permission to eat it. These tasty treats are an easy way to spoil her – and it is such an easy recipe with no added sugar.
These limited ingredient dog treats are also a great way to use up some overripe bananas. If you are sick of bananas, you can make some dog cookies for your favorite pup.
If you don't have bananas, you can also use canned pumpkin or unsweetened applesauce. These easy, homemade peanut butter banana dog treats are great for older dogs as well, as they are on the softer side.
As an added bonus, I've even been told that these yummy dog treats are toddler approved as well!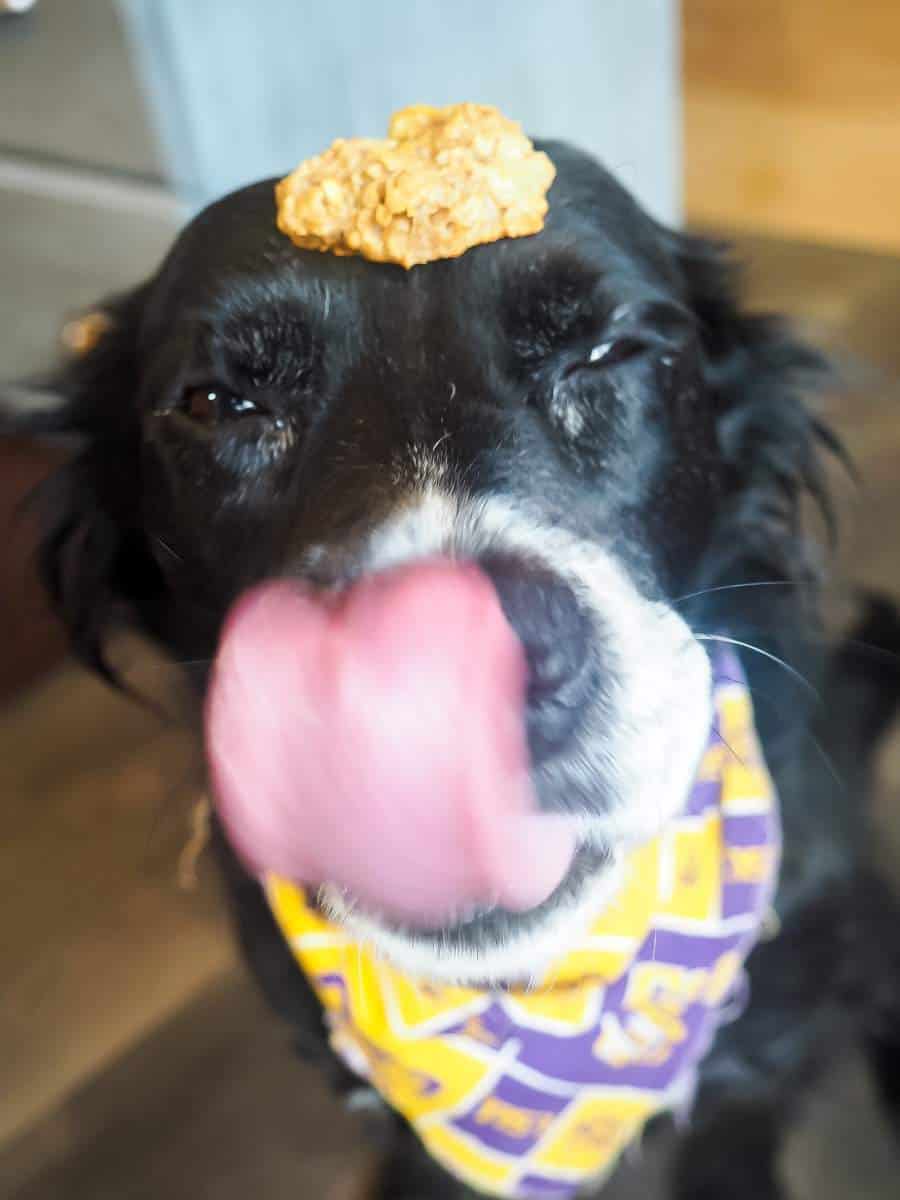 Table of Contents
🥘 Ingredients Needed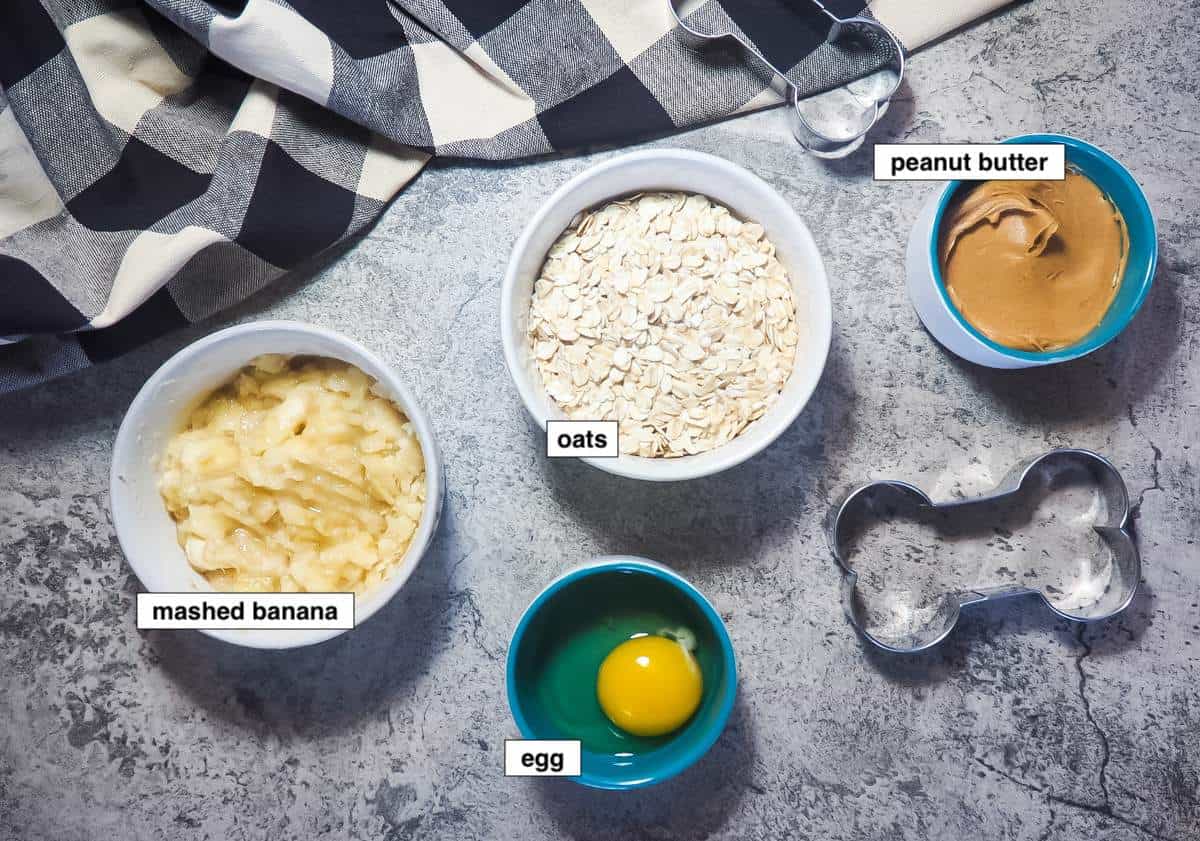 Mashed Banana – A really ripe banana works great for this recipe.
An Egg
Rolled Oats – I like to use Old Fashioned Oats, but you can also use whatever you have on hand – Quick Cooking Oats will work fine as well.
Creamy Peanut Butter – Make sure that you find a kind of peanut butter that does not have any artificial sweeteners like xylitol in it as it is toxic to dogs. Natural peanut butter usually works well!
🥣 How to Make Them
These homemade treats are really easy to make. First, preheat your oven to 350°F.
Then, mix all of your ingredients together in a medium size bowl. (Picture 1) Let them sit for a few minutes for the oats to absorb some moisture. (Picture 2)
Line a baking sheet with parchment paper (Picture 3), then drop the treat dough onto the cookie sheet using a tablespoon. (Picture 4) (If you do not have parchment paper, you can use a baking liner or spray your cookie sheet with non-stick cooking spray.)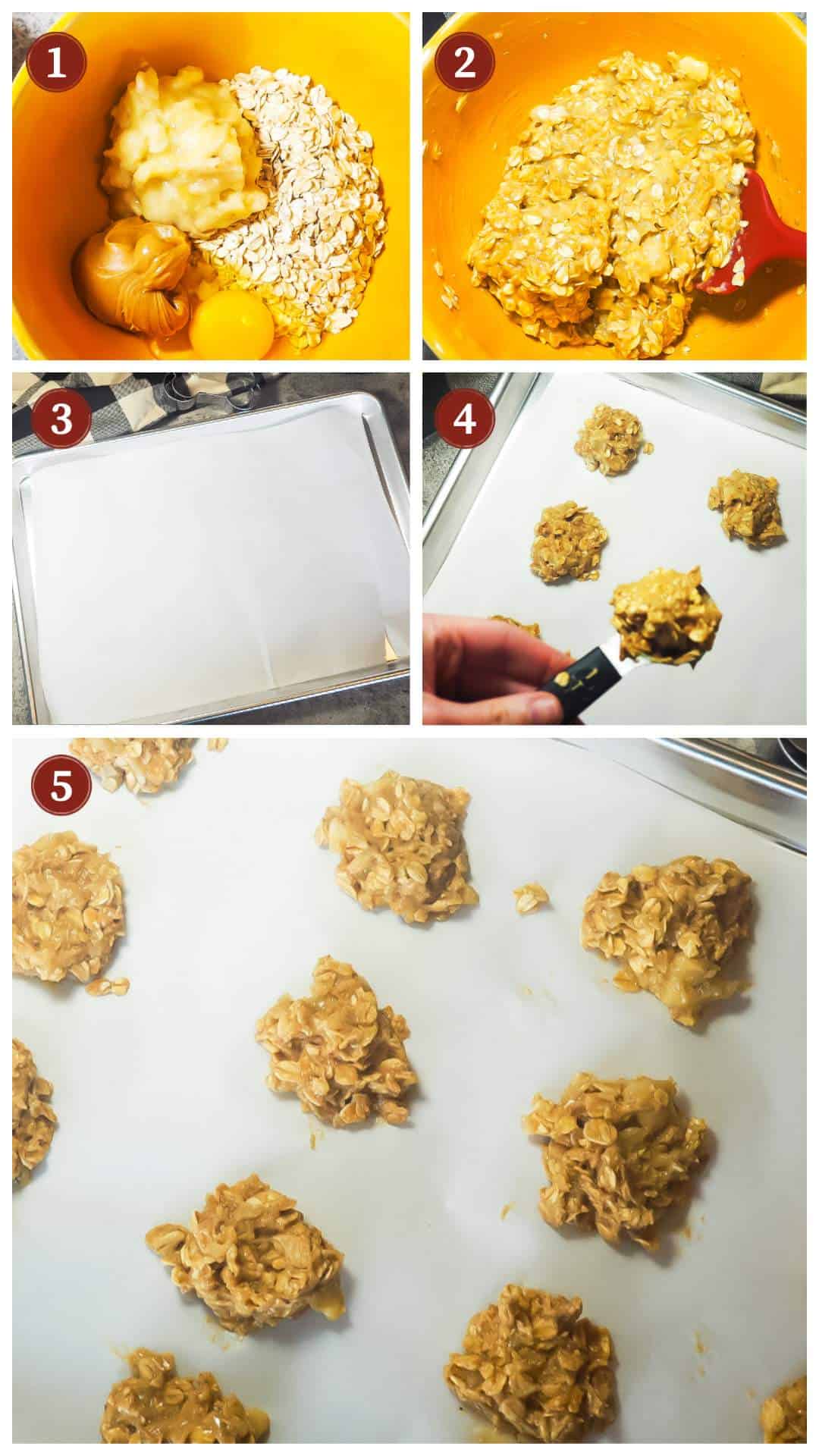 Press the treats down a little, so they lie a little bit flat, then bake for 12-15 minutes.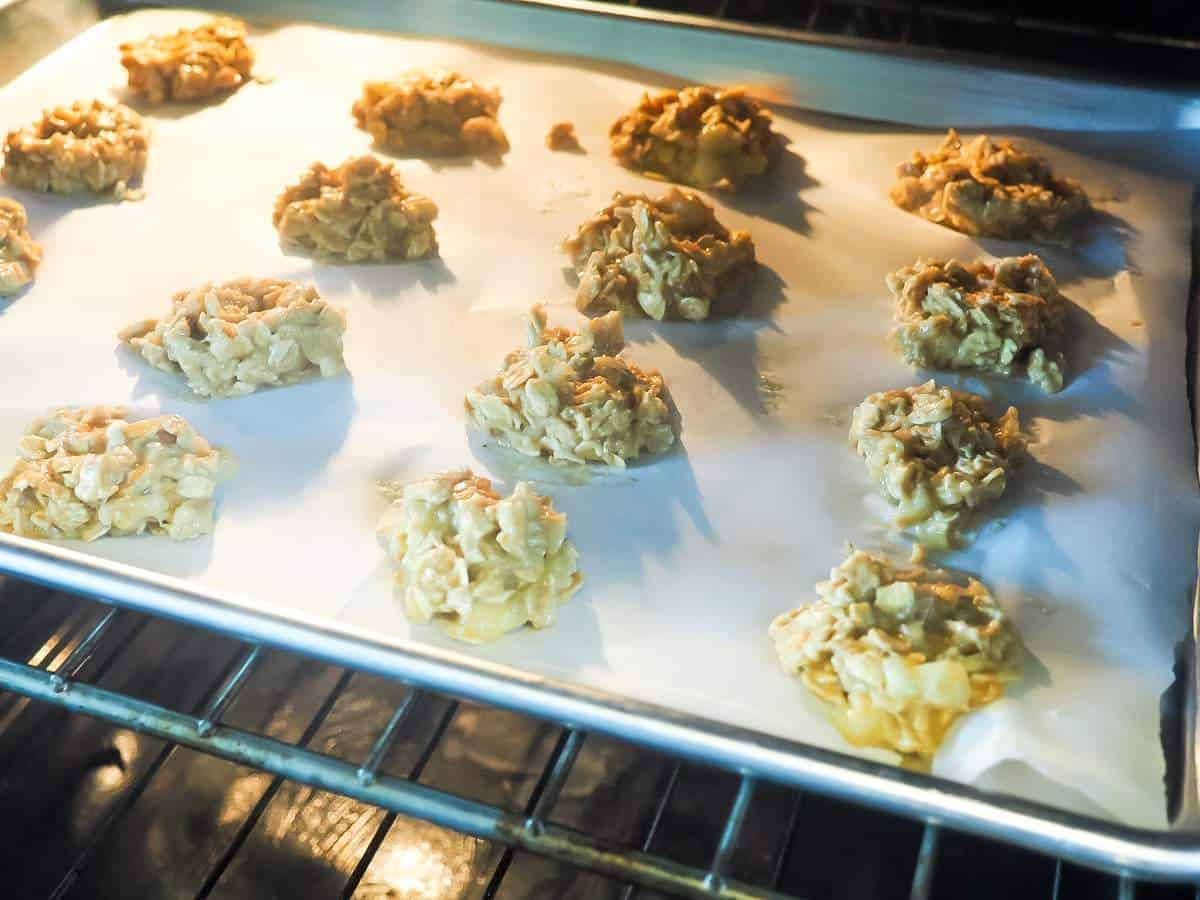 The cookies will not look much different after they are cooked – just a little brown on the edges of the oats and they will be slightly firm when you push down on them. (Almost like a perfectly cooked meatball or the top of a cupcake.)
Place cookies on a wire rack to allow them to cool before serving to your furry friends (or before storing them in a sealed container.)
Does anyone else have a dog that stares them down when a peanut butter jar is opened? This is the look that I get whenever there is peanut butter around.
✏️ Helpful Tips
I highly recommend storing these dog treats in the fridge. Since they have a lot of moisture in them, they can grow mold really easily.
Be sure to use a peanut butter that does NOT contain xylitol. It is harmful to dogs and could result in death if consumed.
Introduce new foods to your dog slowly to avoid an upset stomach.
Let the cookies cool before feeding them to your dog or before placing them in an airtight container, then store them in the refrigerator or freeze them.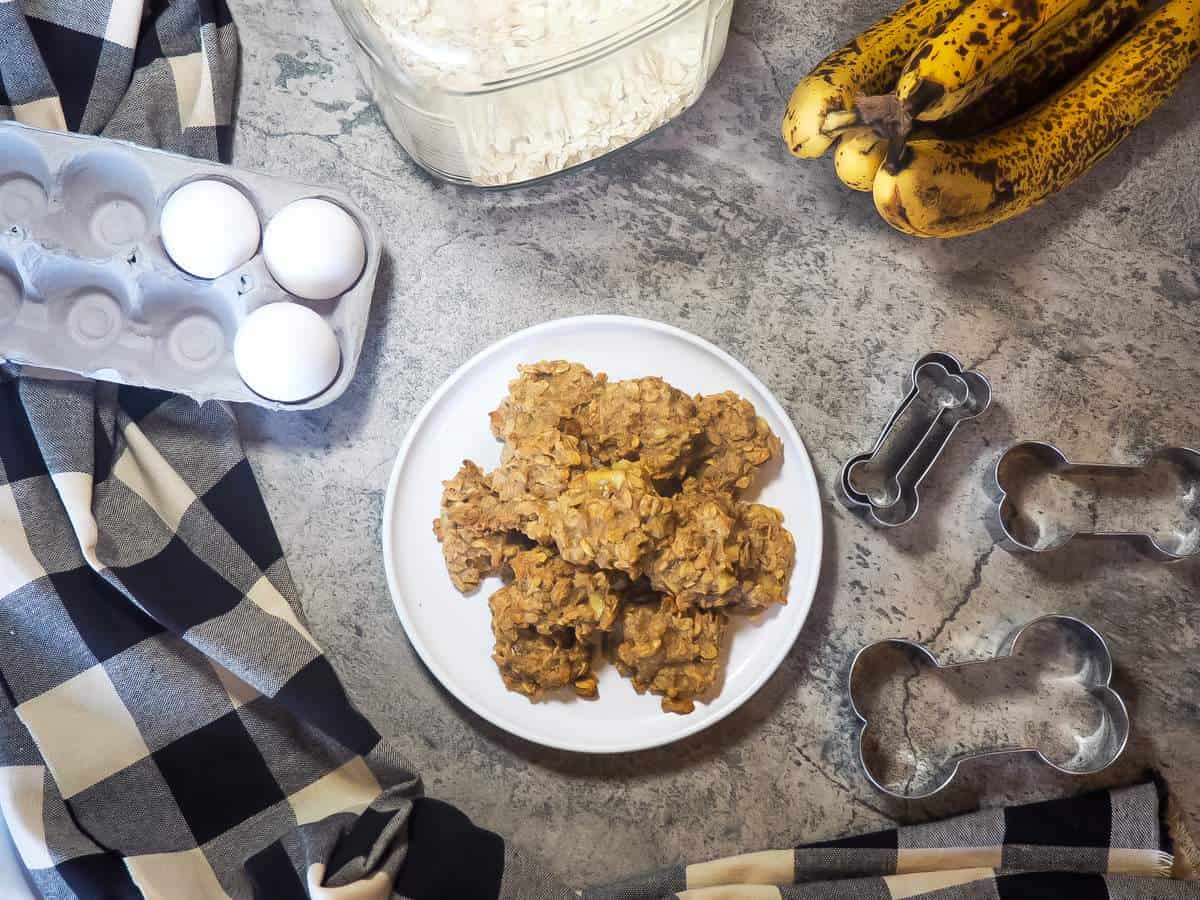 🥫 How to Store Homemade Dog Treats
These treats will last at room temperature for 3-5 days, though I highly recommend keeping them in the refrigerator because they have a lot of moisture in them. They will last for about a week in the refrigerator and they will last for at least six months in the freezer.
I like to freeze them, then in the morning I take a few out and leave them on the counter. Melly gets pieces of treat throughout the day.
🙋‍♀️ Frequently Asked Questions
Can dogs eat peanut butter?
Yes. Dogs LOVE peanut butter. Just be sure to use a natural peanut butter that does not contain an artificial sugar substitute like xylitol, as they can be toxic to dogs and can cause hypoglycemia, seizures, liver failure, or even death.
Can dogs eat bananas?
Yes. Dogs can eat bananas. They have a lot of sugar in them, so dogs should not eat A LOT of bananas, but they are fine in moderation and in recipes like homemade treats.
What can you use in place of bananas in homemade dog treats?
If you don't have bananas, you can substitute unsweetened applesauce or canned pumpkin.
🐶 Try These Other Great Dog-Friendly Recipes
Delicious food leads to happy dogs, so I love making homemade dog food and dog treats from simple ingredients that I recognize. Some of our favorites are:
You can find more easy dog treat recipes here.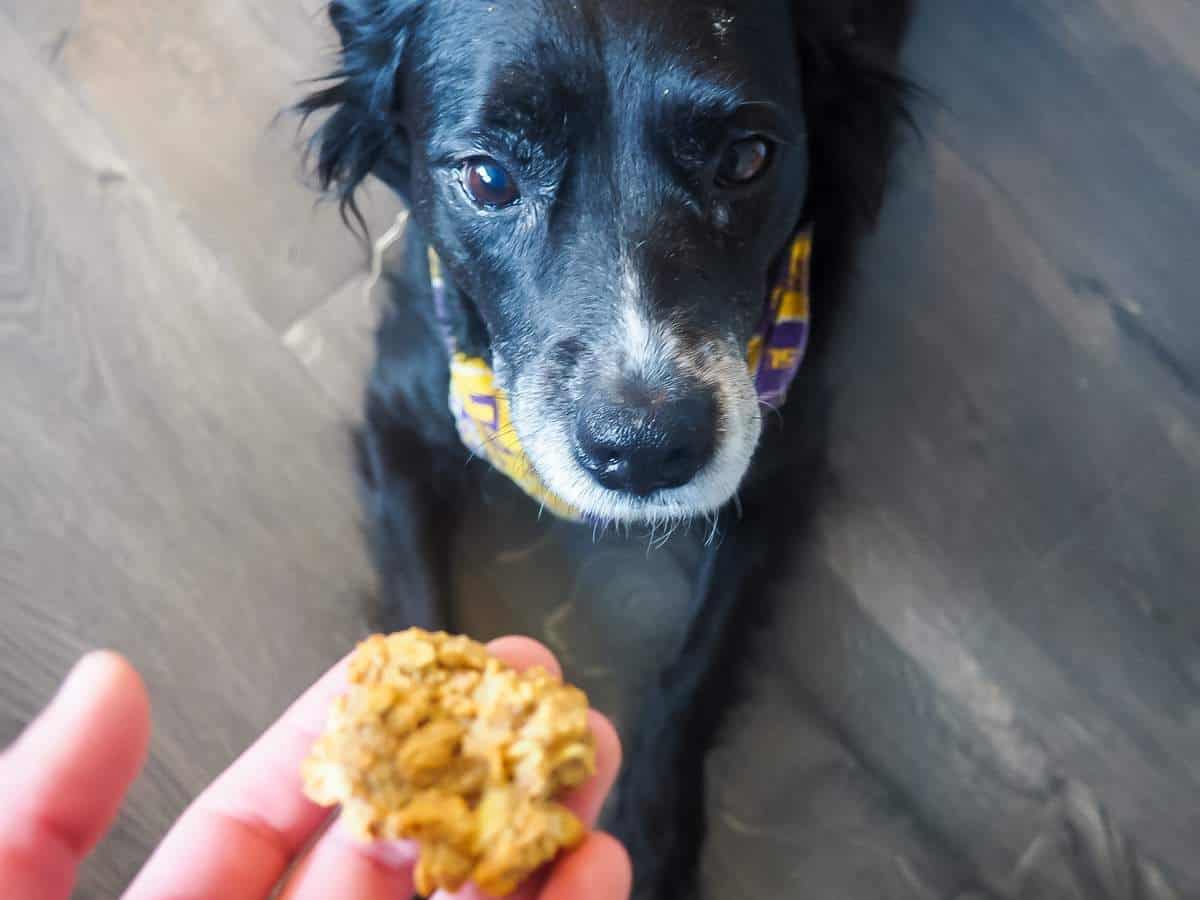 Have You Tried This Recipe?
Please rate it and leave a comment below. I would love to hear what you think!
Homemade Peanut Butter Banana Dog Treats
These four-ingredient peanut butter and banana dog treats are so easy to make. They are a great way to give your dog a healthy and tasty treat.
Ingredients
1

cup

rolled oats

1

egg

3

tablespoons

peanut butter, natural

1

banana, mashed
Instructions
Combine all ingredients in a bowl and mix well to combine.

1 cup rolled oats,

1 egg,

3 tablespoons peanut butter, natural,

1 banana, mashed

Let the mixture sit for about 5 minutes so that the oats can soak up some of the moisture.

Drop by tablespoon-sized scoops onto a lined baking sheet. Press them down with a spoon or a fork to flatten a little.

Bake at 350°F for 12-15 minutes.

The treats will be done when the oats are slightly browned and the cookies are slightly firm but also spongey, like the top of a cupcake.

Allow treats too cool on a wire rack, then serve or store in an airtight container.
Notes
Store cookies in an air-tight container at room temperature for 3-5 days or up to a week in the refrigerator. You can freeze them for around 6 months.
Make sure that you let the cookies cool before serving them to your dogs 🙂
Nutrition
Serving:
1
cookie
Calories:
53
kcal
Carbohydrates:
6
g
Protein:
2
g
Fat:
3
g
Saturated Fat:
1
g
Cholesterol:
10
mg
Sodium:
23
mg
Potassium:
74
mg
Fiber:
1
g
Sugar:
1
g
Vitamin A:
20
IU
Vitamin C:
1
mg
Calcium:
6
mg
Iron:
1
mg
Nutrition information is approximate and is automatically calculated, so should only be used as a guide.