Quick Jambalaya Rice is a shortcut to Jambalaya and an easy way to use up your leftovers. A sweet Creole tomato sauce, juicy chicken, and some perfectly cooked rice create a perfect bowl of Louisiana flavor with savory bites of andouille sausage and a little bit of heat.
I have always been a huge fan of making sure to use up leftovers, but more so lately now that I am cooking a lot more and working at home. I don't have to worry about packing lunches or going out for meals, so I can take my time to experiment with meals and come up with fun dishes.
During our whirlwind of a weekend, we made Paleo Creole Shakshuka for brunch. We went climbing after to burn it off and suddenly the weekend was over!
We took some time to relax and made a quick dinner from frozen Paleo Chicken and Andouille Sausage Gumbo and made some Perfect Instant Pot Rice. I love having the ability to whip together a meal that tastes like it took hours to cook in just minutes. (Freezers are the best!)
Tonight, we were getting back into the swing of the work week so we wanted to make something quick. We had a lot of extra Shakshuka sauce and some extra gumbo rice from yesterday to use up, so I decided to see what it would taste like if we combined the Shakshuka sauce with some chicken and rice.
I heated up the leftover sauce while I cooked some chicken breasts in the Instant Pot with some olive oil, salt, and pepper. I added the rice next and let it soak up some of the sauce.
I chopped up the chicken into bite-size pieces and tried not to burn my fingers.
After adding the chicken, I mixed everything together until it was heated and well combined, then added some salt, pepper, and a few shakes of Tony's Creole Seasoning. (I swear, I put Tony's on everything. It is SO GOOD.)
When everything was thoroughly heated and sauced, we had a wanna-be jambalaya that was really, really tasty.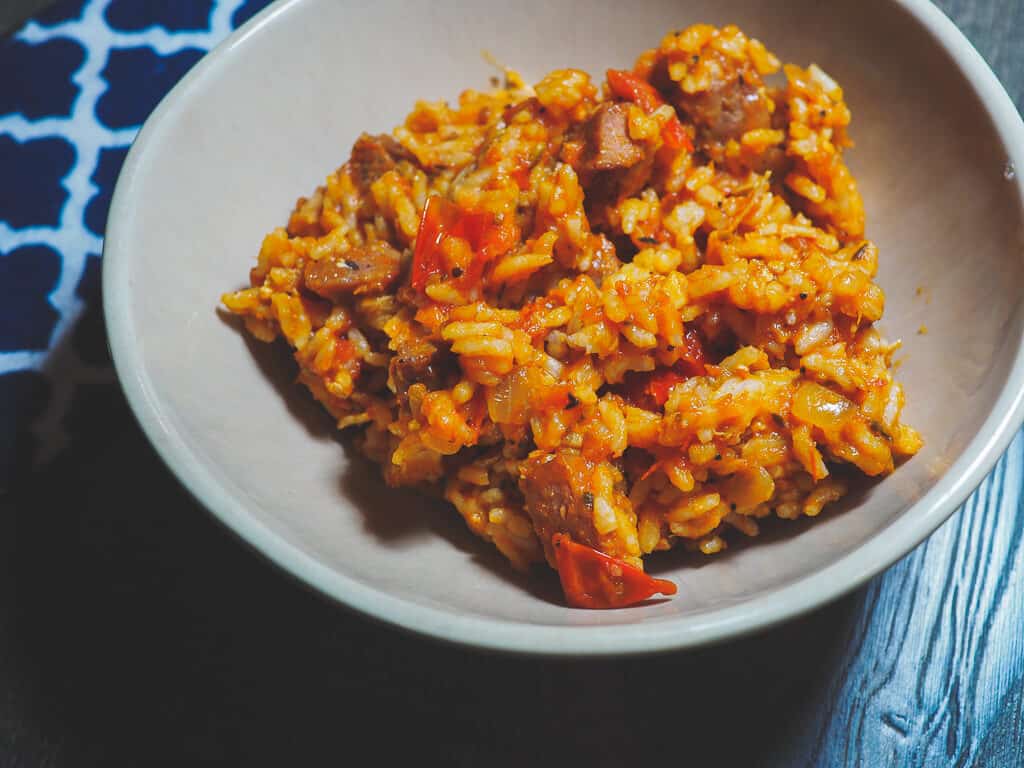 What are your favorite things to do with leftovers?