Dried (Dehydrated) Honeysuckle Blossoms are a delicious way to preserve these delicious blossoms for use all year round. The flavor they provide is rich, floral, unique, and so delicious.
Honeysuckle flowers are delicious to use for honeysuckle tea and honeysuckle simple syrup – we especially love the simple syrup to make fun cocktails. You can use the tea as you would any other tea – as a base for a cake, scone, or muffin – or just drink it!
I love dehydrating fresh honeysuckle, because besides knowing I have it for future use – it makes the house smell so good.
*Note: Throughout this post, I will refer to the honeysuckle blossoms as blossoms, flowers, or just plain honeysuckle. When I say this, I am referring to the flowers, picked fresh off the bush – NOT the leaves or berries. The berries are toxic if consumed.
🥘 Ingredients Needed
Fresh Honeysuckle Blossoms
Water
🍽 Equipment Needed
A dehydrator or oven
A large bowl and Strainer
🥣 How to Dehydrate Honeysuckle
Pick Honeysuckle: The first step is to go out into your yard and pick a ton of honeysuckle blossoms. We like to take a few big bowls outside and just fill them up.
Clean the Honeysuckle Blossoms: Once you have a big bowl of honeysuckle, fill the bowl with water that is about room temperature or cold. Slosh the blossoms around with your hands, then pour out the water – either through a strainer or hold the flowers back with your hand and be very careful pouring out the water.
Dehydrate the Honeysuckle Flowers: Once the flowers are cleaned up, line the trays of a dehydrator with them.
If your dehydrator has a temperature, set it to 108°F or 41°C (the setting for herbs or living food) for 12 – 24 hours.
If your dehydrator does not have an adjustable temperature – just turn it on. These dehydrators run pretty hot, so the flowers will dry a lot faster, likely in 2 – 4 hours. (Just keep an eye on them so they don't burn.)
To dehydrate the flowers in the oven, place them on a piece of parchment paper on a cookie sheet with edges. Put the flowers in the oven on low heat, around 180°F – 200°F, for 2 – 4 hours.
Check if the Flowers are Dry: To tell if the flowers are dry, press on a flower. If it is crunchy, it is dry. If it is at all squishy, it needs to dry longer.
Once dry, transfer the flowers to an airtight container or jar.
Dried honeysuckle blossoms last a long time if stored in an airtight container, like a mason jar. I also add a desiccant packet to absorb any extra moisture.
🙋‍♀️ Frequently Asked Questions
Different Types of Honeysuckle (Found in the Southeast)
Japanese Honeysuckle is the best for dehydrating, making tea, and making simple syrup.
Here's What Japanese Honeysuckle Looks Like:
Amur Honeysuckle (pictured below) is more of an invasive weed that smells good but doesn't have as much sweet nectar. Amur Honeysuckle also blooms a few weeks before Japanese Honeysuckle, at least in Tennessee.
Here's what Amur Honeysuckle looks like: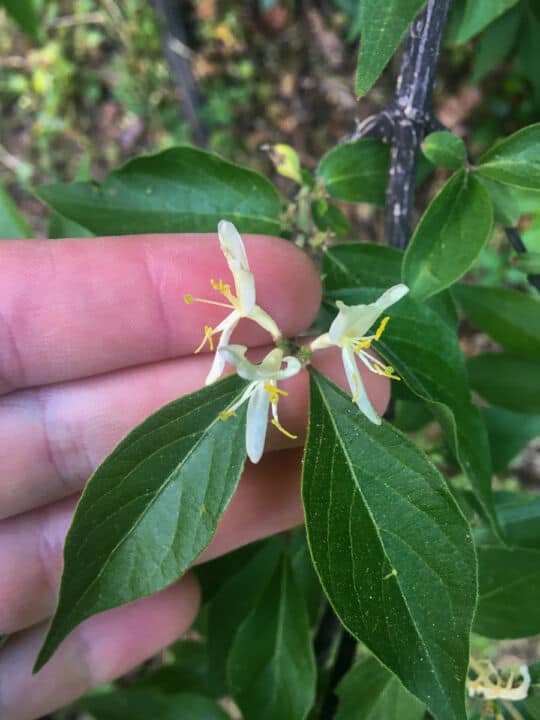 As you can see, the Amur Honeysuckle flowers are much smaller and it grows as more of a bush – whereas the Japanese Honeysuckle has larger, trumpeting flowers that while still kind of bushy – are more of a vine that climbs on other plants.
🍳 Serving Suggestions & Uses
Use dried honeysuckle to make hot honeysuckle tea, iced tea, and as the base for cakes and scones made with tea.
🥫 Storage/Shelf Life/Reheating
Dried honeysuckle blossoms last a long time if stored in an airtight container, like a mason jar. I also add a desiccant packet to absorb any extra moisture.
✏️ Helpful Tips
Remember that the berries on honeysuckle bushes are toxic – but the nectar from the flowers is perfectly safe to consume.
Dehydrate as much as you can! You will be surprised how delicious of a tea they make, and the plants aren't available all year round.
Other Delicious Dehydrated Recipes
Have You Tried This Recipe?
Please rate it and leave a comment below. I would love to hear what you think!