Crispy Chicken Tenders dipped in a creamy sauce might be my absolute favorite food. Served with the best sides – coleslaw, potato salad, and cornbread – chicken tenders are one of my favorite meals.
There isn't much better than some juicy chicken tenders soaked for hours in buttermilk and fried until crispy. My buttermilk fried chicken tender recipe is one of our favorite chicken tenders recipes, and it pleases even the pickiest of eaters. It's quickly becoming one of the most popular recipes on my site!
Traditional fried chicken tenders are the perfect main course, but they are even better when served with a great side dish.
Chicken Tender Dipping Sauces
I love to serve my favorite crispy chicken tenders with a variety of different sauces. Here are some of our favorite sauces:
Cane's Sauce
Cane's Sauce is a creamy sauce that is peppery and tangy and is the perfect dipping sauce for chicken fingers.
Boom Boom Sauce
Boom Boom Sauce is a great option to serve with chicken tenders, as it has so much sweet chili sauce flavor!
Chick-fil-A Sauce
Chick-fil-A Sauce is the perfect blend of honey mustard and barbecue sauce – it is the perfect sauce for dipping tenders!
BBQ Sauce
BBQ Sauce goes so well with chicken tenders. I know so many kids who eat chicken nuggets and barbecue sauce exclusively – and I probably could, too!
Ketchup
Ketchup is an easy way to please the picky eaters in your crowd. Cook up a bag of frozen regular french fries, and you can't go wrong.
Tartar Sauce
Ok, I know it sounds weird, but the last time I had some leftover tartar sauce in the fridge, we tried it with our chicken tenders, and it was so good! I mean… it's pickles and fried chicken, so you really can't go wrong!
BEST Side Dishes for Chicken Tenders
There are so many classic side dishes that go well with delicious chicken tenders. Here are some of my favorites:
Cornbread
Cornbread is a delicious side dish to serve with nearly any meal. You can make sweet or Southern cornbread depending on your crowd – both will be enjoyed!
Collard Greens
My collard greens recipe is such a popular dish, and for good reason. It is the perfect side dish for so many occasions! I love to serve chicken tenders with collard greens, cornbread, and some Cane's Sauce. (You can also make collard greens in an Instant Pot if you're in a rush!)
Oven-Baked Potatoes – Fries & Potato Skins
We love all kinds of fries, but I love making fries in the air fryer or in the oven, and I love making baked rosemary potato wedges and crispy potato skins!
Creamy Coleslaw
Creamy coleslaw goes so well with homemade chicken tenders, and it is such an easy side dish to make. This coleslaw recipe is really easy to make and has a secret ingredient that makes it a little tangy!
You can also make a Copycat Raising Cane's Meal and make my Cane's Sauce, Copycat Cane's Coleslaw, Texas Toast, and some frozen Crinkle Fries. Don't forget the sweet tea!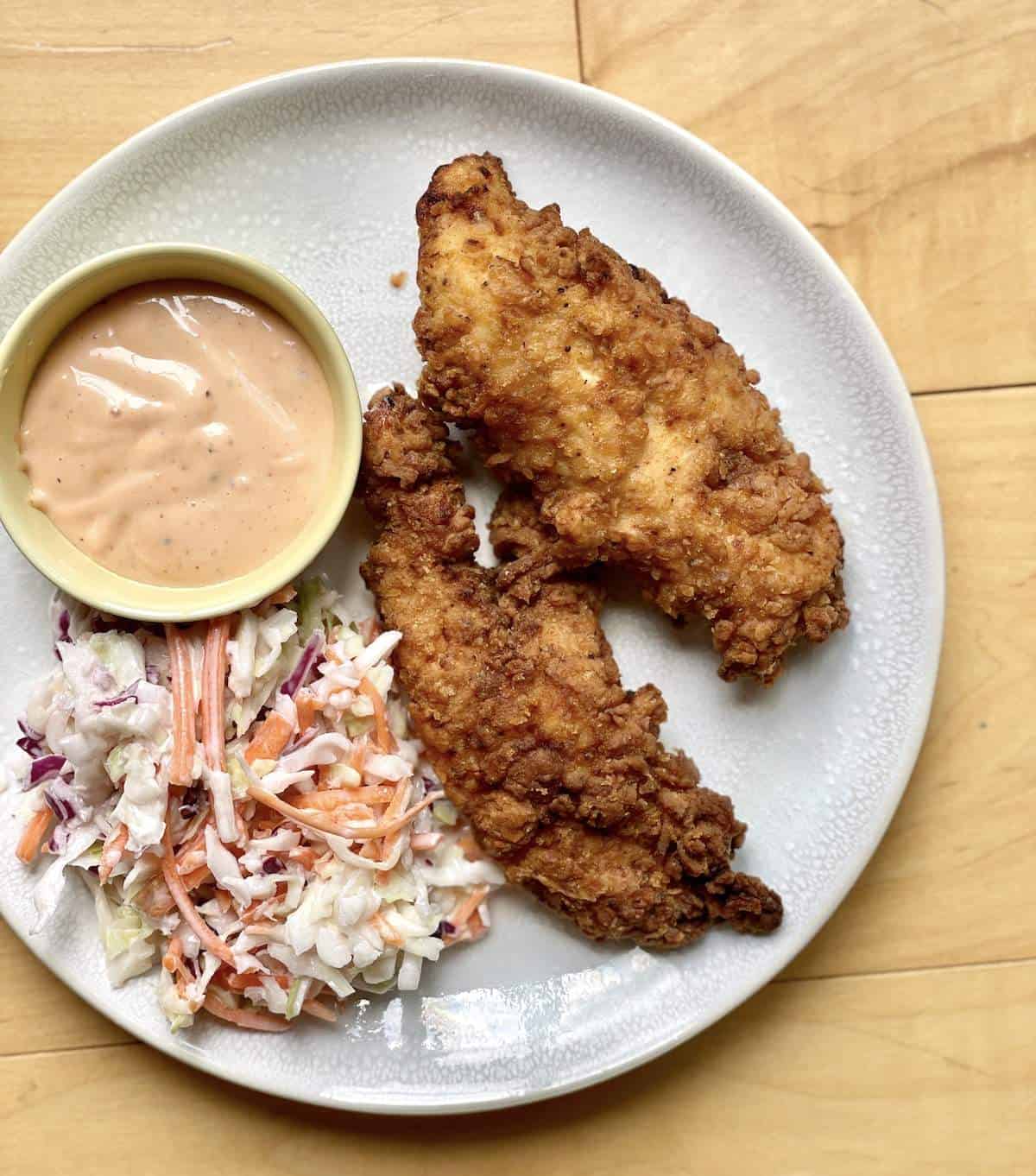 Pasta Salad
Potato Salad
Potato Salad and fried chicken just belong together. This potato salad is such an easy recipe to make, and it is loaded with eggs and pickles. It is so delicious!
Southern Green Beans
Southern Green Beans cook all day until they just melt in your mouth. They are so delicious and pair perfectly with fried chicken!
Side Salad
A fresh green salad on the side can help balance out fried chicken. Some people like to serve green salads with their fried food. Sometimes we are those people. Sometimes we like to fry everything. Life is all about balance.
Chicken Tender Salad
I also really like to serve chicken tenders in a salad sometimes for an easy dinner recipe. Tossed in a delicious salad dressing with your favorite salad greens, a little shredded cheese, and some fresh vegetables, it's a great way to make a meal that the whole family will love.
In my experience, fried chicken tenders make salads a little more exciting than a grilled chicken breast does, and it is a perfect way to eat some vegetables.
Cowboy Caviar
Also known as Redneck Caviar, Texas Caviar, or Blackbean Salad. It is a delicious side dish that goes great with fried chicken tenders! (And fried catfish!)
Deviled Eggs
Deviled Eggs are the perfect side dish for crispy fried chicken tenders. They are smooth and creamy and have a little bit of diced pickles in them – pickles and fried chicken pair perfectly together!
Sweet Potato Fries
I like to make sweet potato fries by roasting sliced sweet potatoes in olive oil on a baking sheet. It's a delicious and healthy side dish to serve alongside our favorite crispy chicken strips.
Biscuits
Fluffy Biscuits and Fried Chicken are a match made in heaven. I like to serve biscuits and gravy with chicken tenders with a poached egg or serve chicken tenders with waffles!
Mashed Potatoes
If you want to use your chicken tenders to make a main dish, you can serve your chicken tenders with mashed potatoes and gravy with a side of fresh veggies or Roasted Broccoli – the ultimate comfort food meal.
Copycat KFC Bowls
Another recipe that we love to make with leftover chicken tenders is Chicken Tender bowls – they are a Copycat KFC Bowl. Mashed Potatoes, Brown Gravy, Chicken Tenders, Corn Kernels, and Cheddar Cheese. So GOOD!
If you have hot oil out anyway, you might as well make some fried sides, right?
Fried Okra
Fried Squash
I love to fry up some squash in the summertime when our garden is overloaded with squash. If the deep fryer is already going to make chicken tenders, might as well make squash too!
I hope this gives you some tasty ideas to help get a delicious meal on your dinner table! The best part about chicken tenderloins is that they are so juicy and really versatile, so you can serve them with so many different things. What are your favorites?